Wrap things up with variations of the pita found in Orange County. This Mediterranean-style sandwich can be stuffed with spit-roasted lamb, chicken shawarma or falafel. We've rounded up a few of our favorites here and even included a recipe for shawarma you can make at home.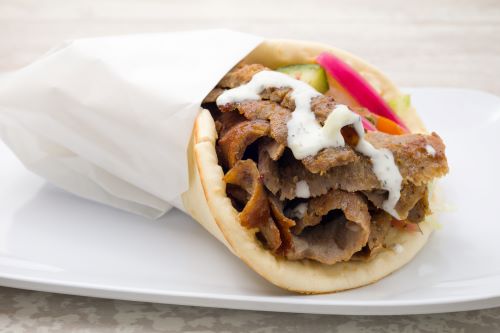 Daphne's California Greek
Daphne's California Greek is a fast-casual concept known for fresh Mediterranean cuisine. They serve classic hand-carved gyro in pita wraps, atop Greek salad and even over French fries. Their classic pita is the perfect on-the-go sandwich for families looking to grab a quick meal. It's topped with cucumber-tomato salad, red onion, lettuce, Greek dressing and tzatziki and filled with your choice of gyro or grilled chicken. Open for take-out and outdoor dining.
23706 El Toro Rd. S7, Lake Forest
---
Falasophy Lebanese Street Food
When you take Lebanese street food and put a modern spin on it, you get Falasophy. Their menu is full of fun, fresh items like spicy Armenian quesadillas and banh mi falafel pita. Their New York-style pita pocket is stuffed with crispy falafel, hummus, red cabbage, cucumber-tomatoes and tahini. Bonus: It's totally vegan! Open for take-out and outdoor dining at the Irvine Spectrum Center.
920 Spectrum Center Dr., Irvine
---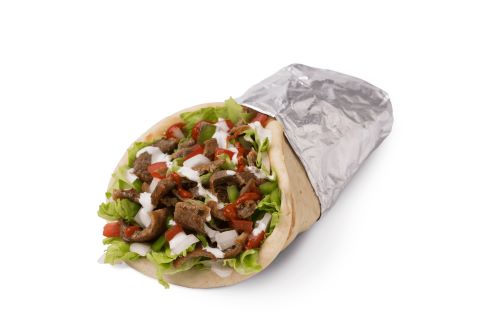 The Halal Guys
The Halal Guys concept began as a hot dog cart in New York City in 1990. They began offering halal food, which was popular with the Muslim taxi drivers who had little by way of halal options back then. Their unique take on American halal food soon became a late-night staple for NYC. Fast-forward to today, where you can find their platters of chicken and gyro over rice and falafel wraps in Orange County. Their sandwich starts with a warm pita and your choice of beef gyro, chicken or falafel and includes lettuce, tomatoes and your choice of toppings. Don't forget to top it off with their famous white and hot sauce.
3033 Bristol St. Ste. E, Costa Mesa
---
SAJJ Mediterranean
SAJJ Mediterranean uses locally sourced produce and halal proteins to make their fresh and customizable eats. Their authentic chicken shawarma wrap recipe is just as easy and as fun to make as tacos on Taco Night but filled with Mediterranean flavors. Marinate your chicken the day before for best results.
6636 Irvine Center Dr., Irvine
---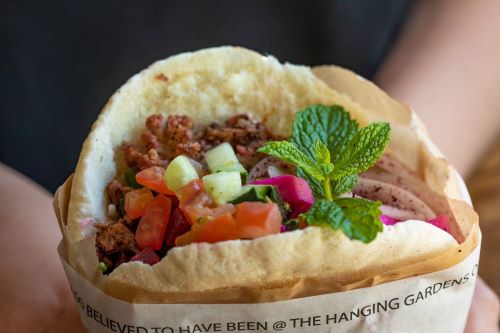 Chicken Shawarma Wrap
Serves 4
Ingredients:
2 lbs thin sliced, boneless, skinless chicken thighs
1 cup any vegetable oil
1 cup yogurt (full or low fat)
1/5 cup lemon juice
2 tablespoons kosher salt
1 tablespoon paprika
1 tablespoon onion powder
1 tablespoon garlic powder
1 teaspoon white pepper
1/2 teaspoon cardamom powder
1/2 teaspoon ginger powder
4 pita or tortilla wraps
2 cups chopped or shredded lettuce
1-2 sliced red tomatoes
1 sliced cucumber
2 diced pickles
1/2 sliced red onion
Sauce of choice to taste: garlic sauce, hummus, tahini or tzatziki
Directions:
The day before, make a marinade with the vegetable oil, yogurt, lemon juice, kosher salt, paprika, onion powder, garlic powder, white pepper, cardamom, ginger powder together in a blender. Coat the chicken in marinade and refrigerate for 24 hours. After 24 hours, drain marinade from chicken. Heat your pan to 400 degrees. Add a drizzle of olive oil onto the pan to avoid sticking. Place your chicken thighs evenly on the pan and cook both sides for about 5 minutes each or until it's golden brown. After both sides are golden brown, stir your chicken together and ensure that it is fully cooked. The internal temperature of the chicken should be over 165 degrees when it is fully cooked. Remove from fire. Assemble your pita bread/wrap and generously spread the sauce of your choice. Add your chicken shawarma and sliced cucumbers, sliced tomatoes, sliced red onions, lettuce and pickles to your wrap.
---
By Sarah Mosqueda