St. Patrick's Day may have started as a religious festival day in Ireland, but cultures all over the world have adopted traditions and customs to celebrate the day. Nearly all of them involve the color green. Here are some green treats you can find in Orange County that are a lot less predictable than green beer.
---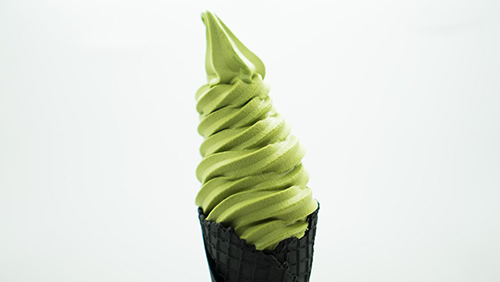 Mr. Matcha
Follow the glow of a green neon heart-shaped sign to find your way to Mr. Matcha. The organic soft serve shop in Downtown Santa Ana serves matcha (finely ground Japanese green tea leaves) as a hot tea, cold tea, latte and a soft serve ice cream. The delightfully green soft serve can be whipped into a cup or black sesame waffle cone. Special limited-edition soft serve flavors, like cherry blossom or corn, occasionally make an appearance too but you're going to want to ask for matcha swirled together with their black sesame soft serve. As their neon sign will tell you, it's a matcha made in heaven.
305-105 E. 4th St., Santa Ana | Photo Courtesy of Mr.Matcha
---
Blackmarket Bakery
When it comes to good old-fashioned cookies, Blackmarket Bakery has all your bases covered. Cookies are baked fresh from scratch daily and are not unlike the perfect treats your Mom baked you after school, except for names like Pucker Up (lemony sugar) or One Toff Cookie (chocolate toffee). But it's their shortbread cookies that create the perfect canvas for artfully decorated themed cookies. This St. Patricks Day pick up one or a dozen Shamrock Shortbread cookies. These buttery, slightly sweet confections are gussied up in green for the occasion. They'll have Pot o'Gold cookies and Beer Stein cookies on hand too. Check locations for availability.
2937 Bristol St., Costa Mesa; 211 N. Broadway, Santa Ana | Photo Courtesy of Blackmarket Bakery
---
Pressed Juicery
Cold-pressed juice is a great way to go green and find balance. Pressed Juicery in Newport Beach offers a selection of green juices, numbered 1-4. Each freshly pressed and packaged green juice contains kale, spinach, parsley and romaine. They're chock-full of antioxidants and phytonutrients, with a combination of apple, lemon, ginger and cucumber, making for a beverage that's beneficial and tasty. If those don't sound green enough for you, Pressed Juicery also offers a celery juice cleanse (five bottles for $20) which has been known to help reduce inflammation and aid digestion.
1181 Newport Center Dr., Newport Beach | Photo Courtesy of Pressed Juicery
---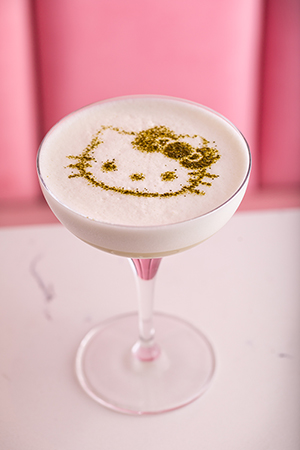 Hello Kitty Grand Cafe
If you are dead set on consuming green alcoholic beverages, may we suggest the Matcha Matcha at The Bow Room at Hello Kitty Grand Cafe? Reservations are recommended to secure seats at this speakeasy inside the kawaii confectionary, but once you are in you can sip on a cocktail inspired by the famous feline. Matcha Matcha combines Japanese whiskey, lush matcha, creamy yogurt and bright yuzu before getting dusted with a green Hello Kitty logo. Another green cocktail option is Hello Kit-tea, made with jasmine green tea and served with a green tea macaron on the side.
860 Spectrum Center Dr., Irvine | Photo Courtesy of Hello Kitty Cafe
By Sarah Mosqueda