Coloring and hiding Easter eggs is a fun family activity, but these family-friendly restaurants will have you on the hunt for a different kind of egg. Deviled eggs are deliciously easy to enjoy (and make with all those leftover Easter eggs). Take a cue from these inspired deviled eggs served throughout Orange County and get cracking.
---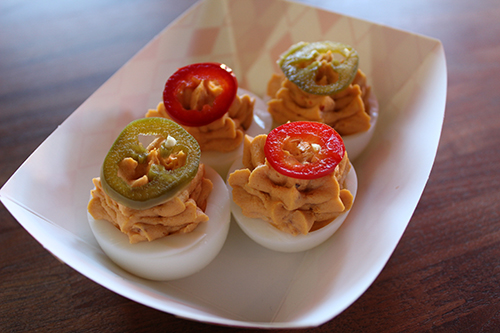 Buttermilk Fried Chicken
Chef Ryan Adams built an entire Sunday Supper around his famed fried chicken at his former restaurant, 370 Common. But Adams has come home to roost in Old Towne Orange, with a concept dedicated entirely to the dry cured and crispy: Buttermilk Fried Chicken. But before you dig into a bucket of legs and thighs, start with an order of BFC's spicy deviled eggs. The egg yolk filling is piped into the hardboiled egg whites and then crowned with slices of chile pepper to remind you why these aren't called "angeled" eggs.
238 W. Chapman Ave., Suite #100, Orange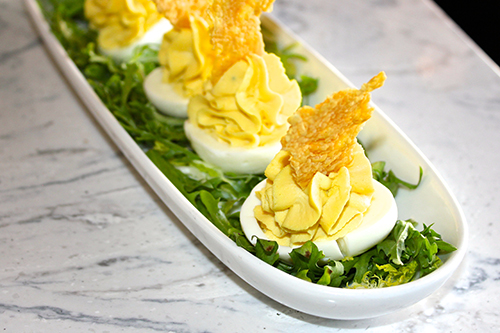 Great Maple
Great Maple at Fashion Island is known for elevating the comforting and familiar with modern twists and decadent touches. Like a bloody Mary garnished with chorizo cheese toast or Lobster Egg Benedict. Their Truffled Deviled Eggs are no exception. Tangy Dijon mayo blends with a smidge of truffle oil to make a rich filling. Crispy chards of "parmesan lace" add salt and texture to these eggs. Brunch is served seven days a week and even their kids menu packs a little pizzazz, with mac cheese made of cavatappi pasta and aged white cheddar or pancakes with Fruity Pebbles.
1133 Newport Center Dr., Newport Beach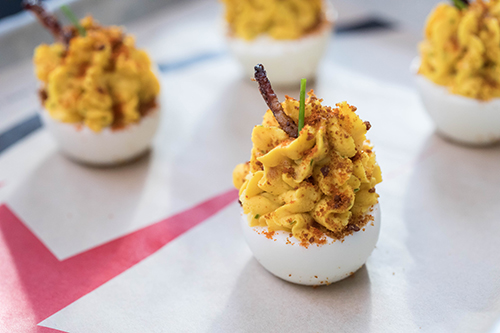 The Crack Shack
The Crack Shack is a concept from celebrity-chef Richard Blais, who has labored to perfect the chicken and the egg, in no particular order. While this Costa Mesa eatery is known for its fried chicken, the deviled eggs are nothing to squawk at. The "breakfast-inspired" deviled eggs are sprinkled with candied bacon and a French toast crumble, which gives the typically savory snack a sweet peck. The open air dining is kid- and dog-friendly, making it fun for the whole family.
196 E. 17th St., Costa Mesa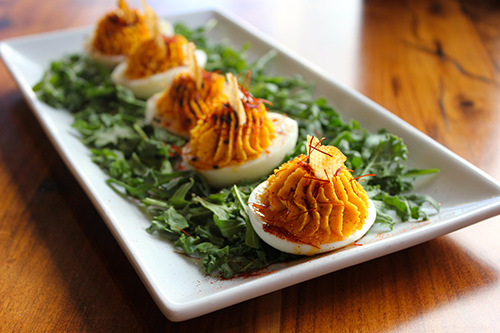 Fleenor's On 4th
Fleenor's On 4th is the second Santa Ana spot from Judy Fleenor, responsible for Crave Restaurant just a few doors down. She has tapped Chef Lihn Nguyen to breathe life into New American classics, which results in dishes like deviled eggs spruced with tufts of Korean chile threads. The eggs are also sprinkled with Korean chile paste for heat, black sesame for crunch, and chicken skin chicharron because why not?
400 W. 4th St., Santa Ana
By Sarah Mosqueda
---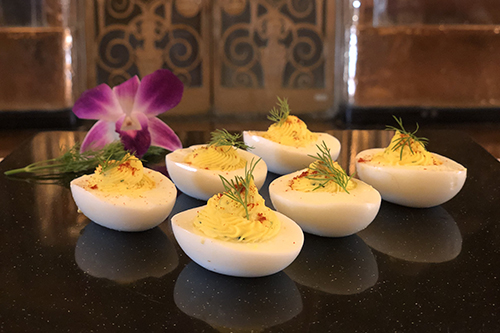 The Queen Mary's English Deviled Egg Recipe
Serving Size: 16 Deviled Eggs
Ingredients
8 Whole Eggs
1 tsp English Mustard
4 Tbsp Mayo
1 Tbsp of Tabasco
1 Tbsp of Extra Virgin Olive Oil
Salt & Pepper to taste
Garnish
1 pinch of Paprika
Dill (herb)
Directions
Place eggs in saucepan and cover with water. Bring water to boil.
Once the water begins to boil, cover the saucepan and remove from heat. Let eggs sit in hot water for 10 to 12 min.
Remove the boiled eggs
from the hot water and cool in ice water.
Once cooled, peel boiled eggs and cut each in half lengthwise.
Remove yolks & combine the rest of the ingredients together, mix until smooth.
Fill each egg half with the yolk mixture with a piping bag or spoon.
Garnish with a pinch of Paprika and a sprig of Dill.
Enjoy!