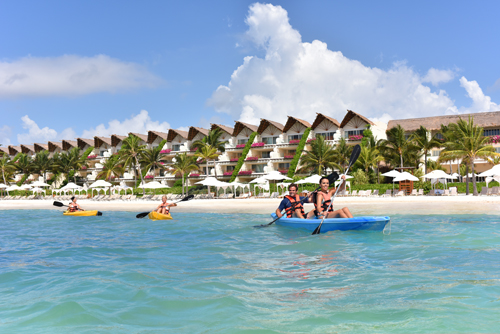 It's that time of year, to plan Spring Breaks and look ahead to Summer Vacations. If you haven't yet shared the culture South of the Border with your kiddos, here are two ways to ensure a fabulous family getaway.
---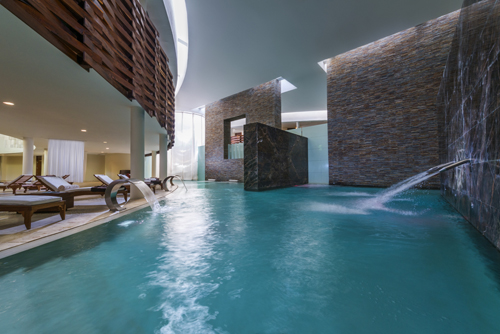 Grand Velas Rivera Maya
Everything at this very exclusive Riviera Maya luxury resort is impressive. The massive scale of the entrance is just a taste of jaw-droppers inside; the acres-big pool expansive enough to support a giant hamster wheel ball inflatable for kids to scramble inside, jungle trails that pass hidden historic underwater-springfed cenote caves, mariachis and authentic Mexican performers (with a slightly less authentic but certainly fun mechanical bull-riding pen), included kayak snorkel trips out to the reef to spot sea turtles, sugary white sand with gentle lapping aqua water shallow enough for any little one to enjoy…the possibilities are so endless you will quickly realize you have no need to leave the property.
The service is one of the high points, with butlers assigned to suites and served wading into the pool to deliver drinks (even when fully uniformed). During our stay there wasn't a staff member who crossed our path without a genuine smile and a personalized greeting after the first meeting. There are places where you feel well taken care of in the hopes that you will take care of them, in this resort it was clearly a step beyond that with everyone from bartender to housekeeper offering a genuine interest in your happiness. The poolside servers tossed balls with the boys, and knew exactly which sushi rolls they favored and how many virgin pina coladas they could handle before turning green.
The inclusive experience is a godsend for those with bottomless pit tweens or teens that have suddently grown spare bellies inside, but often that comes at the cost of good taste. That was anything but true at this resort, with high quality and varied menus throughout. The buffet breakfast alone had more choices of cuisine and fresh produce than three or four restaurant menus put together and somehow stayed fresh and well stocked throughout the morning.
We did not hold back, trying everything from the upscale Japanese restaurant, the authentic Mexican fare eatery and even a 12-course molecular gastronomy meal with food almost too gorgous to eat (almost) with wine pairings for the grownups. We did not have a bad meal at the resort, and the kids added extra courses even despite living in a room with a fully stocked complimentary minibar with personalized treats.
Although there were nightly events to enjoy as a family — stargazing, al fresco movies by the pool, live bands, we found ourselves enjoying a little time getting away from it all…even each other…as well. The kids club offers continual engaging activities and the teen club was swanky enough to make any grownup jealous. We actually saw several parents being shoo'd out. The cavernous club had a bar with smoothie'tender on hand, a dance floor with lasers and special effects, a massive wall of screens for group gaming or pajama movie nights, and a strong wifi signal.
While the kids were ocupado, we hit the amazing spa for a Hydrothermal Journey — a therapist-led experience with unique highlights like a Mayan clay room, ice room, steamy waterfalls and bubbling beds inches under the soothingly warm, chlorine-free surface to jet away your cares. After, indulge in an ancient pre-hispanic head-to-toe Uumbal Shawl Massage, using local lemons on pressure points and Mexican woven cloths for gentle stretching. Not quite ready for re-entry into responsibility, we took the long way back via the adults-only section of the resort and lounged poolside to the strumming of guitar and sound of the surf.
We did, reluctantly, tear ourselves away for the day to get a little culture into our vacay, wandering inland to the unique jungle Mayan ruins of Coba where we hopped a three-wheeled pedaled coach deep into the lush environs to climb the tallest pyramid in the Yucatan. On the way back, we hit town where we were shocked to find a very high end mall tucked in between the quaint cafes and family-run souvenir shops. We didn't stay long, a quick family vote determined everyone was of the same mind, yearning to return our new casa away from casa. In short, yes, it was a hike across the coast, although several airlines now have nonstop service from LAX, making it a quicker trip that most Hawaiian islands. But in this case, the destination was truly worth the journey.
---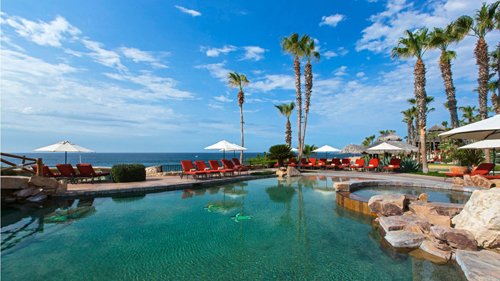 Sheraton Grand Los Cabos Hacienda Del Mar
If you visited the region in your youth or have a preconceived notion of what "going to Cabo" is all about, you'll want to toss that our the ventana right now.
Just a short fifteen minute spin up the coast from downtown Cabo San Lucas, with its party atmosphere and bustling shops and tequila tasting opps, is the sleepy seaside retreat that the Hacienda Del Mar calls home. This tucked away oceanfront enclave is by colorful Mediterranean architecture, a serene charm that exudes from the cushy loungers flanking the pool with a view, to the private Tortuga Beach overlooking the Sea of Cortez.
Five pools create the perfect oasis for any taste, from a family-friendly spot featuring a waterslide, splash-pad area and unique mini-waterfall, to the adult-only perch above the sea where the slightest wave of a hand beckons a tasty, frosty top shelf margarita. A happy medium offers zero entry floatzones at one end and a swim up bar at the other.
Golfing moms and dads can turn the littles loose at the charmingly decorated Adventure Kids Club and hit the links, while those looking to slow it down a little can sneak off to the Cactus Spa for a couple's massage. If you spent a little too much time enjoying the rays, opt for the After Sun soothing and cooling wrap, boasting a potent compound of White Water Lily combined with Green Tea extract to undo the damage.
With three restaurants on resort property, you might not even need to venture into the town. Though if you do, we highly recommend SUR by Bar Esquina (www.surcabo.com/) for amazing fresh and artful sushi overlooking a charming section of golden sand beach. Time for sunset and bring the suits for the kids, hopping a few waves could be just the thing to work up an appetite.
One night you certainly must NOT miss at the property is Thursday, when the Market Buffet experience takes over La Plazuela in the center of the action. Dine under the stars, as different stations feature artisanal offerings for each segment of the meal. Pace yourself and make a plan, it is all gorgeous and delicious. The center of the square is dominated by a coal wagon roasting a variety of fresh meats, from lamb to Argentinian sausages to a New York strip. Seafood also makes its presences known as your chosen delicacies are tossed on a sizzling skillet as you watch. Farm-to-table salads will tempt, but scan the dessert table with its adorable single serve items before you commit.
Regardless of how you spend your stay, this resort will likely have changed your mind about what to expect when you head to the Baja Peninsula por siempre.