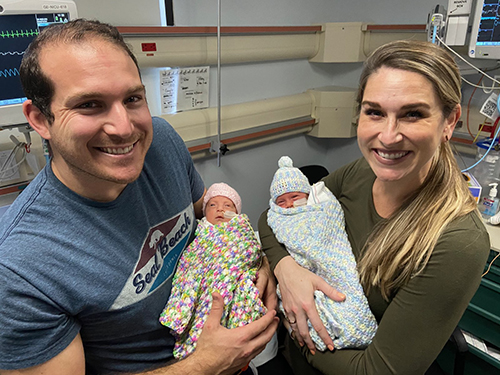 Local nurse becomes a patient and a mother in the midst of COVID-19.
Becoming a working mom is hard enough. Being a nurse is hard enough. Life during the pandemic has been hard enough.
Melissa Leite pulled off something like the modern mom hat trick, giving birth to twins at the hospital she works in during a pandemic. You may applaud if you like.
As a nurse at Fountain Valley Regional Hospital, she's worked in various departments, so she understands the value of preparedness.
But there are only so many things you can plan for.
"Nothing was normal with our pregnancy," she says. "Joshua and I were in the thick of training for a half marathon. Oh, did I mention our first ultrasound only revealed one baby?"
About five weeks into her pregnancy, things got really interesting. A small amount of bleeding, not uncommon in pregnancy, forced her to stop training for the half marathon, and "take it as easy as possible," because she says, "we were certain we were going to lose the baby." But during her obstetrician visit two weeks later, the ultrasound revealed twins.
She'd entered a high-risk pregnancy and with it came a wash of emotions for both she and her husband. "Every appointment, we hoped and prayed for good news. Carrying multiples, you have to prepare yourself there's a very real possibility the babies will be born prematurely," she says. "Plans were changing day by day, and we had to mentally adjust at every twist and turn along the way."
By February, late in her pregnancy, COVID-19 had begun to leave its mark on the country.
"COVID-19 changed just about everything for our staff and hospital," she says. "Although we all cared for very ill patients on a regular basis, nothing could have prepared us for this pandemic. This required a great deal of education and new protective measures for our staff, a need for PPE like we've never experienced before, and a heart ready to serve those in our community."
Leite says she and the unit she manages were working up to 60 hours a week, and "the babies definitely began to let me know that it was time to slow down when I was about 28 weeks pregnant. [False labor] contractions and frequent cardiac non-stress testing for the babies ultimately took me out of work."
She became a patient in her hospital. And the March lockdown had just begun. "CDC guidelines were changing daily in the hospital during the two weeks that I was an inpatient." But all things considered, it brought her some comfort. "I knew I would be seeing some familiar faces throughout my stay. It was helpful as I rested assured that I was in the best hands possible."
A week later, she gave birth prematurely, and the twins spent the next month in the Neonatal Intensive Care Unit. A time Leite calls "an emotional rollercoaster," where she and her husband would spend "about five hours every day with as many hands-on tasks as possible." But the lockdown kept visitors out, so video chats and lots of pictures to friends and family had to suffice until they could get the babies home.
Months later, they have stories to tell and lessons to pass on.
"Joshua and I wrote notes to our children every day we were in the hospital before and after the babies were born," she says. The notes are now in their baby books. "I want them to know not only how much they persevered in their first weeks of life, but also what an interesting, emotional and historic time they were born into. But we also want Luciana and Niko to know that they were the biggest thing to happen to our 2020. Are we out of the woods yet? Absolutely not. Their immune systems will not catch up to a full-term baby until around age 2. This has heightened all of our precautions."
But Leite wants any woman stressing about having her child in 2020 "to savor this unique moment in time. Is it lonely? Joyful? Yes. They will never get this time back and they will never have a season that looks quite like this ever again. Becoming a new mom to premature twins in the thick of COVID has brought with it a wealth of emotions and a wealth of opportunities, such as unanticipated family time that we would not have had in any normal season of life. You've got this and you are not alone."
By Shawn Price
---
Related Posts: