A Huntington Beach student leads a beautification project to bring some vibrancy back to her high school.
Pauline Blumenkrantz finds power in knowing she can make a positive impact on her community if she just puts her mind to it. Lately, she finds proof of that every time she pulls up to school where freshly planted flowers and new mulch around the administration building and the parking lot greet students, administrators and visitors alike. The campus community has Blumenkrantz to thank for initiating the area's beautification and creating a legacy of sorts for future students to enjoy long after she graduates.
The 17-year-old junior at Marina High School got the idea to bring some vibrancy to the home of the Vikings after noticing the area didn't quite live up to its potential, especially when compared to other schools. A better curb appeal would not only spruce up the school, but create a better environment for students who spend so much time there, she thought. So, the Huntington Beach teen presented the concept to board members of the school's Helping Hands community service club where she is the event coordinator. The club's mission is to create change in the community by helping the environment and lower-income families and individuals.
But, having an idea is one thing. Getting the details worked out, even with the support of her peers and the club advisor Carol Yoshiyama, was a whole other story. Blumenkrantz had never taken on a project of that scale, but she was up for the challenge, teaming up with club co-president Carissa Loverme, reaching out to the principal and the school district with plans and presentations of what could be as well as ideas for making it happen. The Helping Hands club even conducted a survey among the student population to gauge interest in campus improvements and willingness to pitch in when it came time to do the physical work. Her tenacity paid off and in early March, about 30-something volunteers showed up ready to roll up their sleeves, grab the tools and make something beautiful happen.
"I think it's really cool that Pauline had the passion and the initiative to start this project," Loverme says, admitting she never had the ambition to reach out to school administrators. Now she finds herself inspired by her friend. "I'm looking to get into the field of environmental science, and I think that her passion toward that kind of activated my own passion as well."
Yoshiyama says it was very clear throughout the process that Blumenkrantz truly cared about making an impact on her community. This was definitely not about checking off some community service hours requirement. She even teased her that she should be a landscaper after seeing the different models the student came up with for the project.
"It is really all Pauline and Carissa. I mean, they had this vision, and they wanted to make the school look good," Yoshiyama says, adding the beautification will likely continue in the future.
Blumenkrantz's desire to make her world a better place extends past her work with Helping Hands. She's been volunteering and doing service projects through other clubs as well, including making beanies and other things for children in hospitals. She says she loves making a positive difference in other people's lives.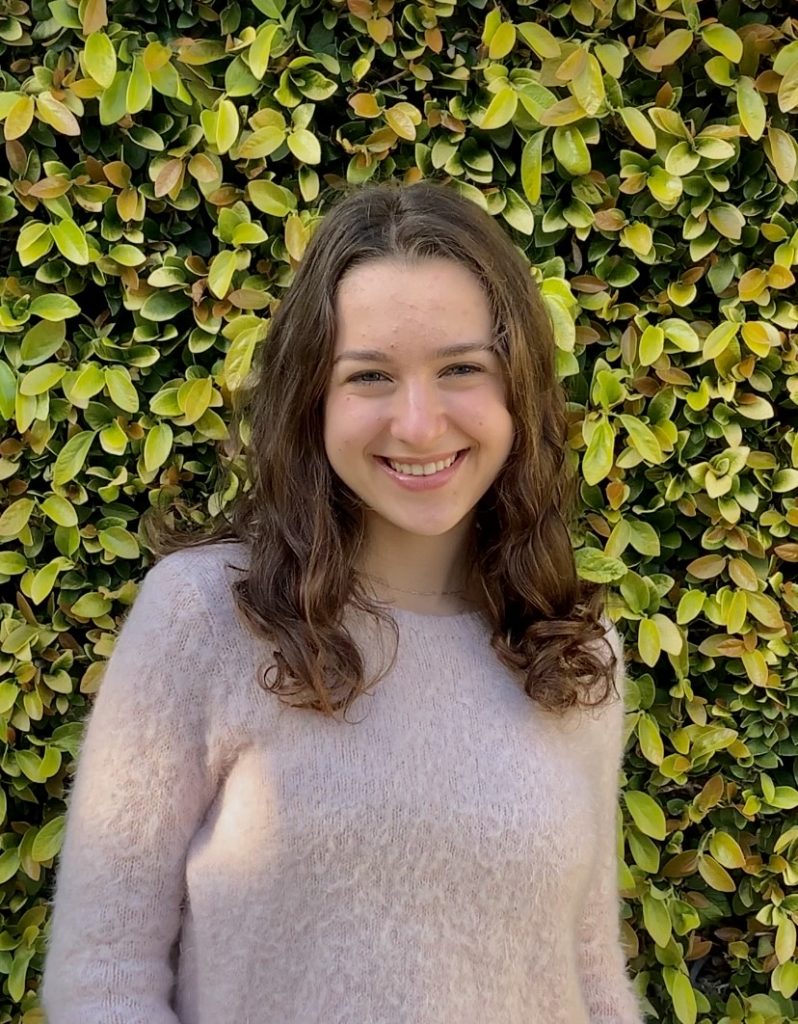 "Every day when I come to school, I see what we've all done," she says. "It's just a reminder of such a positive experience. All of these beautiful, colorful flowers around the school, it's just so amazing to see on a daily basis."