These new toys on the market stir the imagination and encourage learning with hours of entertainment.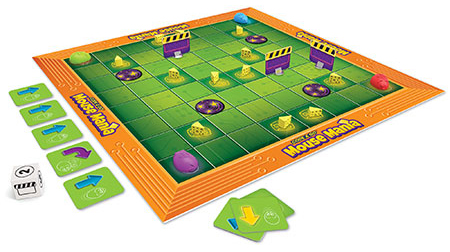 Code & Go
Coding is an essential skill for emerging learners, but with learning about coding comes more time staring at a computer. The Code and Go Mouse Mania Board takes an analog approach to coding and gamifies STEM by having two to four players take on the role of mice searching for delicious wedges of cheese. In order to win players will have to string together coding cards to make their way around a maze, maximizing their exposure to coding and minimizing their screen time.
$19.99; age range: 5+ years; learningresources.com
---
Kanoodle
Bring out your competitive side with the Kanoodle Puzzle Challenge for Two! Two players challenge one another to recreate a Kanoodle diagram on their puzzle board before their opponent does the same. The winner presses down on the board, launching their opponents pieces sky-high! Your kids will have so much fun they won't even notice that they're developing their critical thinking and spatial reasoning skills.
$21.99; age range: 7+ years; educationalinsights.com
---
Mental Blox
Summer vacations usually involve summer road trips, which can mean backseat rides that are fraught with the potential for boredom. Avoid the "are we there yet?" interrogation with the Mental Blox On the Go Set. Designed for easy portability on a long flight or road trip, the set comes with a puzzle book that contains a variety of challenges which will test math skills, problem solving, and imaginative play. At the end of each brain-teasing session, the pieces pack up quickly and easily, making this a must for any travel session.
$14.99; age range: 5+ years; learningresources.com
---
c
Beaker Creatures
Your child isn't the only one on summer vacation. In fact, the Beaker Creatures have traveled light years in order to visit Earth, and your young scientist is the only one that can help them! Each Beaker Creature Reactor Pod contains one of 35 different Beaker Creatures with its own story about its home world. Collectors can examine them in the Beaker Creatures Magnification Chamber or perform experiments with the Beaker Creatures Liquid Reactor Super Lab Set. Who knows – perhaps your collector may even find one of the five rare 24-carat creatures!
Age range 3-6 years; amazon.com
By Bradley Vargyas