Your guide to holiday shopping at Orange County-based businesses.
FOR KIDS
Learn to Surf
Let the pros teach your little ones how to surf the best waves with surf lessons at Newport Beach-based Learn to Surf. All surf instructors are either lifeguards or pro surfers ready to teach all ages and ability levels. Each session consists of a 30-minute sand demo followed by 1 1/2 hours in the water. Use of wetsuit and surfboard are included.
Starting at $150 for a two-hour lesson for one surfer; learntosurfhb.com
Tillys
With an enormous list of name brands — from Adidas and Vans to Quiksilver, Rip Curl and Roxy — at your disposal, this Irvine-based retailer is sure to have something your young fashionista will love. Let your kids express their sense of style by giving them a gift card they can take on a shopping adventure.
Prices vary; tillys.com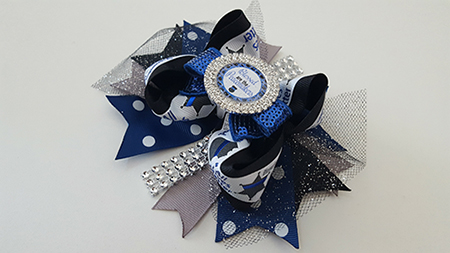 Charlie & Joy Children's Boutique
Deck your little princess in custom, handmade hair bows, accessories and clothing from Charlie & Joy. Hand-crafted in Rancho Santa Margarita, choose from an assortment of styles and themes that make for a perfect holiday outfit.
Bows $3.99-$7.99, shirts $9.99, rompers $14.99, dresses $24.99; etsy.com/shop/charliejoyboutique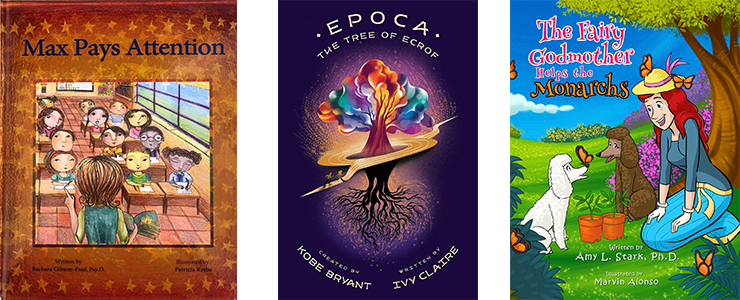 Books
Tis the season for book giving! Written by children's author and therapist Barbara Gibson Paul, of Huntington Beach, "Max Pays Attention" for 4- to 8-year-olds is about a 7-year-old named Max who has trouble sitting still and following the rules in class. When Max finally learns to follow the rules, he earns something special. Santa Ana-based child psychologist Amy Stark wrote "The Fairy Godmother Helps the Monarchs" — an illustrated children's story for ages 6 to 10 about the importance of being in nature, and also includes tips on how to help save the nearly-extinct monarch butterfly. For the older kids, "Epoca: The Tree of Ecrof" is the third release from Kobe Bryant's content studio, Costa Mesa-based Granity Studios. Written by novelist and former world-ranked athlete Ivy Claire, it's a story about two young athletes racing to find their inner magic in order to save their elite sports academy from evil forces.
$14.95 for "Max Pays Attention" hardcover (order at drgibsonpaul@yahoo.com), $9.99 for "The Fairy Godmother Helps the Monarchs" paperback, $16.99 for "Epoca" hardcover; amazon.com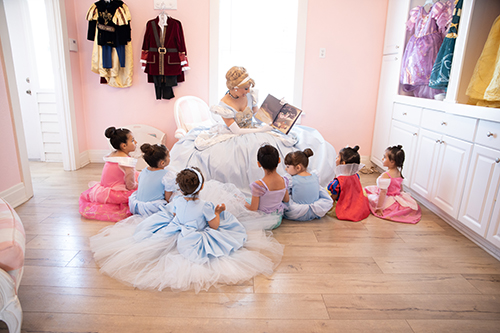 Le Petite Princesse Spa & Tea Parlour
For young girls who've always wanted to become a princess, Le Petite Princesse in Orange offers just that opportunity. The spa lets girls 3 to 11 transform into a princess with the help of mani-pedis, facials, hair styling, makeup and even a dress-up fashion show. Little princesses can also meet their favorite princess for storytime and tea parties. Several package options are available.
$45-$299; lepetiteprincesse.com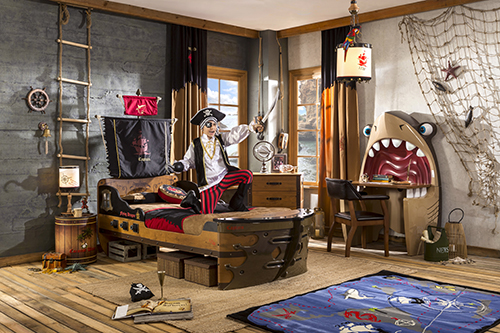 Cilek Kids Room
We all know sleep is important. So, what better way to get your kids excited about sleeping than to get them a bed of their dreams? Costa Mesa-based Cilek Kids Room offers several themed furniture collections for kids and teens. Their most popular products include their Race Car Beds, Pirate Bed, Shark Desk and Princess rooms. One of their newest items is the Loft Bed, which features a bed frame above and a desk below.
Starting at $200; cilekkidsroom.com
FOR MOM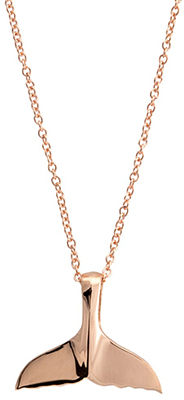 Wyland Foundation Jewelry
Add a little sparkle to mom's style with Wyland Foundation's line of aquatic-themed pendants in gold, platinum and silver in celebration of the foundation's 26th anniversary. These hand-crafted jewels are lead- and nickel-free. With the goal of bringing attention to our water quality, availability, and the importance of safe, reliable water distribution systems, all proceeds will go to the foundation's annual education campaigns for clean water and healthy oceans.
$59-$525; wylandfoundation.org/product-category/jewelry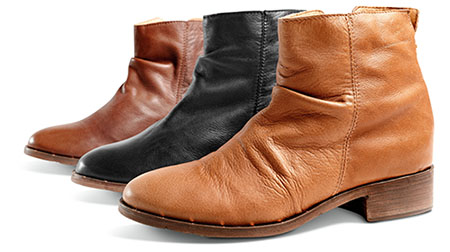 Beek Footwear
For moms on the go, there might not be a better gift than a comfortable pair of stylish shoes. It's this kind of thinking that inspired OC moms Kenna Florie and Birgit Klett to create a line of 100 percent leather, handcrafted footwear with molded arch that still retains femininity. Newport Beach-based Beek was born, and the line of sandals, shoes and boots has grown to appeal to a wide range of lifestyles — including celebs like Julia Roberts and Margot Robbie.
Starting at $159; beekshop.com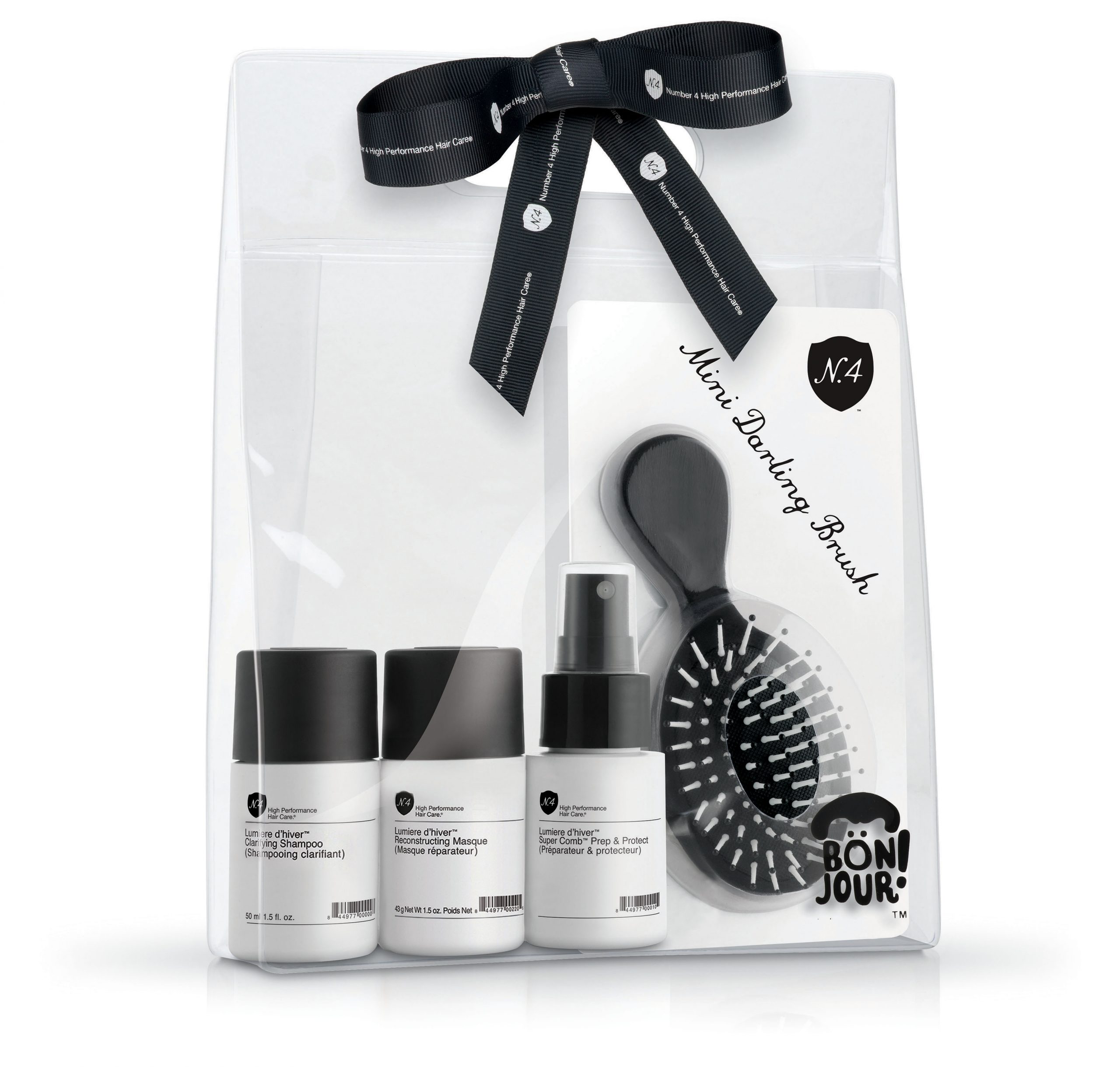 Number 4 Holiday Hair Set
Number 4 High Performance Hair Care, based out of Newport Beach, is making spirits and strands bright this season with its limited-edition mini hair care sets perfect for any mom's hair type. Choose from Gratitude, Giving, Loyalty and Compassion. All gift sets include a mix of hydrating, volumizing, styling and essential products with anti-aging, color-protecting, vegan, paraben/gluten/sulfate-free formulas paired with fine fragrances and organic botanicals.
Starting at $20; number4hair.com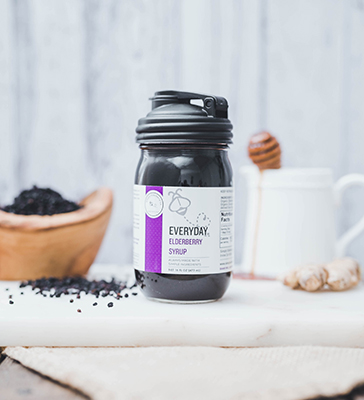 Simply Elderberry Co.
Gift mom a sweet and healthy surprise with handcrafted elderberry syrups from a mom-owned business out of Irvine. Co-founder Natalie Lopez discovered the health benefits of elderberry after her son was diagnosed with pneumonia three times in three months. Syrups are made using no artificial fillers or preservatives, and the So Cal Everyday Elderberry is even made with local honey.
Starting at $25; simplyelderberryco.com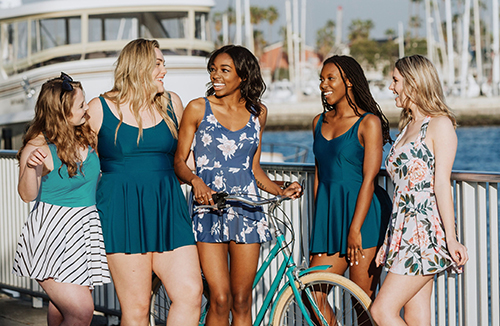 Jessica Rey Swimwear
The beautiful thing about Orange County is that the weather often treats us with sunny days. So even during the cooler months, it's appropriate to give mom the gift of swimwear that makes her feel beautiful. The Audrey Hepburn-inspired swimwear and clothing line was founded by Orange County mom and actress Jessica Rey — known for her work on Disney's "Power Rangers Wild Force." Each swimsuit is ethically made in Los Angeles by knitting yarn made from 100 percent regenerated pre- and post-consumer waste to reduce its environmental impact, and is made to last.
One-piece swimsuit, $108; jessicarey.com
FOR DAD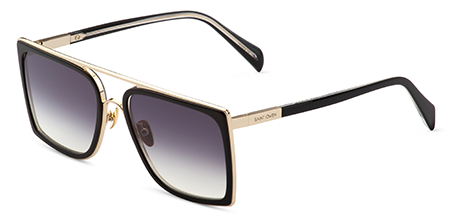 Saint Owen Eyewear
Twin sisters and Saint Owen eyewear creators Val Sanders and Michelle Haner are Orange County natives who have drawn inspiration from their world travels. Rooted in the music industry, these co-creators make eyewear that embodies the rock-and-roll lifestyle. Stylish, edgy and elegant, you'll be sure to find the perfect shades for dad.
Aviators start at $300; saintowen.com
NIXY Paddleboards
Add to dad's sense of adventure by giving him an inflatable stand-up paddleboard from Irvine-based NIXY. Choose from four stylish and functional inflatable SUPs: Huntington, Venice, Manhattan and Newport. The company was founded in 2016 by Irvine residents Ale and Nicolas Szczedrin from their passion for paddleboarding and exploring the outdoors.
Starting at $795; nixysports.com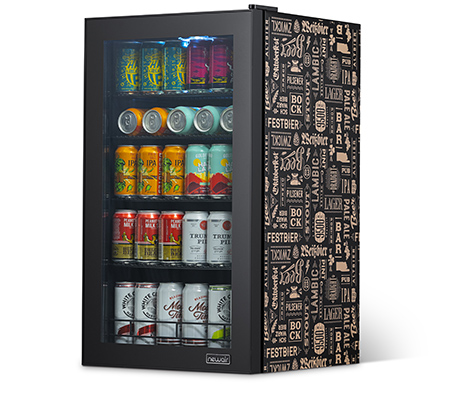 NewAir
Cypress-based compact appliance manufacturer, NewAir, knows a thing or two about good dad gifts. Let's see, first there's the Beers of the World Fridge, which holds 126 cans and chills to 34 degrees. Then there's the Cigar Humidor that both heats and cools — a top seller — for serious cigar aficionados. And to mix it up a little, they also offer a Dual Wine/Beer Fridge, which holds 20 bottles and 70 cans, for those dads who crave variety.
$298.95 for beer fridge, $699.95 for dual fridge, $233.95 for cigar humidor; newair.com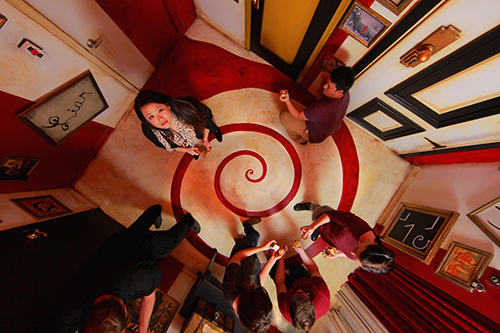 Cross Roads Escape Games
Dads who like games and puzzles will undoubtedly enjoy an escape room adventure. And there are plenty to choose from in Orange County — from franchises like Fox in a Box to smaller, privately-run rooms. Cross Roads in Anaheim is one of the earliest escape room businesses in OC. Founded by husband-wife team Madison and Luke Rhoades, who have theater production backgrounds, Cross Roads features three escape room experiences. The Fun House has a more family vibe, The Hex Room is horror themed and The Psych Ward is great for those who love strategy games. For the holidays, Cross Roads is offering an Escape Room Puzzle Gift Box, including a gift card for one player in a Maze Puzzle Case, a Bronze Cryptex with puzzle and prize, and a Hex Room T-shirt for $99.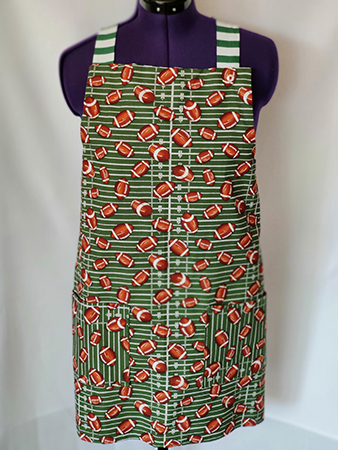 SecondStar Dreams
Get the grill master a reversible, full-sized, adjustable apron from Fountain Valley-based SecondStar Dreams. Pick a favorite theme for dad and have it customized just for him (at no extra charge). SecondStar Dreams was born as a tribute to Jakob, who passed away from Leigh syndrome at age 7 ½. His mom creates aprons, and other accessories like hair bows and bags, as a form of therapy. Jakob's grandmother sells them at small pop-up boutiques, local schools and community boutiques around Orange County.
Full-sized apron is $40, vintage is $30 and crafter is $20 (plus free shipping); order by emailing SecondStarDreams16@gmail.com
FOR PETS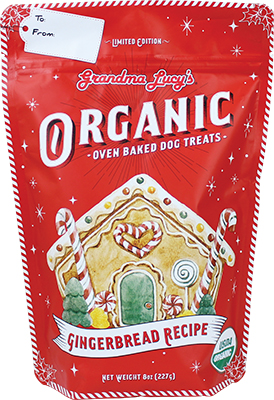 Grandma Lucy's
Let's face it: Treats are often the way to our pets' hearts. But not all pet treats are created equal. If you're looking for tasty, healthy treats for your dogs and cats, peruse Grandma Lucy's holiday offerings. The Rancho Santa Margarita-based pet food company offers holiday-themed Oven-Baked Dog Treats that are 100 percent USDA-certified organic and certified kosher. Choose from gingerbread, pumpkin and cranberry varieties — or get all three. Grandma Lucy's also recently released its Pumpkin Pouches, which are food-based supplements offering various benefits — for inflammation, bladder, digestion, and skin and coat.
$8.39 to $10.99; grandmalucys.com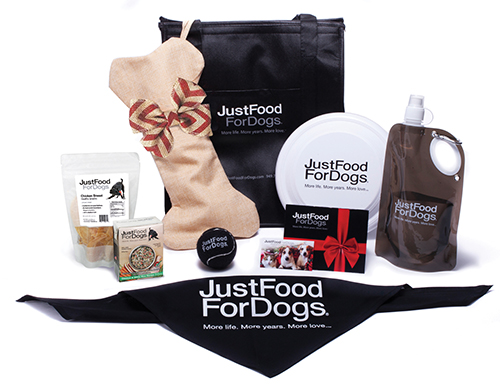 JustFoodForDogs
If you really want to impress your dog, get him a JustFoodForDogs Holiday Swag Gift Bag in beef or chicken. All holiday gift bags include a $25 gift card, insulated bag, tennis ball, bandana, travel water bottle, flying disc and pet holiday stocking. Beef includes a meal of Pantry Fresh Beef & Russet Potato plus Pumpkin Treats, and chicken comes with Pantry Fresh Chicken & White Rice plus Chicken Breast Treats. Orange County-based JustFoodForDogs makes food fit for humans fresh daily for pets in nine open kitchens supplying food to its 181 locations.
$25; justfoodfordogs.com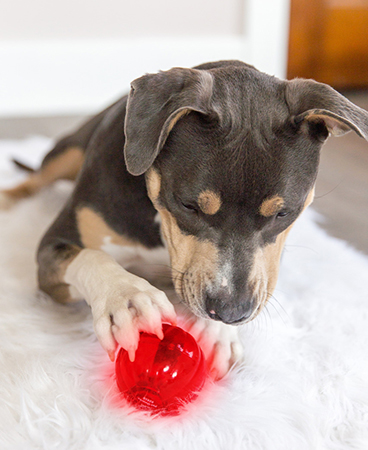 Pet Qwerks Toys
Pets love treats, but they also love playtime. Irvine-based Pet Qwerks has a long list of toy options for your pets. Among them are Babble Balls that appeal to your pet's animal instincts with light, animal sounds, wisecracks and even catnip (for cats). These toys are so sensitive that the air from your pet's breath is enough to set it off, demanding playtime. These toys can stand up to the toughest chewers, from your tiny teacup to your giant bundle of energy.
Blinky Babble Ball $10.99, Talking Babble Ball $9.99, Animal Sounds Babble Ball $9.99, Cat Babble Ball $9.99; shop.petqwerks.com
The Bone Adventure
This Costa Mesa-based doggie daycare offers a Swim Club where dogs can play in the outdoor, temperature-controlled, salt water pool for exercise and fun. Trained staff members supervise dogs during 30- to 60-minute sessions. The pool is L-shaped and is 50 feet by 35 feet. Dogs can swim, jump and play to their heart's content. With a mini Swim Club membership, pets get three 30-minute group swim sessions for $60.
Call 714-604-1414 to purchase; theboneadventure.com
By Jessica Peralta and Sommer Clark