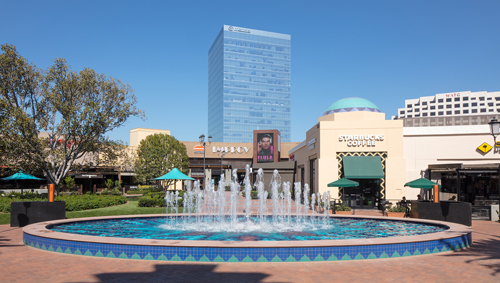 Next time you find yourself strolling through the Irvine Spectrum Center, you'll be doing a double-take.
Yes, that is a new climbing gym for kids — and it's like no other. Designed by Spencer Luckey, a graduate of the Yale School of Architecture, the Luckey Climber sculpture stands 18-feet tall, 50-feet long and 18-feet wide and is filled with 75 rotationally-molded plastic platforms in bright colors to challenge kids of all ages to climb and problem-solve. But that's not all. The Irvine Spectrum Center's $200-million "reinvestment" is giving shoppers a total of 30 new stores and restaurants located throughout four brand-new buildings. The first stores started opening in August and will continue through 2019.
Part of the new look for the center involves enhanced outdoor spaces and amenities, including courtyards and rolling lawns, trees and landscaping, and seating areas with comfy furniture.
Irvine Spectrum guests will be greeted by a host of new shopping and dining experiences this month — including both national brands and smaller boutiques.
---
Hello Kitty Café
The brand's first-ever cafe offers desserts, coffees, teas and spirits. The opening marks the cafe's transition from pop-up to permanent.
www.sanrio.com/pages/hellokittycafe
---
H&M
The fashion-forward clothing and lifestyle brand now has a new Southern California flagship store. The brand offers clothing for all ages and includes items for the home, as well.
---
STANCE
This San Clemente-based brand takes socks to a whole new level. The stylish sock range appears nearly limitless, with socks for adults, kids and a variety of themes. (If you're looking for "Star Wars" socks for your kids, look no further.)
---
Gorjana
Inspired by Southern California lifestyle, this jewelry company offers an extensive line of locally-designed pieces for any occasion.
---
85°C Bakery Cafe
You won't be able to resist walking into this high-end gourmet bread, dessert and beverage cafe. Keep an eye out for their "Sweet Deals" of discounts.
---
BLKdot Coffee
With a motto like "sleep is overrated," don't be surprised if you are able to finish a week's worth of work in a day after having an espresso at this invigorating cafe.
---
The Denim Lab
Denim, denim and more denim. If you can't find a great pair of jeans here, they might not exist.
---
Afters Ice Cream
You just won't be able to say no to this ice cream shop known for its decadent, colorful ice cream sandwiches made with a glazed doughnut and delightful toppings.
---
Concrete Rose Boutique
This women's fashion boutique offers everything from contemporary to urban and glam trends from the shop's style experts. The boutique also offers image consulting, wardrobe styling and personal shopping.
concreteroseboutique.com
---
Falasophy
This modern Lebanese street-food kitchen traces its roots back to 2014, when it was a Southern California food truck.
---
Robata Wasa
Sushi lovers won't want to miss this elegant Japanese cuisine and sushi restaurant.
---
SoHa Living
Looking for something just a little different for your home decor? SoHa Living specializes in tropical and coastal home living decor.
---
Ra Yoga
De-stress and reboot with this full-service yoga studio, including a long list of group classes, private yoga instruction, yoga therapy, Ayurvedic wellness treatments and childcare.
---
Un.Affected
This modern clothing boutique for men and women is "focused on shattering the standard of fashion and being genuine to your personality and style."