A few of OC's most unique — and active — programs for children of all abilities.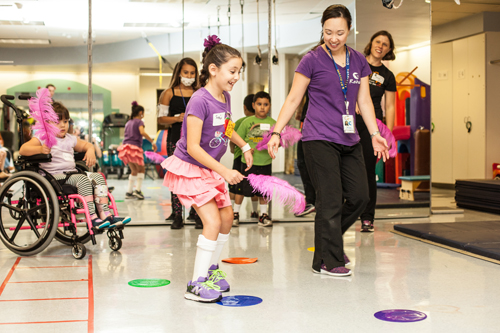 The Segerstrom Center
The Segerstrom Center for the Arts in Costa Mesa offers many programs and services geared towards children and adults with special needs. The Segerstrom Hall, which presents everything from Broadway shows to children's theatrical productions, hosts several sensory friendly performances as part of the center's Family Series. These shows are designed specifically for patrons with sensory sensitivity, so they can enjoy productions with their families.
Segerstrom's School of Dance and Music for Children with Disabilities has only been open for a little over a year as well, and it is already proving to be life-changing. Take, for example, a non-verbal student who spoke the first time during a session.
"At first I thought this was a mistake, but he repeated (his name) a second time," recalls his teacher, Ashley Jones. "I shared with his grandmother… She looked confused and then her eyes were a bit teary. 'We were told he would never talk,' she explained."
The school — which serves students aged four through 13 —is led by experienced dance teachers, professional musicians and licensed therapists. There is also a team of trained volunteers on site to provide individualized instruction.
"From our careful enrollment process, to how our children are introduced to their classes, to the curriculum we have developed, each element of the school has been refined to make sure that all of our students — and their parents — feel welcome and supported," said Susan Marie Hill, School of Dance and Music for Children with Disabilities director.
Costa Mesa | scfta.org
---
The Friendship Circle
It's a place where young people with special needs can find support, friendship and inclusion.
The Friendship Circle is a non-profit organization that offers children fun, free activities in a safe environment. Its offerings includes sports leagues, support groups, social gatherings and recreational programs. It hosts winter and summer camps, too.
But the Friendship Circle isn't just for kids. It's also home to an active parent support group, where moms can unwind and connect over a cup of coffee.
After all, the Friendship Circle says it exists to "bring happiness and companionship to children and young adults with special needs by celebrating their individuality, as well as bringing energy, support, and peace of mind to their families."
Newport Beach | friendshipoc.org
---
The Shea Center for Therapeutic Riding
It's powered by 40 staffers, more than 800 volunteers — and some 22 equines.
At The Shea Center for Therapeutic Riding, perhaps the numbers speak for themselves.
For the past 40 years, the center has provided therapeutic, horse-related programs for people with disabilities.
Though there's no age limit to participate in the programs – riders range in age from two to 98 – the Shea Center has a number of offerings that are of particular benefit to children.
Young students can improve balance, strength and coordination through physical and occupational therapy. Sensory, cognitive and emotional systems are addressed too.
Every summer, the Shea Center holds integrated summer camps for children with and without special needs. Participants learn to ride horses, improve horsemanship skills, and engage in other equine-related activities.
San Juan Capistrano | sheacenter.org
---
Special Fishies
Waves of inspiration led Jodi Powell to launch Special Fishies, a South County program that teaches special needs kids how to swim. But her first — and perhaps most powerful — source of motivation came from her father, who suffered from Multiple Sclerosis.
"If I had the knowledge and capability back then, I could have helped his quality of life," said Powell. "Now I carry him with me every time I hold a new (student) who can't walk anywhere but in the water, where they move and feel like nowhere else in their world."
The non-profit Special Fishies, which opened in 2016, offers water safety and aquatic freedom lessons. Non- and semi-mobile students benefit from the latter category.
"We use full-face masks to give children with low or no tone the gift of swimming face first," says Powell. "The laughter, smiles and singing we hear the moment they realize they can breathe, see and float is magical. The tears from the parents and myself can fill the pool."
San Clemente | www.specialfishies.org
---
We Rock The Spectrum
Lana Kharitonov was a stay-at-home mom, enjoying motherhood with her two children, when she felt called upon to make a change.
The move came after Kharitonov and her husband, Eugene, learned about We Rock the Spectrum's franchise of indoor play gyms.
"The idea of a gym that is fun for typical kids and has a healing power for kids with special needs moved us deeply and touched both our hearts and minds," she said. "Even though we didn't know much about autism, we decided that it's time to give back to the wonderful community of Orange County and make it an even better place for all families."
The couple opened We Rock the Spectrum Laguna Hills in 2015.
Kharitonov describes it as a safe and nurturing environment that helps foster learning and exploration. The gym's sensory equipment includes specialized areas designed specifically for children with sensory processing disorders.
Along with open play, We Rock the Spectrum offers birthday parties and social skill classes. It also hosts informational meetings for parents of children with special needs.
Laguna Hills | werockthespectrumlagunahills.com
---
By Michelle Thompson