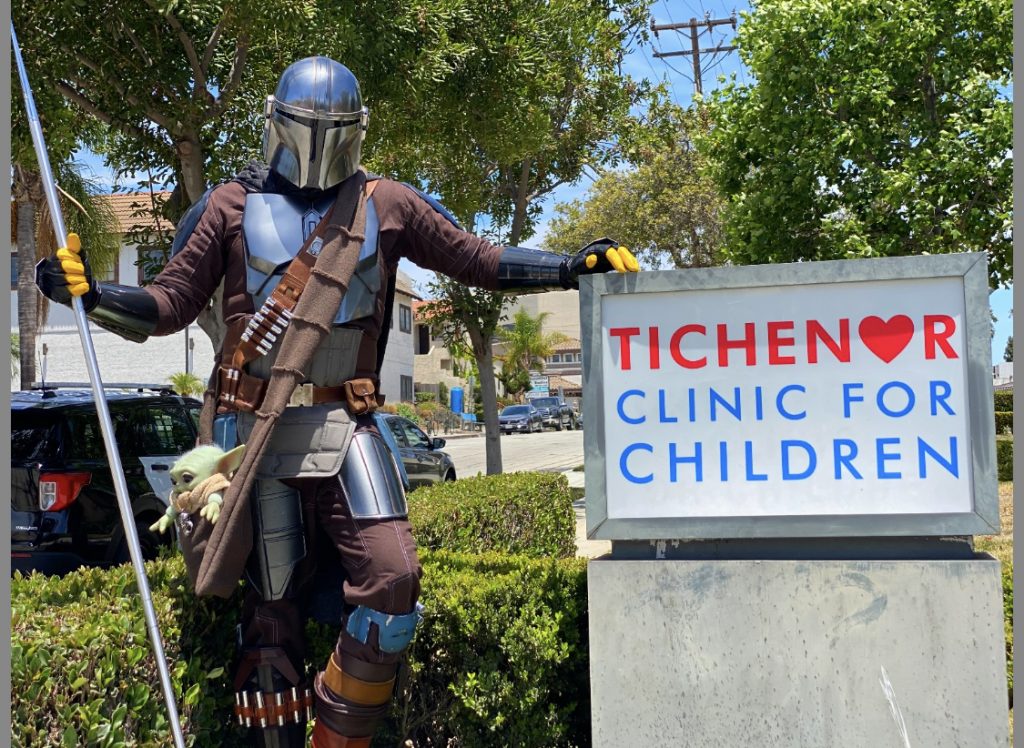 Local juvenile correctional officer spends his free time bringing superheroes to life to put smiles on faces of all ages.
Not all heroes wear capes. Some, like Yuri Williams, wear a Deadpool costume.
Williams is the founder of A Future Superhero And Friends, a 501(c)(3) non-profit that allows him to visit the elderly, veterans, the homeless and ill children dressed as Deadpool, SpiderMan, The Mandalorian and even a Stormtrooper.
The Orange County Deputy Juvenile Correctional officer was inspired to start A Future Superhero And Friends after going through one of the most challenging times in his life. He lost his mother, Lynda C.Hubbard, in 2009 to an eight-year-long battle with cancer. Williams says he fell into a deep depression.
"I have seen depression in my kids," he says of the incarcerated youth he works with, "but I had never felt it until I lost my mom."
After three months of grieving, Williams returned to work and the first day back was rough. He sat in his car, dialing his mom's number as he had countless times before work. His mother worked as a juvenile probation officer for 30 years herself.
"I called the phone and it's ringing and ringing and I realized that she is not here anymore and I just start crying."
While Williams composed himself, he pulled up Instagram and made an account. The first friend to pop up in his feed was Officer Tommy Norman, a police officer in North Little Rock, Arkansas who spends his time off volunteering with the community. The second person in his feed was HipHop Trooper.
"He dresses up as a red 'Star Wars' Stormtrooper. And I loved 'Star Wars' growing up. 'Star Wars' and Spider-Man were my favorite," says Williams.
Finally, Williams discovered Rodney Smith Jr., who mows lawns for elderly veterans, single mothers and those with disabilities, for free in all 50 states.
These men were all doing good in their community and Williams realized that if he helped other people, he might be able to help himself.
"I met up with Rodney and I told him, 'Man, I need to get out of this depression, I need to go on a 50-state tour with you.'"
---
Related Posts:
---
The two teamed up — Smith Jr. mowing lawns and Williams visiting children and hospitals dressed as Spider-Man. They have since done two 50-state tours together and are planning another for the end of this year.
A Future Superhero And Friends has a handful of board members, but Williams does most of the visiting himself.
"I created this non-profit to keep my mother's name alive," he says, "to honor her for teaching me how to help people and doing what's right in this world."
One of Williams' first events was at a 5K walk at Angel Stadium.
"It was 100 degrees that day and I was walking around this 5K walk," he recalls. "I could not even see in the costume and so I had a friend walking with me."
He met a young child in a wheelchair with a rare brain cancer and the boy's face immediately lit up when he saw Spider-Man approach. Williams continued to visit with the child while he was in treatment and says supporting the child and his family was one way he could pay forward the support he received during his mother's illness.
"When my mom was passing away, people were coming by to help and bless me, so I wanted to be there for them as they transition into this next life of not having their son there."
A Future Superhero And Friends allows him to raise money for costumes and supplies for his events. Williams hosts an Art Healing Program through his non-profit, which is held in parks and gives children an opportunity to express themselves with art supplies. Other successful projects include backpack giveaways, blood drives,Thanksgiving turkey giveaways and Christmas toy drives. During the pandemic he did homeless outreach in the Santa Ana riverbed and virtually attended children's birthday parties.
"The rewarding part is up-lifting people and just seeing that smile on their face."
Williams say that while he grew up looking up to Magic Johnson, he says his mother was the real hero.
"No one could top her," he says. "She was my No. 1 superhero."
To donate to A Future Superhero And Friends, visit: https://www.afuturesuperhero.com/donate
---
By Sarah Mosqueda