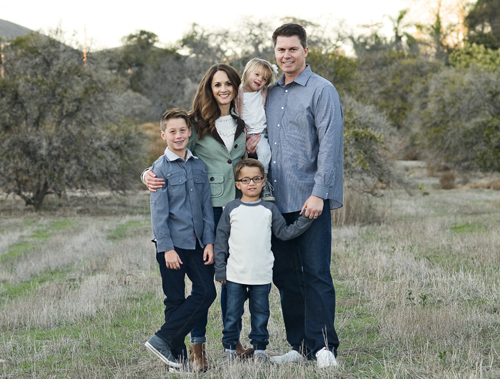 Raising Awareness, Funds, and Spirits
When a young mother discovers a lump on the skull of her three-month-old baby boy, anxiety and fear run amuck. Nicole and her husband Todd feared the worst and searched for answers to their child's noticeable bump. Four years and countless doctor visits later revealed an official, yet devastating diagnosis that changed their lives forever.
When Nicole and her husband Todd married in 1999, they knew that a family was going to be in their future. Luke was born first. He epitomized all things boy and often ran the young couple ragged with his constant need for activity. Maddox, who came three years later, was very different from his brother. "He was just our shy, mellow guy," said Nicole. He was full of joy and always content.
The bump that Nicole discovered on Maddox in his infancy was diagnosed as lymphangiom (benign tumor), which in no way alarmed the doctors. But as Maddox began to grow, the gap between his physical stature and those of a typical boy his age widened, and other obvious dissimilarities became disconcerting. "He wasn't athletic like his brother and that was okay," Nicole said, but it was much more than that.
Nicole's intuition wouldn't accept that everything was normal. She questioned specialists, nutritionists, and pediatricians for more information. She needed causes for why Maddox was sleeping more, slow to develop physically and academically, walking awkwardly, stumbling, and withdrawn. By age four Maddox, had broken his collarbone, nose, and arm, from falling.
Finally, doctors delved deeper into the issues that Maddox was facing. An emergency surgery revealed water on the brain. The benign tumor, which started in his skull, was now running down his spine into his torso. A pediatric neurologist diagnosed Maddox with neurofibromatosis, or NF. A cancer in which a tumor develops and continues to grow with the child.
Brain tumor. Inoperable. Those words were shocking. Crying, and searching for more clarity than the glossy pamphlet of information they were handed, Nicole and Todd left the hospital having the sudden realization that the landscape for everyday life had changed dramatically.
Aside from scanning the Internet for hours on end to unearth every piece of information about NF available, Nicole decided to fight back. She would fight for funding to research the detrimental tumor which was taking over her young child's body, fight for community with other parents whose children were suffering, fight for local NF clinics, awareness and a cure, but most of all fight for a normal life for her growing boy.
In 2012, Nicole poured all the emotional noise in her brain into a Youtube video chronicling the life of Maddox and his diagnosis. From that seven minute video, hundreds donated to the Children's Tumor Foundation (CTF). Nicole singlehandedly raised $10,000. CTF took notice and invited Nicole to a NF conference for leaders fighting for a cure and for parents probing for information.
Nicole realized sometimes you have to raise eyebrows to raise awareness (and money!). The Team Maddox Undie Fundie neighborhood carnival, where participants wear undies over their clothes added a "Bouncing Booties" event at Big Air Laguna Hills that raised over $8,000 and a lot of spirits.Whether running in the mud or selling cookies on the corner to raise money for the Children's Tumor Foundation, Nicole is game. She was even able to convince the LA Citadel to post the CTF logo on their LED signs May 14 for World NF Awareness Day. Nicole fights for hundreds of children suffering from NF. She has no plans of giving up hope for a cure.
Maddox is now seven and in the 1st grade. Every day is a fight, but with the help of doctors who have dedicated their lives to helping kids who suffer from NF, victories are on the horizon.
If you would like more information on the Children's Tumor Foundation and NF please visit the website at www.ctf.org. The video about Maddox' life that inspired countless to fight alongside Nicole against this awful disease can be viewed at: http://youtu.be/SgLaynzgUj8