Bravo TV's "Flipping Out" star, Jeff Lewis and partner Gage Edward have taken on their most ambitious, and challenging, project to date — Fatherhood. Meet Monroe, the beautiful little girl who has stolen the hearts of her dads and soon, America. We chat with Jeff about how life has changed since Monroe's arrival, how he finds balance between business and baby, and about his own idyllic childhood growing up in OC.
Jeff Lewis returns to his living room office from a quick jaunt to the nursery, Baby Monroe's calls echoing out behind him. Addressing his team, a tightknit work family who rides the waves of the genius designer and home stylist wherever they might lead, "Who do you work for?" "Jeff Lewis," they call back behind laptops and work stations tucked around the home. "No," Lewis corrects them. "You work for Monroe Christine Lewis. That's who we all work for now."
Bravo TV's Jeff Lewis and his partner of eight and a half years, Gage Edward, have worked together on many projects. But this latest bundle of sweetness certainly tops them all. The dads anxiously awaited their little one, now seven months old, fighting past the stress of having a long distance surrogate and fears of missing her birth. Neither anticipated what an amazing experience awaited.
"I'm obsessed," says Lewis. "I used to be very Jeff-centric, now it is all about Monroe. And I love it that way."
The OC native has flipped over fifty homes in Orange County and SoCal over the years. He currently enjoys working on homes in Harbor Island and Huntington Beach as they provide a great excuse to visit with his family on a weekly basis.
"I loved my childhood in OC. My mom would drop me off at Orange Mall or Main Place to meet friends, we would eat at Red Robin, bike down to Farrell's Ice Cream. Every single Friday of the summer we would go to Corona del Mar. I used to swim so far out into the water. There was a lot of pool time. Now that I have Monroe, I think my parents probably did that just to wear us out so we'd go to sleep."
Lewis's father, stepmom, grandmother and brother still live in OC. He loved his home base so much, he stayed in Orange County for college and makes it a regular part of life.
"As a kid, much like Gage and I do now, we lived in the homes my dad was flipping. Mission Viejo, Villa Park, Orange Park Acres, Newport Beach, we were all over. I grew up trailing my dad on the job. I expect Monroe will be doing the same thing. It would be great if she wanted to be a designer or developer, but I want her to choose her own path. I just hope that Monroe is as lucky as I am, in that I was able to make my hobby my career. I would love for her to have that same amazing life. Because it doesn't feel like work to me."
Lewis and Edward used to revolve around their projects, clients and the staff who were always a close part of their life. "We used to work until 7pm and then there would be cocktails or dinners out, now we are pushing them all out by late afternoon. I live for the mornings. Being there for that first 45 minutes when Monroe wakes up and is so happy, it's a high that stays with you the entire day."
Balancing baby and business, rather than becoming a challenge, has created even greater success.
"We were trying to simplify things long before Monroe, but having her really was a catalyst for big changes. I don't have a choice anymore, we can't work the hours we were working. It is just about streamlining and working smarter. As a parent, you just can't do it all. The fact is, the first three or four months after she was born, I wasn't so good at my job. Because something had to give. And it wasn't going to be Monroe. So it forced Gage and I to reevaluate. I waited 46 years to be a father…46 years. I take it very seriously."
Despite having the Bravo TV Emmy-nominated docu-reality show, speaking engagements, a line of barn doors, paint, and tile at Home Depot and clients; Sunday is family day. And the couple is working toward both Saturday and Sunday being reserved for family.
"I didn't go through all this and wait all this time just to pass off my baby to a nanny. I love walking in the room and have my kid look at me and smile and recognize me and be happy that I appeared. I'm fortunate that I have my own business and can structure it in a way where I can do both. There are people out there that do not have those options, so I'm certainly going to take advantage of it. The flip side is that we do have a business that requires a lot of my time. But that's simply not working for me anymore. I can't choose a job because it creatively inspires me or I want to work with some celebrity. I used to do it all, but what's important to me now is Monroe."
Lewis and Edward's plan to expand their family, as they tighten up their business plan. Although having so many irons in the fire helps with stress.
"If one source dried up, I still have several others. That's how I sleep at night, even if the shows goes away…and it will. I can't even believe it's been going this long. Ten years with Bravo, filming Interior Therapy, Property Envy and Flipping Out — it's not something I ever expected or planned on. It's got to stop some time, right?"
For now, fans certainly hope it doesn't. If for no other reason than having more opportunities to enjoy the adorable Monroe, a boss baby quite literally running the show.
By Sascha Zuger
---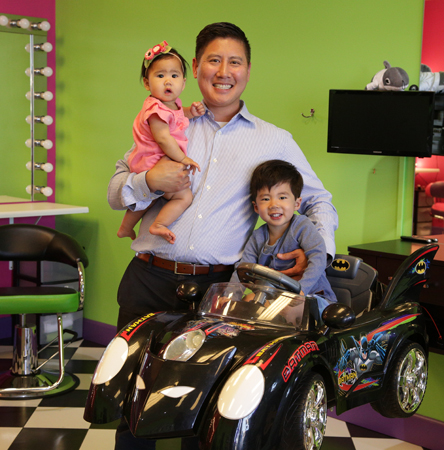 Steve Wen
Sharkey's Cuts for Kids, Costa Mesa
If you'll pardon the pun, you might say Steve Wen has strong roots in the hairstyling business. He practically grew up at his mom's hair salon. During his time in the military, he even served as the Navy's "unofficial barber". But when it came time to take the scissors to his own son's hair, disaster struck.
"It looked really bad," he recalls. "It just looked funky. I thought it would be okay, but obviously it wasn't."
Wen and his son took a trip to a children's salon. Though he was worried his son might be a difficult customer, that turned out not to be the case. Little Lucas, now three, sat still and watched cartoons as his stylist salvaged his hair. There was no whining and there were no tears. Lucas took home a lollypop, and his dad took home an idea: to open a kids' salon of his own.
Unfortunately, that's when things started to get a bit tangled. Wen's business plan began to bleed money as permits were denied, equipment was held up from delivery and the store's opening was ultimately delayed by four months.
"Everything went wrong," says Wen. "It was stressful and depressing at the same time."
It all happened during an already stressful time for Wen's family; his wife Janet was pregnant with their second child. Janet has a busy schedule of her own. She worked throughout her pregnancy, and now looks after the children alone in the morning in addition to working up to 50 hours per week at the Capital Group Companies in Irvine.
Ultimately, Wen cut the ribbon on Sharkey's Costa Mesa last December. Glowing Yelp reviews are coming in and business is steadily picking up. Still, Wen hasn't quit his day job as a trader for California Resources Corp, which makes for long and exhausting days.
The father of two little ones begins each workday at 3:30am, and normally punches out about 3pm before traveling back from Long Beach. From there, he heads to Costa Mesa to check on Sharkey's. He helps staff clean before driving to a local Montessori to fetch his children, Lucas and baby Charlotte.
From 5 to 8 p.m., he's on "dad duty" and spends the time playing with his kids, cooking them dinner and starting their bath and bedtime story with Janet. He and his son play Legos, complete puzzles, or watch a cartoon together. (They sing Moana songs, too.) It's a time both father and son cherish.
"It makes me happy," he says. "It's not just for me, it's for the kids, too. It just feels good to spend time with my family. On weekends, it's all about family. I try to focus on hanging out with the kids. I love to take them to the park."
He says he works so hard largely to ensure his kids have everything they need and are supported. Though Wen's time is divided, he hopes his children learn from his strong work ethic and desire to do better for their own family. "Kids acknowledge when their parents are working hard to put food on the table," he says. "I hope our kids understand and see that."
By Michelle Thompson
---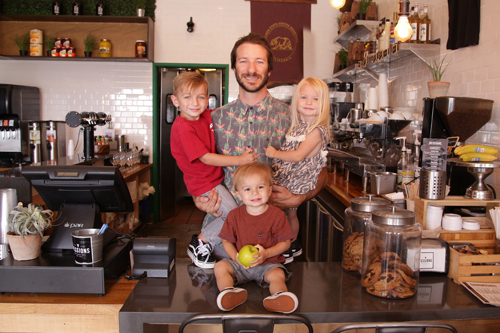 Matt Meddock
Sessions West Coast Deli, Newport Beach, Irvine and HB
Matt Meddock always dreamed of being a firefighter. In a sense, he got his wish. But instead of charging at blazing houses, he spends his days putting out fires in a different sense. As a busy dad of three and owner of the popular Sessions West Coast Deli franchise, he solves problems for a living.
Meddock begins his day at 4 a.m., an hour when college kids are only slinking into bed after a night at the pub. He arrives at his restaurant and spends a few hours working on administrative chores before his employees begin punching in. Things start getting a little hectic with the arrival of morning customers.
"I get to the restaurant with enough time to get all of my paper work and busy work done before my staff gets in," says Meddock, 37. "My customers and staff start to show up around 7am. I like to have as much time as possible for them to start the day out right."
Though Meddock never accomplished his initial goal of becoming a fireman, he did spend some time working as a paramedic in the Mojave Desert. He recalls how he would work on his business plan for Sessions while waiting for incoming 911 calls.
"One day in the back of the ambulance I had a vision, and it wasn't me sitting in the ambulance. It was me working with people socially and using my network I had created to make something big," says Meddock. "At that very moment, I decided I was going 100% in on Sessions. I quit my job shortly after and haven't looked back since."
The first Sessions deli opened along Newport Beach's Newport Boulevard in 2014; it was followed by a second, oceanfront restaurant in Huntington Beach. His business has since expanded with a third location in Irvine's Woodbridge neighborhood.
Though Meddock's 12-hour workdays typically stretch into 14-15 hour days, he always manages to squeeze in time to spend with his wife, Summer, and their three children.
He takes off Saturday afternoons and Sundays and makes the most of that time with his family. They'll often spend weekends at the beach or embarking on hikes. Understandably, with three children under the age of three, being at home with the kids isn't any easier than running a busy restaurant.
"I feel sometimes I'm a kamikaze pilot in the Second World War for having kids that close together," jokes Meddock. "But through work I've learned patience. Just like I put out fire at work, I do so at home. Almost nothing stresses me out."
Though Meddock's chaotic work and family life might seem stressful, he said his kids give him a sense of purpose and drive. He said they push him to work harder and smarter, so that he'll have more free time to help them achieve their goals. He reflects on an important piece of advice his father once gave him.
"He said: 'Son, your kids will never tell you that they wish they had more money, or they wish they had a bigger house. But there is a very good chance they might tell you they wish they spent more time with you.' That lesson forever changed me, the way I work, why I work, and when I work."
By Michelle Thompson