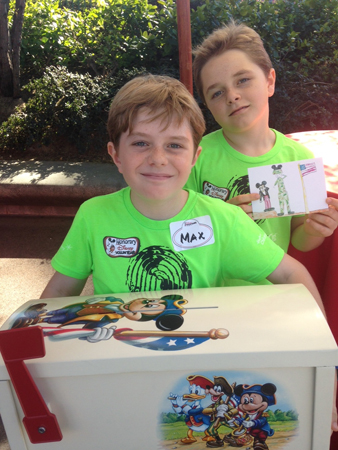 San Clemente Joy Maker
Here come the holidays, and the glittering, vibrant cheer they bring. But the holidays are not just about families feeling joyful and exchanging gifts. They're about sharing and caring for others, who are less fortunate, too. Because while many lucky children and their relatives think of the holidays as a warm, happy time, countless others all around are instead struggling to cope with illness, hospitalization, loneliness, poverty, homelessness, hunger or other serious difficulties.
The generationOn Joy Maker Challenge (joymaker.generationon.org) is an effort aimed at engaging youth in volunteer service. To empower kids to feel twice as nice about helping others, during the challenge, from November 21 to December 23, Hasbro will donate a toy or game to Toys for Tots for each child ages 5-18 who signs up and volunteers (up to one million dollars' worth of toys).
Max Page of San Clemente, known for his role as 'Mini Darth Vader' in a Volkswagen Super Bowl ad and a recurring role on Young and the Restless, was one of generationOn's 57 Joy Maker Challenge ambassadors. Each ambassador, selected through a competitive application process administered by generationOn, will receive between 100-500 Hasbro toys & games to donate locally as part of a service project they will hold during the Joy Maker Challenge.
Max had very big plans for his. He selected 10 families to come pick out 10 toys each during a fun open-house toy distribution event hosted from a "Giving Garage" at his home, with his family and best friend. Each family chose an organization in the county to share the toys with. Max's goal through this effort was to make sure that the toys he had been given by Hasbro didn't end up all in one place. He wanted to spread the joy far and wide, to reach those who need them most.
What drives Max, who is just a child, to have such a generous spirit and to put such effort into helping others? He knows how much it means to be on the receiving end of such help. Max was born with a congenital heart defect. At age 7, he underwent open-heart surgery at Children's Hospital Los Angeles to replace his pulmonary valve and repair a hole in his heart and has continued to receive treatment ever since, coming off of two heart surgeries last summer. "I've been in that place when others reached out and helped me before," Max says, "and I loved it so, SO much, that I wanted to know how I could do the same for others."
For a child like Max, there is a lot to be excited about and grateful for this holiday season, including his health. But what he is most thankful for, above all, he shares, "is the joy of giving and spreading happiness to others. And to have the chance to give others the opportunity to give, too. Not just to think about what we want to get." generationOn has provided opportunities for Max, and so many others like him, to help and inspire others through their efforts like the holiday Joy Maker Challenge.
Join hundreds of thousands of kids across the country for the Joy Maker Challenge this November 21 through December 23, and give back this holiday season. Teens, teachers, youth development professionals and families can share their volunteer stories on the generationOn website to be entered to win prizes and toys and games to donate, too.