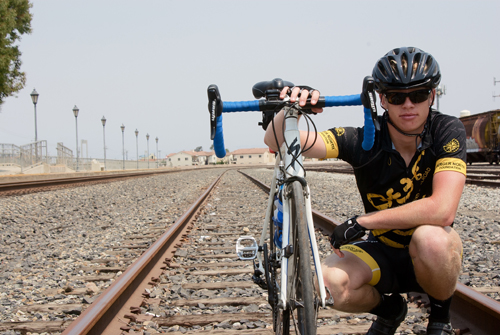 Woodbridge High School senior, Mark Tenney, had no idea that eavesdropping while washing the dinner dishes would change his life forever.
One evening, Mark's parents invited family friend, Tim Ballard, to dinner. As in most dinner conversations with people you don't see often, "Tell us what you have been up to, Tim?" was the springboard to a story, one which tugged violently on the Irvine teen's heartstrings. Mark, the third of four boys, listened to Ballard's stories of rescue missions devoted solely to snatching kids out of sex trafficking rings and returning them to safety. Mark knew in an instant he could not go another day without lending a hand to Tim Ballard and his organization Operation Underground Railroad (O.U.R.).
Two million kids are being kidnapped for sex slavery around the world. This awful business claims victims as young as ten, forcing them into a horrifying and dangerous world of abuse. According to the O.U.R. website, "sex trafficking is the fastest growing criminal enterprise worldwide."
"I had no idea it was a billion-dollar business," Mark said.
The primary way O.U.R rescues children is by setting up sting operations targeting criminals spearheading "parties" designed for pedophilic locals and tourists. When the event begins, the undercover team present themselves, along with the local police, and safely return the children to their homes.
Mark listened to the stories of rescue operations by Tim and his team of Navy SEALS, CIA, and other special force members, and decided he needed to do something more than sit and soak in the tragedy. Much as the trafficking rings are a business, the operations devoted to saving kids also face financial realities. The cost of a rescue operation entering a foreign country can cost as much as $50,000.
Mark struggled with the frustration of wanting to help, but lacking a viable solution for raising funds of that level. He decided any assistance was a step in the right direction. Since Mark and his family members are avid cyclists, he decided that a family bike ride to raise money for Operation Underground Railroad seemed like a valid first step.
His plan was to encourage extended family, friends, and local businesses to support his parents and brothers for a 450-mile bike ride along the coast of California, from Santa Cruz to Laguna Beach. Mark started personally visiting individuals and businesses, raising awareness and asking for their financial support for Ride the Railroad. Soon word of Mark's charity bike ride spread. Mark spent 5-10 hours per week gathering supporters, participants, and planning the weeklong event, all in addition to his regular academic schedule and sports.
Ride the Railroad charity bike ride took place at the end of July 2016. The event piqued the interest of Orange County supporters and beyond, expanding beyond a family ride into a community event. Riders could choose to bike the entire route or join for a portion, along the scenic coastline. By the time riders reached El Moro Elementary school in Laguna Beach, nearly 50 men and women coasted in, all committed to raising funds for the cause.
From this one event, Ride the Railroad raised $120,000 toward rescuing kids through Operation Underground Railroad. Surveying the impressive results brought a humble, but satisfied smile to the seventeen-year-old.
"It was all worth it — all the hard work we've done and time we've put in? All worth it," Mark said.
If you would like more information, please visit: www.ridetherailroad2016.com and ourrescue.org