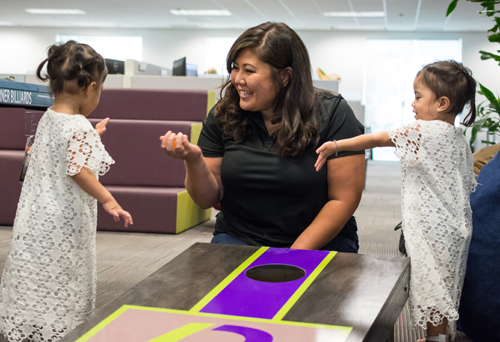 Saving Two Lives with One Swab
"You're a match!" Seeing the email in her inbox, Judiel Ennis wondered how she had landed on an online dating junkmail list. Happily married, the Foothills Ranch mom ignored the email. When a persistent unknown number began showing up on her phone days later, she noted the lack of a voicemail and decided the calls were a mistake as well. No alarms went off, time passed, and Judiel went on with life.
Two years before the email and anonymous phone calls began, Judiel wandered past a room at her workplace where DKMS (a bone marrow donating program) had a booth set up. Her fellow employees were submitting to a swab of the inside of their cheeks so that the results could be registered, to find out if they were a match to someone suffering from blood cancer who needed their help. "Every 3 minutes an American is diagnosed with blood cancer," she read from a glossy pamphlet. The sad truth that "only 30% find a combatable match in their family" inspired her to enter for a quick swab.
When her employer, Loan Depot, pulled her aside and said that they had been notified that DKMS was trying to get in touch with her, she began to piece together the puzzle of unknown phone numbers and ignored emails. Judiel Ennis discovered that her blood was a match, a perfect match, to twin girls in Canada who were suffering from alpha thalassemia, a form of blood cancer. DKMS, the company who processed her swab two years earlier, had been called on by the twin's desperate parents. Little Zoey and Zayne needed Judiel's bone marrow after their older sister's bone marrow was rejected.
Once she had the opportunity to hear bits and pieces of their story and the requirements necessary to extract her bone marrow, she consulted with her husband. With the support of her friends and family, Judiel agreed to undergo the procedure.
As the big day drew closer, Judiel's excitement blossomed at the thought of providing lifesaving bone marrow for the tiny twins, whose lives were in danger of being cut short. Since both girls were in need of bone marrow, Judiel's surgery took a bit longer than it normally would have. However she woke up from surgery with no pain. She and her husband were even able to take in the sites and snow of Pennsylvania the day following her surgery.
Months later, Judiel was given permission to connect with the family and, thanks to Loan Depot and DKMS, met the now healthy girls who by her act of generosity, were living a cancer free life. It was a medical first with identical twin girls. Judiel never imagined that her impulse to participate in a Swab Drive offered by her employer would project her into a yearlong adventure with strangers who would become family. After all, they would be linked together for life, both emotionally and physically.
Judiel still visits regularly with the family via email, Facebook, and FaceTime calls. Her story impacted her best friend Janel so much that she too decided to swab. Janel was recently matched and is scheduled to fly to Washington DC to participate in her own retrieval surgery. Her only request was that Judiel accompany her, which she happily agreed.
Judiel may not grace the covers of magazines and newspapers across the USA and Canada for her lifesaving gift, but she's a true hero to a family whose hope has been restored and whose lives are forever changed.
To learn more about how you can swab to register as a donor please visit www.dkms.org.