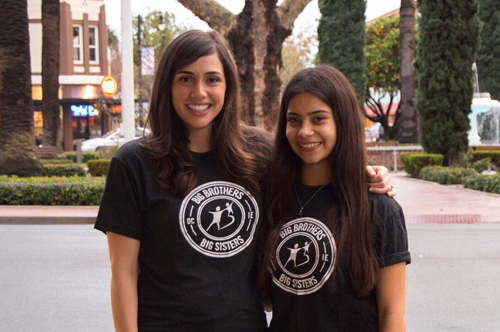 Creating a Cycle of Good
One day in 2010, Jessica Romley (pictured on left) sat sipping coffee with a friend, listening to a story that would change her path forever. Her friend shared her enthusiasm about being part of Big Brothers and Big Sisters of Orange County, and of the sweet girl she helped through their mentoring program.
Remembering her own childhood mentors, coupled with the positive example of a solid work ethic and successful marriage bestowed on her by her parents, Jessica thought, "I can do that for someone else." Jessica completed the necessary paperwork in order to become a Big Sister and didn't have to wait long. Jessica was matched in just six months with Alejandra, a young girl who needed Jessica's encouragement, passion for life, and guidance.
Their first encounter was awkwardly filled with talk of family and answering basic questions like, "What is your favorite food?" But as time together increased, conversations lengthened, and the uneasiness faded. Scheduled time involved helping with schoolwork, talking through life and family issues, and embarking on short adventures together. "Ale" shared the hurts and tough issues she was experiencing.
As time went on, her trust in Jessica grew enough to share a difficult situation at home. Through Jessica's encouragement Ale was able to reunite with her estranged father who later gained full parental custody. Jessica's biggest influence has been reminding Ale that she cannot let the things that happened to her define the rest of her life. Their friendship continued to grow and develop over the years.
Alejandra watched as Big Sis Jessica met her husband, married and became a mother. Jessica was so inspired by her own experience as a Big that she joined the nonprofit as director of programs in 2013. Through Jessica's help as a Big Sister, Alejandra survived elementary and middle school and is now a junior in high school. Now 15 years old, Ale is an AP and honors student and captain of her color guard team. She is also an AVID (Advancement Via Individual Determination) mentor at school. Through each of these phases and accompanying challenges, Jessica has been by her side. In fact, the organization and Jessica Romley have had such an impact on Ale that she, too, has become a volunteer through the "High School Bigs" program.
Once a week, for the entire school year, Ale now mentors her own "Little" at Beswick Elementary school. She helps her with homework, gives her encouragement, and mentors her through social quandries with family and friends. Ale's experience with the mentoring program has truly come full circle.
"Being a mentor has been one of the most rewarding experiences in my life," said Jessica. "Alejandra's positive outlook and perseverance even in the most difficult circumstances inspires me every day—I learn as much from her as I hope she learns from me."
Jessica's work has had such an impact, she has been named 2017 Big of the Year. Although Jessica Romley has no biological sister, in 2010 she was given a sister for life named Alejandra. She is precious gift wrapped in acceptance, loyalty, and love. She is also a gift that keeps on giving, as a cycle that might have become negative has instead turned to good.