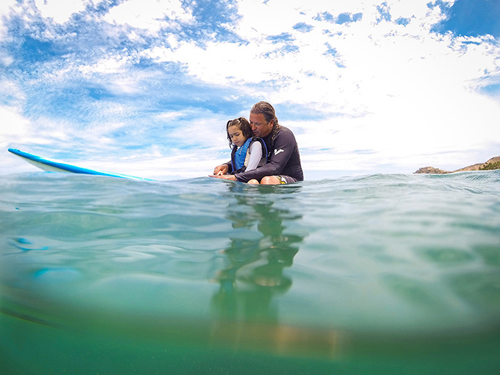 Riding Waves with Autistic Children
How do you turn hopelessness into triumph? For Izzy and Danielle Paskowitz it happened by chance on a surfboard in the middle of the ocean. Now, by sharing, thousands have been given a special gift.
When his first son Isaiah was born, Israel "Izzy" Paskowitz had the dream of any professional athlete, that his son would follow his career path and become a professional surfer. After all, Paskowitz is a member of the "First Family of Surfing." (As one of eight brothers and a surfing sister, his childhood was spent traveling fulltime around the United States winning surf competitions.) However, after Isaiah was diagnosed as autistic at the age of three, it seemed Paskowitz' chances of mentoring an athletic son on a surfing journey might never come to fruition.
Instead of accepting reality, Paskowitz ran. He began spending most of his days absent from his family, absorbed in heavy drinking coupled with incessant traveling as a competitive surfer. Under the pressure of life with small children and an absentee spouse, his wife Danielle asked Paskowitz to come home or to leave his family permanently.
Paskowitz stepped up and changed his lifestyle to become the husband and father his family needed. He continued as a world champion long boarder, but much as his own parents did, included his family in the surfing journey. In 1996, while paddling into the ocean to begin another competition, he noticed his autistic son deep in the throes of sensory overload. Frustrated by the outbursts and wanting to relieve his struggling wife, Paskowitz came ashore and did what seemed natural. He grabbed his son, placed him on the surfboard, and began paddling back out over the waves. Within seconds, his son Isaiah began to relax, his muscles loosened, his mind engaged, and his anxiety abated, as the salty water glided over his daddy's surfboard.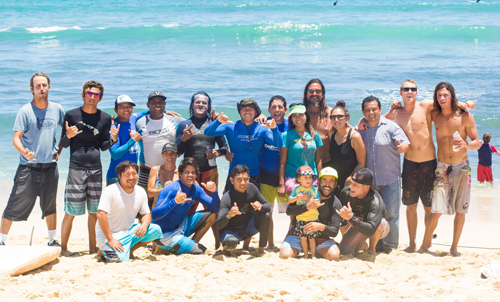 "A calm came over him. He was loose and relaxed, and genuinely happy," said Paskowitz. In this pivotal moment, true acceptance hit. Paskowitz decided to embrace what they could do as a father and son, and stop focusing on what they couldn't.
Two years later, Surfer's Healing was launched. Co-founders Izzy and Danielle Paskowitz began to reach out to families with autistic children offering a free one-day surf camp for autistic children. On a sunny Southern California day in 1998, thirty kids and their families gathered on the sandy shores in order to experience the joy of surfing.
What started as a way for Paskowitz to connect with his autistic son has become a powerful form of therapy for autistic children and their families throughout the world. Over 5,000 children with autism have since clamored to beaches with Surfer's Healing to experience the hypnotic trance of the ocean. It is a way for families to congregate, commiserate, console, and encourage each other. And for a time, spend the day in a judge-free zone. The foundation's aim is not to find a cure for autism, but allow these struggling children and their families to pause and breathe while the calm of the ocean reenergizes their weary souls.
"I can ride waves with autistic kids and we are not going to charge a penny for it," says Paskowitz. "These are the best days in my life."
Learn more about Surfer's Healing, how to support the organization, or sign up your autistic child for a one-day surf camp at www.surfershealing.org.