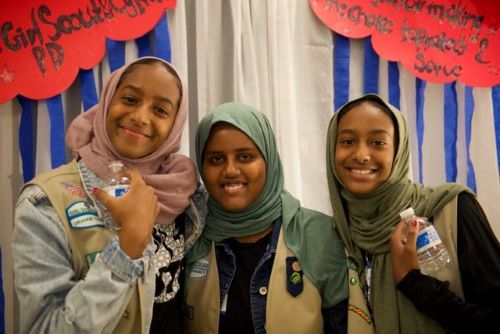 OC Girl Scouts help create dialogue between local police departments and the Muslim community.
Trust is a big issue. And there just wasn't enough of it toward local police in the Anaheim and Cypress communities three Girl Scouts lived in.
One side not knowing much about the other leads to miscommunication. Misconceptions. That leads to problems.
The solution was simple if someone was just willing to get people together. Dana and Jumana Mussa, and Nahar Said were working on their Girl Scout Silver Award and had an idea.
The three teens were members of Troop 3408, an all-age Girl Scout troop based out of the Islamic Institute of Orange County, where every other Friday night from fall to spring, they would gather as part of the family night community programs.
"The goals of starting this troop," says Troop Leader Nadia Hassen, "were to introduce minority girls to different and creative ways of learning in a girl-friendly environment by motivating them to develop a strong sense of self, display positive values, and help them identify and solve problems in their communities by transferring their ideas into actions."
The Girl Scout Silver Award is the highest award a Girl Scout Cadette in middle school can earn. The teens saw an opportunity, but they also saw a need.
"We saw a need to improve relationships between law enforcement and the Muslim community," Dana says. "We believed we could build a bridge of trust and communication that could provide a foundation for improved relationships, safety and inclusion. We knew it couldn't happen overnight, but it could happen by planting a good seed.
"This made us nervous," Dana says, "as we didn't know what to expect at first. However, it wasn't as hard as we thought it would be, as both sides initiated respect and came with positive attitudes from the moment they interacted with one another."
In 2019, they designed their project, called "Bridging Between the Police and Minority Community," and they planned two events with Anaheim and Cypress police departments. They would invite local Muslim kids and local police officers to share a few activities, share a meal, and talk.
About inclusion. Safety. And about building relationships.
But once the teens had gotten the two groups to agree, they had to prepare to lead. Figuring out the right questions and feeling smooth and at ease asking them took work.
"I prepared by practicing twice a week for a month," Nahar says.
"Having conversations about community-police relations can sometimes be uncomfortable," Dana says. "We decided to make participants feel at ease, so we asked some of our community members about the concerns they had with law enforcement before the event and prepared the questions accordingly.
"We tried to tackle issues that minorities face with the police. We also prepared surveys for both community members and police and explained certain points to examine both sides' biases before the event just to make sure everything went smoothly. We prepared the dialogue ahead of time and shared it with the police department before the event, so they could have some expectations about the contents of the dialogue held on the day of the event," Dana says.
And the meal was as essential to each event as the dialogue.
"Part of our hospitality in our culture is offering food to others," Jumana says. "Sharing food was part of the socialization steps that we planned because people bond over food. It was a way for families to share their experiences, stories and thoughts with police and to create a comfort and ease."
She says their anxiety about making the events successful quickly fell away.
"We were surprised at how easily police officers and our community got along with one another. They were asking questions with respect, sharing their good and bad experiences with police, and showing the importance of everything we do in Islam. The officers were excited to visit our mosque and learn about our culture and religion. Even when they came inside the prayer hall to observe people praying."
She says Cypress Police reserved the community center for their event for free. "We were so grateful for their act of kindness."
The girls secured their Silver Award this year and were recently given the Take Action Award for making "a significant and lasting impact in [a] community."
They grew and learned. They changed their community.
"The event in 2019 was fun. I hope the police officers come more often to the mosque with more activities and programs," Nahar says, looking forward.
Related Posts:
---
By Shawn Price