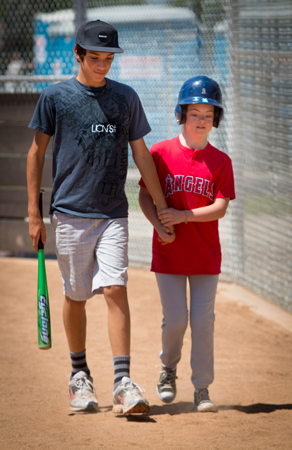 Brady Gardner, 13, of Huntington Beach goes to bat for kids with challenges.
When Brady Gardner, 13, of Huntington Beach steps up to the plate, he's already batting a thousand in the eyes of the players and parents affiliated with the Little League Challenger Division. The league is designed to help kids with challenges enjoy a classic sports team experience, and it couldn't happen without Brady and his friends.
"It's fun helping others who don't get a chance to do what everyone else can. I used to play Little League — this gives them the opportunity to do the same. We have a kid for each player to go out into the field with them, or help them bat and run the bases if they need it."
Brady is one of a team of tweens and teens choosing to serve the Orange County community through Lion's Heart Organization. The weekly baseball league, a favorite of the teen and his friends, is just one way they are connecting with the OC Community to do good. But Brady insists it isn't a one-way street.
"I made friends with a lot of kids from Challenger I might not have otherwise met," says Brady. "They are really nice and enjoy having us there. We also talk to the parents, because we'll help the kids pack up after the game."
Lion's Heart is headquartered in Orange County, but has 49 chapters and nearly 3,000 active members across the country. Groups have between three and twenty teens and are organized by gender, grade, and location. Though each group has a parent class coordinator, the teens elect their own officers, lead their own meetings, and decide how to serve their community – with no fundraising.
With this structure, Members have the power to choose how they want to serve and are encouraged to support causes that are meaningful on a personal level. For Brady's team that meant connecting with kids living with disabilities through baseball, participating in beach cleanups through Surfrider, learning how to shelve books and help with the Kids Summer Reading Program at the local library, and delivering cookies to seniors and teaching them how to use iPads to better communicate with their families.
"When I started, I never had done community service. Now we do it quite a bit and I plan to do it until the end of high school. It's a fun experience and something you might never get to do again. The whole concept is to do good as a team."
At the age of 11, Brady joined a friend's organization, which has now grown to nearly 20 kids. Some members joined from other schools, giving a richer social experience. Although members sign on for a year and commit to 30 hours during that period, Brady averages 12 hours a month and has no plans to slow down.
"Lion's Heart is unlike any other teen volunteer organization in the country in that we don't rely on our Members for fundraising," says Terry Corwin, Executive Director of Lion's Heart. "Our mission is to teach teens the value of community service in a way that inspires them to continue to give back throughout their lifetime."
Founded in 2004, Lion's Heart is a national non-profit teen volunteer platform available to 6th – 12th grade students. The organization instills the value of community service in its members, providing meaningful life skills through leadership opportunities and philanthropic experiences. Over the years, members have performed a combined total of more than 400,000 volunteer hours, which equates to more than $9,000,000 in societal value. The organization will open 2016 enrollment on February 1. For more information visit their website www.lionsheartservice.org.