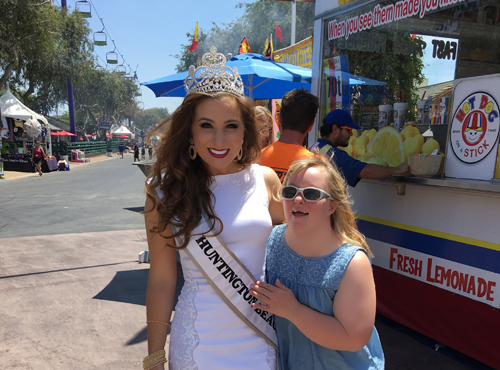 There are times when one's goals align with a well-plotted life journey. And there are times when that path changes directions and life hand delivers something different. A visit to Camp Footprints, a place for children with disabilities and their families, put a young OC teen on the path to giving.
Alex has always loved having a big sister. From an early age she knew that her big sister was unlike other big sisters. Courtney, who was born with Down syndrome, grew up watching her little sister sing, dance, and perform. Whether Alex was a lost lamb in a skit at church, singing accompanied by a piano and guitar in the worship band, or taking part in a performance at school, Courtney sat in the front row cheering for her baby sister.
When Alex left eighth grade at Christ Lutheran School in Huntington Beach, she attended Orange Lutheran High School to pursue her love for musical theater. She dreamt of performing on Broadway. However, when Alex stepped away from performing and spent time at Camp Footprints, her desire to support and encourage those just like her sister, strengthened.
Alex loved the atmosphere that Camp Footprints provided, not only for her big sister, but also for her, a sibling who experienced the daily challenges associated with having a disabled sister. After attending with her family for several years, Alex took a more challenging role at camp and became a counselor.
When Alex graduated from Orange Lutheran, she continued to pursue her dream of earning a spot on the Broadway stages. She was chosen as one of the five incoming freshman to be part of the prestigious musical theater program at Texas Christian University. While completing her B.A. in Musical Theater Performance, Alex continued to support Courtney through a variety of activities that serve those with special needs, and took a position as a full time childcare recruiter for United Cerebral Palsy-OC (UCP-OC) while continuing to help at Camp Footprints during the summer.
When Camp Footprints had a talent show, Courtney jumped at the chance, "I want to do that!" In helping her sister prepare, Alex realized firsthand the need to be a conduit for extracting the talents of people with disabilities and the reward of giving them their own platform for performance. She was no longer driven toward a career in the spotlight, instead seeking a career where she would be able to give kids with disabilities their own opportunity to shine. Alex decided to direct her efforts toward creating a non-profit theater or camp for kids and adults with disabilities. But where to begin?
While home one day, Alex flipped past the Miss Universe pageant on television. As she listened to the contestants talk about their support for charities and helpful organizations her path became illuminated.
"I thought, what a great way to develop a platform to advocate for kids with disabilities and build awareness of their needs," said Alex.
After consulting her parents, she stepped up to the challenge. Earlier this year, Alex entered a local pageant and won Miss Huntington Beach OC Ambassador. Her designated platform during her term will be to raise awareness for individuals with special needs. She aims to tie in the good work of UCP-OC, running in the Miss California pageant in 2017.
While some might think the OC teen's dedication to her sister demonstrates her giving nature, Alex feels like she is the one who was given a gift. Courtney not only fueled Alex's passion to work for kids with disabilities, she has taught Alex about patience, how to care deeply for other people, and to cheer them through obstacles and on to victory. A true win-win.