The Food & Wine Festival at Disney California Adventure might sound like it's for adults, but Disney makes sure there's plenty of things to do for children too. One of those offerings for kids is a chance to learn how to bake the right way at an event called "Jr. Chef." But this is no simple live cooking show; after all, this is a Disney theme park – so the children chefs have a special teacher.
"It's Goofy's show," said Gary Maggetti, general manager of Disney California Adventure.
"He does make a mess."
The baking takes place on the Hollywood Backlot stage. After signing up, each kid receives an apron, to help keep their clothes clean, along with a Jr. Chef hat before any mixing begins. They are also divided into teams with the goal of mixing the batter together to make "Magical Oatmeal Cookies."
Then Goofy enters the scene to guide them, as only he can, through the recipe, ingredient by ingredient. Each kid on a team gets the chance to add something to the cookie mix. But it's not just about making cookies and having fun; it's also a learning experience.
"We talk about the importance of having a recipe and how baking is a lot like chemistry and why we have to add the exact amount of each item," Maggetti said.
After all of the ingredients are in the bowl and properly mixed, with Goofy's help, the batter is portioned onto baking sheets and put into a "magical oven," and a few moments later comes out as a perfectly baked Mickey Mouse shaped oatmeal cookie. Hint: It is a show, so there is some Disney magic involved to shorten the "baking" time.
At the conclusion of the show, each participant will receive a wrapped version of the cookie. They have to return the aprons, but they are allowed to keep the chef's hat to bring home and create their own culinary treats. Maggetti said that each kid could also receive a chef's hat too at the entrance of the park – just ask a cast member (Disney employee).
In addition, there are other activities around the park during the festival designed for the younger set, including a craft area where they can decorate their own cookies. For parents with teenagers, there are family-friendly seminars on cooking a variety of food items. Each presenter will share tips and tricks for making various foods during the 20- to 30-minute presentation. This event also takes place on the same Hollywood Backlot stage, Thursday through Sunday, during the festival.
Along with the presentations, there are specialty shows that will take place around the park. Kids will enjoy the "Jamming Junior Chefs." Musicians wander the park with a cart stuffed with pots and pans and other kitchen items they use as percussion instruments. Wherever they stop, they put on a show that involves young volunteers plucked right out of the audience. Kids, for a change, can bang on the pots and pans without Mom or Dad telling them to stop.
As to the rest of the festival, Maggetti said there are plenty of food and beverage offerings that all ages can enjoy, and hopes that parents will encourage their children to try new things.
Annual Passholders will have a chance to try many things with the $45 Sip and Savor Pass. It includes up to eight entitlements from the various food and beverage booths at the festival – though it does not include alcoholic beverages. Those are extra.
As to the Oatmeal cookies baked with the help of Goofy, Maggetti said he tried making them at home: "I'm not a really good baker, but it is Maggetti family approved."
The Jr. Chef cooking show takes place on the Hollywood Backlot stage and is designed for children ages 3 – 11. The show takes place at various times each day the festival runs from March 2 through April 12, 2018 at the park.
Sign-ups are in person the day they visit the park at the stage; children under age 7 must be accompanied by someone age 14 or older. There is no charge to take part, though admission to the park is required. Each show can accommodate 48 people.
Learn more about the Jr. Chef event at: disneyland.disney.go.com/entertainment/disney-california-adventure/food-wine-jr-chef/
Learn more about the 2018 Disney California Adventure Food & Wine Festival at: https://disneyland.disney.go.com/events-tours/disney-california-adventure/food-and-wine-festival/
Photos courtesy: The Disneyland Resort.
---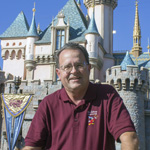 Mark Eades is a former Disney Imagineer who spent more than 20 years as a writer and producer in the theme park industry, then went into journalism for 20 years. The father of five now spends time with his wife, while writing about theme parks and more.