The pandemic has made me want to be more prepared. What should I include in my family's emergency kit?
All ages
As we begin the new school year (from a classroom or the living room), it's the perfect opportunity to teach kids about the importance of being prepared. While the last several months have shown that we can't predict or control what happens, we do have the power to prepare ourselves and our loved ones for an emergency.
Typically, students learn how to prepare for emergencies, like wildfires and earthquakes, at school. It's a great time to prepare your family and get the kids involved with the fun of planning and creating a family emergency plan and kit.
Take time to sit down together to discuss an emergency plan and the activities to create an emergency kit. Involve your kids in this process. Have them help you identify phone numbers for emergency contact information, select items for your kit, while also explaining their importance and how to use them in an emergency. Make sure that they pack some books, a well-loved stuffed animal, games, or other activities for comfort in an emergency situation.
A basic emergency kit should include at least:
Cloth face coverings and hand sanitizer
Water — 1 gallon per person, per day
A first aid kit
Non-perishable food items and favorite snacks
Extra types of identification cards for you and your child
Extra cash — small bills
Toiletries, including extra prescription medications
Flashlights
Batteries — make sure to check them every six months
A battery-operated or solar cell phone charger
A battery-powered or hand-crank radio
Helpful tools like can opener, wrenches and pliers
Blankets
Extra sets of clothes and shoes for each member of the family
Garbage bags
Duct tape
Small toys and activity books
Maps of Orange, Los Angeles and San Diego Counties and more
---
Related Posts:
---
Determine a family meeting place in case anyone gets separated and have kids memorize important phone numbers. Also, place a copy of emergency phone numbers in your kids' backpacks to have handy when they return to school. Be sure to gather enough supplies in your emergency kit to last several days.
While wildfires and the pandemic are hot topics, it's also important to make sure kids know what to do in an earthquake. Each October, schools across California participate in the Great ShakeOut — a one-minute earthquake drill to practice drop, cover and hold on. Families and neighborhoods can join in to practice too.
This year, the event will be virtual: You decide when, how and where you want to hold the drill, and with whom. Plan to set aside some time to participate in this drill with your kids, in addition to pulling together your family emergency kits, so everyone is prepared.
---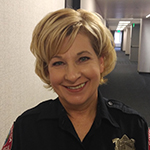 Brenda Emrick is a fire protection community education specialist with Costa Mesa Fire & Rescue. She is a member of the California State CERT Workgroup and ReadyOC, Orange County's emergency preparedness program. For additional information, please visit readyoc.org.
(Opening Photo Courtesy of HiveBoxx/Unsplash.com)