I'm going to be a new parent soon. What should I ask the pediatrician?
Adults
Congratulations, you are having a baby soon!
You are excited, nervous and probably aren't sure exactly what to expect when you turn from expecting to parenting.
Should first-time expectant parents meet the pediatrician before the birth?
Yes, when looking for a pediatrician you will entrust the care of your child to for the next 18 years, a bunch of five-star reviews or recommendations from friends are helpful. However, an actual meeting in-office can seal the deal. There is no better time to meet the pediatrician than during the weeks or months before the baby is born. Many pediatric offices welcome soon-to-be parents to schedule a no-cost meet-the-physician visit.
It is so much easier to park, find the suite, walk in and take in the office vibe without a car seat/stroller, baby bag and a sleeping or crying infant. You can get a good sense if the office is a good fit for you.
Is it easy to access?
Is it close to home/work?
Does the office have sick and well reception rooms?
Most importantly, do the pediatricians and staff make the effort to get to know you and your partner? This is the time to make those connections.
In this first meeting, the pediatrician should discuss what to expect in those first exciting months after birth, review basic newborn care, discuss how the office works and give you familiar faces to help greet your new arrival. They can also confirm whether your insurance is accepted.
What are the practice and childcare philosophies?
Does the pediatrician provide individualized, comprehensive and evidence-based care that acknowledges the best course of action may be different for each family? Does he/she dictate treatment plans or do they discuss options, alternatives and risks/benefits so you can confidently share in the decision-making process?
Do they have any sub-specialty areas?
In practices like ActiveKidMD, you are not just getting board-certified pediatricians, you are also getting board-certified sports medicine specialists who can work with your active child from birth through the young adult years. Kids grow fast, and before you know it, you might be regulars on the fields, courts and/or dance floors. Choosing a pediatrician with specialized skills in sports medicine helps keep older kids more connected and offers ongoing unique opportunities to discuss fitness, nutrition and injury reduction.
Are they readily available for calls/messages both when the office is open and when it is closed?
Not everything happens with your newborn between 9 am and 5 pm. What happens when you need your pediatrician outside of those times? Who answers the phone? Is it a phone tree/voicemail? Who responds to your calls after-hours and on weekends? Is there an automatic referral to the urgent care or emergency room? Is there an option for telemedicine services with your pediatrician?
Some practices now offer telemedicine services both during and after regular hours. This helps many families reduce the need for urgent care or emergency room visits.
Can you schedule a same-day appointment with a familiar face for a sick newborn, or if you have concerns about your newborn?
Being a first-time parent can be challenging. When you call with concerns, does the pediatric office try and make things easier by offering a same-day appointment with your trusted pediatric provider — either in-office or via telemedicine if that works better? Do they keep appointment slots for same-day appointments and do their best to be creative when sick children need to be seen, thus reducing that need for urgent care or emergency room visits?
When will the pediatrician see your baby for the first office visit?
Be prepared to see your pediatrician for the first office visit three to five days after your baby is born. That first visit is important to check how the baby is feeding and the baby's weight. Newborns tend to lose weight right after birth (breast and/or formula fed). That first visit will help determine if too much weight has been lost.
We'll ask how things are at home and then have a talk about the color yellow.
OK, so why is the color yellow so important for newborns?
Babies are born with extra red cells that get broken down over the first few days of life. These extra cells get processed by the liver and change from red to yellow. The skin of a newborn can turn yellow until these breakdown products are eliminated from the body by having yellow poop. Yellow poop is good and usually starts around three to four days of life. Yellow on the skin can be OK to a certain point (face is less of a worry and getting closer to belly button is not so good). This is why newborn diapers often have yellow tape tabs.
Putting in the time to ask questions and visit pediatric offices while you are in your last trimester of pregnancy will reduce the stress and enable you to choose the best doctor and practice for your baby. The time invested doing this is well worth it and you can rest assured your child will be receiving the best care before he/she is born!
---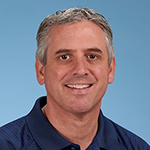 Dr. Chris Koutures is a dual board-certified pediatric and sports medicine specialist who practices at ActiveKidMD in Anaheim Hills. Please visit https://activekidmd.com or follow him on Twitter (@dockoutures).