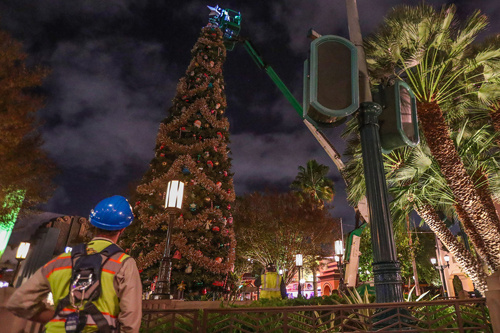 Working at night, crews with cranes & ladders transform theme parks for the holidays in a hurry.
Visiting local theme parks is an extra special experience for families during the holidays as the parks are dressed in their holiday best.
But it takes fast-working crews to, in a matter of weeks, transform Knott's Scary Farm into Knott's Merry Farm, turn Disneyland into something less spooky, take the Halloween Horror Nights out of Universal Studios and end the "Brick or Treat" at LEGOLAND.
Getting those holiday decorations in place is an extra-special challenge for the decorating teams at the parks as all have extensive decorations in place for the Halloween season and they have to be quickly replaced.
The Disneyland Resort starts before Halloween by putting things like "snow" on Sleeping Beauty Castle and converting the classic attraction "it's a small world" to the holiday version.
Halloween means Knott's Berry Farm is Knott's Scary Farm, with skeletons and pumpkins throughout the park that all have to be removed—but they don't start putting up Christmas décor until after Halloween. The same thing at Universal Studios Hollywood and LEGOLAND.
Teams fan out at all the parks right after they close for the Halloween season and immediately begin removing goblins, zombies, ghouls and pumpkins. After approximately three nights of work (as the parks are open during the day) nearly all signs of Halloween are gone.
Then crews go to work putting up things like holiday window displays, wreaths, special holiday lights, Christmas trees and much, much more.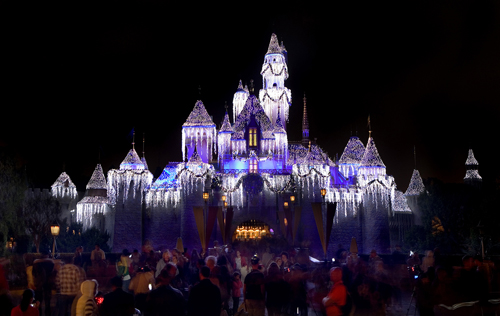 The overhead garlands on Main Street U.S.A. at Disneyland are one of the toughest items to place and they cannot start until after the Christmas Tree in Town Square is brought out via crane.
"During night one, our Disneyland Crane team installs the rigging, a cable system that spans across Main Street U.S.A., and calibrates each line to the appropriate load," said Dawn Keehne, Disneyland Resort enhancement manager.
Keehne added that during night two, a crew of 20 install the garlands on each of the cables, and others run power to the lights and make sure the lighting programming works properly.
Over at Knott's, it's not garlands but getting ready for Santa Claus that keeps them busy. According to Jeff Shadic, the park's decorating manager, taking the Red Barn Maze out of the Wilderness Hall and building Santa's Barn in the same place is the hardest project for his 14-person crew.
Universal brings out its 60-foot tall "Grinchmas Tree" that becomes a backdrop for a variety of Grinch-themed shows featuring characters from "How The Grinch Stole Christmas." The Wizarding World of Harry Potter turns the castle into The Magic of Christmas at Hogwarts Castle, among other special seasonal offerings.
LEGOLAND's Christmas tree is the most unique among the parks as its 30-foot tree is made entirely out of forest green-colored DUPLO bricks, more than 245,000 of them.
And speaking of Christmas trees, the Knott's 45-foot-tall holiday tree is brought out, via crane, to Calico Square, across from the Calico Railroad Station. It features 5,000 lights and nearly 2,000 ornaments.
The 60-foot Christmas tree in Town Square at Disneyland has brand-new branches on its trunk, and all-new 3,500 multi-color C9 lights, 100 oversized faux candles that range from 12 inches to 22 inches and 1,500 custom early 1900s-inspired ornaments.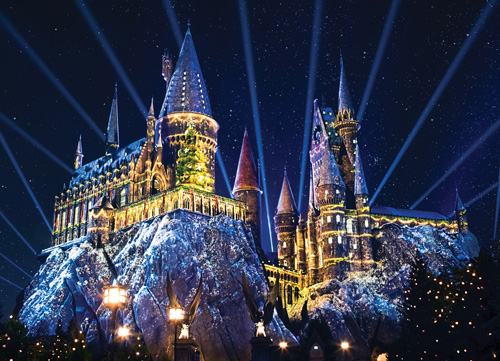 Of course, there are even more holiday trees placed around the parks and surrounding areas.
At Knott's that's nearly another 150 Christmas trees, and nearly 300 at the Disneyland Resort, including its 50-foot tall tree on Buena Vista Street at Disney California Adventure. And at Universal, it includes a 40-foot tall Christmas tree glistening with 200,000 LED icicles choreographed to the lights and sounds of the season in the 5 Towers plaza in CityWalk.
By mid-November, all the parks are ready to go.
"Seeing it all installed and being able to step back and enjoy the finished product and all of the amazing décor that has been installed in the park by a small but [mighty] team," Shadic said.
The holiday season starts at Disneyland Nov. 9 and runs through Jan. 6, 2019. Some of the special holiday entertainment includes: "A Christmas Fantasy" parade that runs daily, including the famous wooden soldiers; "Believe … in Holiday Magic" fireworks spectacular with a snowfall finale (depending on the weather); "it's a small world Holiday," and Haunted Mansion Holiday, based on Tim Burton's "The Nightmare Before Christmas"—which actually started its run with the Halloween season.
Disney California Adventure's holiday season will run for an additional two days, through Jan. 8, 2019 and includes: Festival of Holidays and the Festive Foods Marketplace; "Disney ¡Viva Navidad!" hosted by the Three Caballeros, along with Mickey Mouse and Minnie Mouse; Princess Elena's Musical Grand Arrival, and a special place for kids to visit Santa Claus along the Redwood Creek Challenge Trail.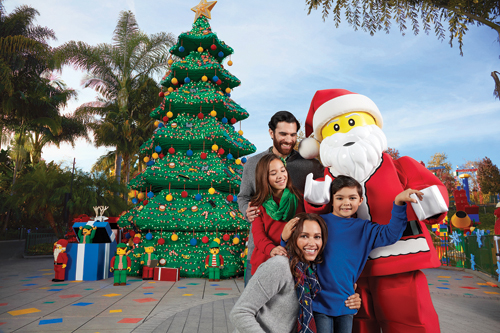 For more information about holiday offerings and schedule times at the Disneyland Resort visit online at: www.disneyland.disney.go.com.
Knott's Berry Farm's holiday season begins Nov. 15 with the start of the annual craft fair in Ghost Town. It also features "Merry Christmas, Snoopy," an ice show starring Snoopy in the Charles M. Schulz Theatre; "It's the Merriest Christmas Show Ever, Charlie Brown," on the Calico Mine Stage; "A Christmas Carol" and "A Gift of the Magi" in the Bird Cage Theatre; "A Peanuts Guide to Christmas" in the Camp Snoopy Theater and "Snow and Glow" nightly, when it snows in Ghost Town.
Knott's holiday season ends Jan. 6, 2019. For more information about its holiday season and show schedules visit: www.knotts.com.
Universal's "Christmas in The Wizarding World of Harry Potter" takes place daily from Nov. 17—Jan. 6, 2019. "Grinchmas" will take place weekends on Dec. 1-2 and 8-9, and daily from Dec. 14 through Dec. 30, 2018. More information on show times and other holiday offerings is available at: www.universalstudioshollywood.com
Finally, Christmas at LEGOLAND, including a nightly tree lighting ceremony, starts Nov. 17 and runs through Jan. 1, 2019. For more information on park hours and show times, visit: www.LEGOLAND.com.
By Mark Eades