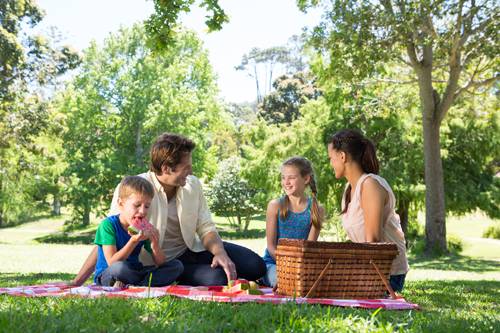 Summer's over, right? Time to delve into school and extracurriculars. It's back to the workplace, back to "normal life."
Sure. Sort of.
But why should we let our school and work calendars run our lives to the point where we don't feel there's room for spontaneity, fun breaks and glimmers of summer relaxation?
Specifically, now that official picnic season is over—we need more weekday picnics! They're actually more pleasant as the weather cools, yet while the days are still long enough to revel in evening sunlight. Dinners feel different and taste better when eaten outdoors and away from home. We notice flavors more. We relax away from everything that reminds us that we have an obligation to fill. We play and our spirits lighten.
What keeps us from giving ourselves and our families this treat more frequently? To start with, ruts are easy to get into, aren't they? We forget that that these outings are even an option. And then, the picnic itself seems like a chore: making transportable, outdoor-friendly foods; remembering to pack a tablecloth and utensils. Besides, the kids have homework to do.
It doesn't have to be this hard.
To start with, it's easy enough to pack a box or closed bin with picnic gear and keep it in the car at all times. Plates and cups can be paper that you just toss into a trash can. One option that's easy for you but better for the environment: disposable but heavier-duty plastic dinnerware, including utensils. At the end of the meal, you throw them into a special bag that you keep in the picnic box for that purpose. Have everyone scrape their leftovers into the trash; you come home and dump it all into a sink or basin of hot, soapy water. The plastic is quick and easy to clean and stack in a dryer rack, and because it's not breakable, this is a great chore for the kids. They last through many picnics.
Tuck in an outdoor tablecloth into your picnic box, or even just a stack of newspapers to spread out in case the picnic table is dirty. A roll of paper towels is useful for about a thousand things, and several bottles of water so you never have to worry about whether there's something to drink with the meal. A paring or fruit knife takes on a lot of cutting chores. Then add a couple of board games (ones without pieces of paper that can fly off) or a deck of cards, and an all-purpose inflatable ball for impromptu games of catch or soccer or even basketball.
Dinner can be as simple as you want it. Fruit, cheese and bread always tastes especially good outdoors. So do a bag of nuts. Or you can make a chicken—or pick up a rotisserie bird—for a hot entrée, with some simple side touches such as cut-up carrots and cucumbers. A lot of kids find lettuce far more tempting if they're given a whole leaf and a couple of choices of things to dip it in—a buttermilk dressing or hummus, for example.
Check out your nearby parks so you'll know in advance which places will turn the picnic from just an outdoor meal to a special treat. Almost all of the county's regional parks have picnic tables, lakes, playgrounds and some kind of area for playing ball. For $55, you can buy an annual pass that gets you into all the county regional and wilderness parks for free; because you'll want to get your money's worth out of it, you'll be inclined to get out more. The passes can be purchased online at ocparks.com/about/fees/pass.
You'll be surprised at how the relaxed atmosphere makes your kids want to open up and talk to you about their day or whatever is on their mind. Make time for 15 minutes or a half hour of play, or take a stroll around as a family. On weekdays, you'll have more of the park to yourself.
Weekday picnics are also more special because they turn a routine day into a surprise treat and break up the stress of daily classes, homework, practices and the like. For that period of time, you and your family live to enjoy the moment and each other. (Electronics off is a good rule for family picnic time.)
You might see if you can find another family or two that's interested in joining you on one of these impromptu evening outings. That raises the sense of occasion to the point of almost being a party.
One thing that's important to note: Just as you smartly avoided spending a lot of time preparing for the picnic, actually having the picnic doesn't need to gobble up your whole evening and leave no time for anything else. Chances are that family members all do have homework, housework and other chores to attend to. If that's true, don't drag out the picnic to the point where you regret it and don't do it again. A half hour to eat, a half hour of fun time is enough to feel as though something fun and out of the ordinary happened.
At home, throw those dishes into a basin to soak and have someone give them a wash. Someone else can rinse and put them on a drying rack. The next morning, they'll be dry and ready to stack in the car. Replenish your water bottles and you're set for the next outdoor eating adventure.
By Karen Klein