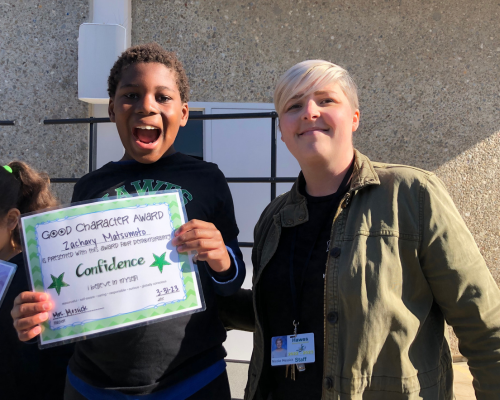 Special education teacher Nicole Messick has a deep passion for helping nurture student potential.
They may look different. They may behave differently. But you'd be mistaken to underestimate them. Nicole Messick wants you to know that people with significant disabilities are very capable. They just have to be expected to be capable, and the best educators set high expectations.
"I fully believe that every single one of my students will one day be a contributing citizen," says the special education teacher at Dr. Ralph E. Hawes Elementary School in Huntington Beach where she's been working for five years, challenging perceptions and nurturing kids' potential.
The unwavering determination as well as passion for her work and the ability to keep things in the classroom running smoothly (not an easy task while tending to kids in three different grades) is what makes Messick stand out among educators.
"I love my students, and I love being a teacher so much I really do think this is my life calling," says Messick, whose eight- to 10-person classroom includes kids in kindergarten through second grade. The children have been diagnosed with moderate to severe disabilities such as autism or genetic disorders that affect their functionality. Each one has an individualized education plan that Messick and her aides follow.
The Huntington Beach mother of two has been around people with severe disabilities, including her autistic cousin, all her life. Her path to teaching led through a classroom where her mom worked as an instructional assistant. Messick, then a middle school student, would come in after school to help her mom and her disabled students. She continued volunteering in that role throughout high school.
"I just knew I'm going to do this for a job," she says. "I'm going to be a teacher."
And a teacher she's become, working in the field for about 10 years now, including stints at two other schools before joining Hawes Elementary where she found a supportive and inclusive environment and a principal who's very involved with the program.
While the special education field can often be challenging, Messick says she likes the idea of helping people others can dismiss as incapable. Her positive attitude transfers to the frequent communication with parents as she says family involvement makes a big difference in her students' success.
Andi Matsumoto certainly appreciates the approach.
"It's really hard being a parent of a special needs kid. Sometimes you get kind of down," she says. "So it's nice to talk to a teacher that really focuses on what he can do and what he has achieved."
Matsumoto's 8-year-old son, Zachary, who was diagnosed with autism, has been Messick's student for three years. She says he's excited to go to school every day and appreciates the orderly structure in the classroom. The Huntington Beach resident says she's often seen her son, who has strong opinions about whom he likes, walk out of the classroom and hug his teacher.
"She definitely has a passion for the job, and I think her job is quite hard so I appreciate that," Matsumoto says. "She has a really good balance between years of experience and she still has that youthful energy."
As for Messick, as much as she loves being in the classroom, she looks forward to extending her impact. Once her own children get older, she's interested in helping other aspiring teachers create successful specialized programs and classrooms.
"There's always a need for more people in our programs," she says. 
---
By Magda Hernandez