The Chill List
If climbing temps have kids climbing the walls, let off some steam with these cool options for summer fun.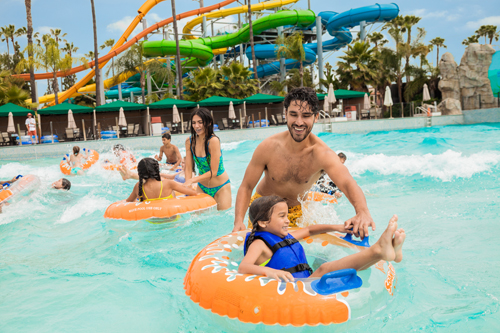 Seven New Water Slides at Knott's Soak City
One of OC's best places to chill out just got cooler, with seven new slides making a total of 22 speed, tube and body slides plus the 750,000-gallon Tidal Wave Bay wave pool; the one-third-mile long Sunset Lazy River; and the three-story Beach House, featuring 200 water guns, nozzles, sprayers and other interactive surprises. Four of the new slides start with guests climbing a 60ft tower, stepping inside an Aqua-Launch chamber where they wait anxiously for the floor to drop out from underneath their feet. Shore Break also features dueling tube slides for siblings to work out their rivalry through a thrilling series of drops and turns. The Wedge slide tower is an open air family raft ride, offering something new for everyone.
Mission Viejo's Free & Fun
Saturday Series | Saturday July 8, 15, 22, 29
Beat the heat and catch a free performance at the City Hall's Saddleback Room. On July 8, children can improve their balloon-twisting artistry at Squeaky Clean Production's hands-on workshop. The Noteworthy Puppets present an amusing, and educational, S.T.E.A.M.-related musical July 15, while kids can drum up some fun at One World Rhythm's July 23 show. Then, on July 29, audience can catch magician David Skale's gags and tricks. Shows are recommended for kids ages 4 and older, with an accompanying adult.
Saddleback Room, Mission Viejo City Hall | 200 Civic Center Dr.,
Mission Viejo | 949-830-7100 | cityofmissionviejo.org
Krikorian Kids Series
Tuesday July 4, 11, 18, 25, Aug. 1, 8.
The Krikorian Theatre chain has some indoor summer entertainment for kids, while making parents happy too with this free film series. The lineup consists of Storks (July 4), Kung Fu Panda 3 (July 11), The Lego Batman Movie (July 18) and Trolls (July 25). The screenings continue into August, with Sing (Aug. 1) following by Ice Age: Collision Course (Aug. 8). The series is also at the San Clemente Cinema 6 (641-B Camino de Los Mares, San Clemente), where tickets cost $1.
Krikorian Metroplex 18 | 8290 La Palma Ave., Buena Park
714-826-7469 | www.kptmovies.com
Queen Mary Haunted Encounters
Get chills of a different sort with a visit to The Queen Mary's Haunted Encounters tour. History mixed with humorous storytelling makes a fun outing for older kids who need to unplug from their phones. Pack a picnic and enjoy the shade trees in adjacent grassy park overlooking the harbor.
www.QueenMary.com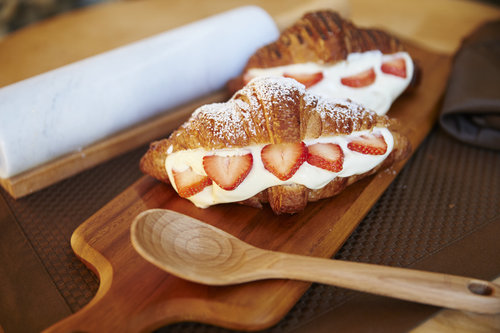 Churned Creamery's CroCream
Cypress, Irvine, Tustin, Soon in Yorba Linda
It's a breakfast, it's an ice cream, it's both…and darn delicious! Scoops of mash-up flavors in thick churned ice cream are tucked into flaky, buttery croissants for a tastier version of a handheld "cone". Top with fresh fruit and it's practically a meal.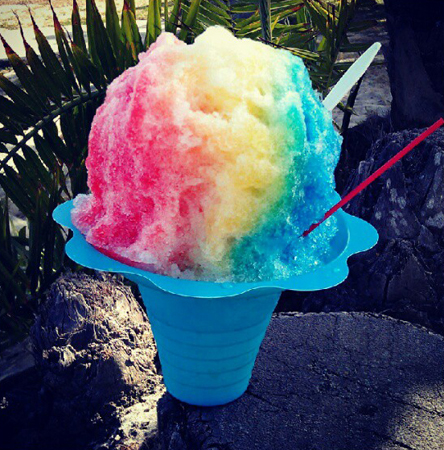 Hula Girl Shave Ice
Huntington Beach
This classic island treat has been served throughout SoCal from a roaming treat-mobile since 2004, but pop into the shop in HB for the real deal. Much more than a glorified snow cone, this fluffy ice is made from block ice with handmade natural flavors instead of sticky corn syrup equivalents elsewhere. Started by an OC mom and her daughters, this is a treat you'll be happy to share with your keiki. We love the classic Hula Rainbow!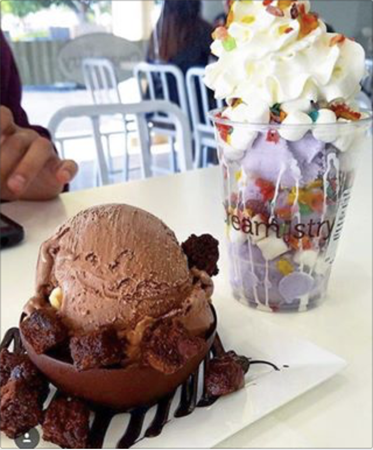 Creamistry
Anaheim, Anaheim Hills, Brea, Costa Mesa, Cerritos, HB, Irvine, Mission Viejo, Tustin
Fearing summer brain drain? Bring the kids in for a science lesson when Creamologists use liquid nitrogen to prepare customized, handcrafted ice cream. Waves of mist pour over the counter, before the uber-creamy result is topped with a choice of over 70 all natural and organic ingredients and flavors.
---
Al Fresco Flicks
Sunset Cinema Series: Salt Creek Beach
Friday July 1, 8
A pair of quite different films will be shown at Salt Creek Beach's Bluff Park as part of the County of Orange and OC Parks' summer movie series. The animated animal musical Sing will screen on July 1, while the following Friday features the iconic thriller Jaws. Parking will be available starting at 6 pm, with the movie beginning around sunset (8 pm). Bring beach chairs, blankets and food, and food trucks should be on site too.
Bluff Park at Salt Creek Beach | 33333 S. Pacific Coast Hwy., Dana Point
949-923-2280 | www.ocparks.com
Music & Movies Event Series
Saturday July 8, 22
Can't decide between seeing a movie or hearing music? Los Alamitos solves your problem by combining a free concert (6 pm-8 pm) and a free film screening all on one night. Hear classic rock from the Elm Street Band and then see The Jungle Book in Little Cottonwood Park on July 8. Orville R. Lewis Park presents the Southland Mega Groove band followed by the film Wreck-It Ralph on July 22. Each night also has raffle prizes, children activities, and food for sale.
Little Cottonwood Park | 4000 Farquhar, Los Alamitos
Orville R. Lewis Park | 3662 Kempton Drive, Los Alamitos
562-430-1073 | cityoflosalamitos.org/recreation
Sunset Cinema Series: Laguna Niguel Regional Park
Friday July 28
Families can find Finding Dory tonight at Laguna Niguel Regional Park as part of the County of Orange and OC Parks' new summer movie series. 2016 Disney animated film was the hit follow up to Finding Nemo. Parking will open up at 6 pm, with the movie starting around sunset (8 pm). Pack up beach chairs, blankets and food – or you can buy food from one of the food trucks on site.
Laguna Niguel Regional Park | 28241 La Paz Road, Laguna Niguel
949-923-2240 | www.ocparks.com
Free For All Movie Mondays
Mondays July 10, 17, 24, 31
This free, al fresco film experience returns to the Segerstrom. Breakfast At Tiffany's, starring Audrey Hepburn, will be served on July 10 and you can ease on down with The Wiz on July 17. The true-life drama Stand And Deliver screens July 23 and Tim Burton's Edward Scissorhands is July 30's film. You can bring a beach chair and food or buy something from a food truck. The set-up starts at 5:30 pm, with audience participation activities before the movies begins around 8 pm.
Segerstrom Concert Hall | 600 Town Center Dr.,
Costa Mesa | 714-556-2787 | www.scfta.org
Sunset Cinema Series: Mason Park
Friday July 14, 21
The County of Orange and OC Parks' inaugural summer movie series comes to Mason Park twice this month. On July 14, Disney's animated musical Moana will screen, with the classic John Hughes PG-13 comedy Ferris Bueller's Day Off being July 21's offering. Parking will be available starting at 6 pm, and the movie will be shown around sunset (8 pm). Bring beach chairs, blankets and food (or buy your dinner from one of the food trucks on site).
William R. Mason Regional Park | 18712 University Dr.,
Irvine | 949-923-2220 | www.ocparks.com
Dive-In Theatre: Finding Dory
Friday July 21
Here's a film to take a dive for. You can watch the popular sequel to Finding Nemo either in the La Habra High School pool or sit poolside. Lifeguards will be on duty throughout the evening. Bring a bathing suit, of course, but also don't forget a chair or blanket if you won't be watching from the water. Gates will open at 5:30 pm, and hot dogs, snacks and drinks will be available for sale.
La Habra High School Pool | 801 W. Highlander Way,
La Habra | 562-383-4205 | www.lahabracity.com
Plancentia's Free Summer Movie Series
Friday July 7, 14, 21, 28
Placentia provides free entertainment options that will please families. Friday night's films, which screen at dusk at Champions Sports Complex, feature The Secret Life of Pets (July 7), Tangled (July 14), The Lego Batman Movie (July 21) and Sing (July 28).
Tri-City Park | 2301 N. Kraemer Blvd., Placentia
Champions Sports Complex | 505 Jefferson St, Placentia
714-993-8232 | www.Placentia.org
Movies on the Lawn at Orange County Great Park
Friday July 1
Families can have a great time at the park enjoying all the brick-by-brick action of the Lego Batman Movie. The screening begins around dusk (weather permitting) but get to the Great Park early so you can find a good location for your blankets and low-back chairs. You can bring food for a picnic dinner or buy something tasty for the food trucks or the snack bar.
Orange County Great Park | 6950 Marine Way, Irvine
949-724-6247 | www.cityofirvine.org
Movie In The Park: Soul Surfer
Friday July 14
The City of La Habra's Recreation Department hosts tonight's movie, which is the autobiographical story of teenage surfer Bethany Hamilton. This moving, inspirational film show how Hamilton overcame great odds after losing her arm in a shark attack to become a champion again. The screening starts at dusk, with the pre-film activities beginning at 6 pm. So, gather up some lawn chairs or blankets and have a fun time at the park. You can bring your own food or buy some food there.
Montwood Park | 231 E. Montwood Avenue, La Habra
562-383-4205 | www.lahabracity.com
Tustin's Movies In The Park
Wednesday July 20, 27
Families can find free film screenings in Tustin's parks this summer. There will be a Polynesian vibe in Centennial Park for the July 20 screening of the Disney hit Moana. Then you can explore The Secret Life of Pets in Cedar Grove Park July 27. Bring blankets, chairs, and your favorite movie snacks to enjoy. Family activities begin at 5:30 pm, with films starting around dusk. The series, which run through August 17, occurs at a different Tustin park each week.
Centennial Park | 14722 Devonshire Ave., Tustin
Cedar Grove Park | 11385 Pioneer Rd., Tustin
714-573-3326 | www.tustinca.org
---
Camper for a Day
Camps can be a summertime savior for parents looking to occupy their out-of-class kids. But for families with full schedules, they can be tough to accommodate. Between music lessons, vacations and sports practice, camps can be straining both timewise and financially. Fortunately, there are plenty of single-day options in Orange County that can make attending summer camps, clinics and classes a little easier.
Tiny Tees Golf at Monarch Beach Golf Links
Dana Point I Ages 3 to 13
By the time Tiger Woods was three years old, growing up in OC, he had already shot a 48 on a nine-hole course. This specialized golf instruction at the ocean-front Monarch Beach Golf Links doesn't promise to turn your child into the next Tiger, but Tiny Tees does offer lessons to enhance skill and coordination, while keeping it fun. Cost is $99 for four 45-minute sessions, with two start dates to choose from: July 8 and August 5.
www.monarchbeachgolf.com/Tiny-Tees
Kid's Day In
Yorba Linda (Thomas Lasorda Jr. Field House) | Ages 6 and up
An afternoon chock-full of fun is planned for July 26, when the Thomas Lasorda Jr. Field House will host its annual "kid's day in". The indoor event, happening July 26, include sports, crafts, board games and a movie. Staffed by CPR-certified supervisors, it runs from 1 to 5 p.m.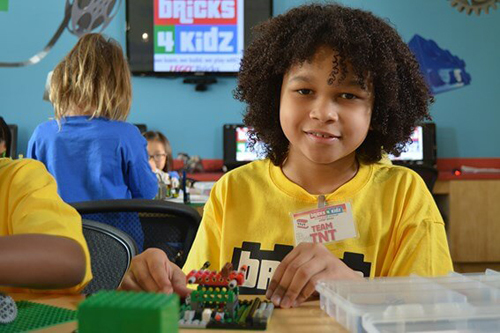 Extreme Expedition LEGO Camp
Irvine | Ages 5-12
There'll be buckets of LEGOs and buckets of fun at this July 15 workshop, where kids can use bricks to survive simulated natural disasters and other challenges. Campers will encounter "worst case scenario" challenges as they work to construct their projects.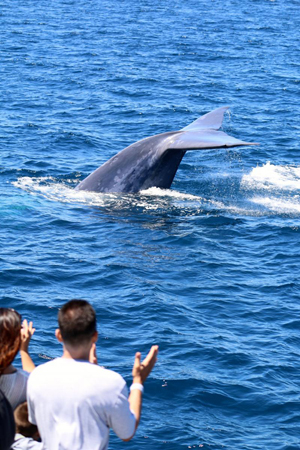 The Ocean Institute
Dana Point | Ages 6-8 and 9-12
Whether you're looking to occupy your kids for an hour or a day, the Ocean Institute is a place that's sure to both entertain and educate. Children can learn about marine wildlife, interact with animals and explore the harbor on a boat. Older kids can learn what it's like to be a marine scientist through the institute's junior oceanographer program, which runs in early July.
Fishing Basics
Fullerton | All ages
Kids can spend the morning of July 7 learning the basics of fishing at this Fullerton clinic. They'll learn about tackle, knot tying and casting. The event will end with a little fishing at Laguna Lake. There are no age restrictions on this event, but children younger than 10 must be accompanied by an adult.
Timree
Newport Beach | Ages 6-12
Campers can unleash their creative side at this Newport Beach studio, which is offering half-day camps throughout the summer. Each participant will return home with one colorful painting and two crafts. Class themes include unicorns and mermaids, Paris and Pastries, and more.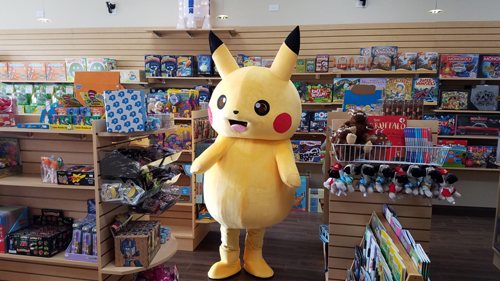 The Game Chest
Mission Viejo | Ages 5 and up
Young scientists can learn about robotics, the solar system and more through a series of summer sessions happening at this south county store. Half-day workshops will happen throughout July and August. Prices range from free to $45.
iCamp
Irvine | Various ages
Irvine's "iCamp" series can accommodate one-, two- or three-day reservations. The camps are held at parks throughout the city. They'll feature a mix of themes, including sports, science, cooking and crafts.
Creation Station
Mission Viejo | Ages 4 and up
Little princess (and princes) can dance the day away at Creation Station, which is hosting a series of Disney-inspired camps. Themes include Little Mermaid, Princess and Pirates, and Frozen in Summer. Morning and afternoon sessions are available.
Teen Scene
Fullerton | Ages 12-16
For an annual registration fee of $20, the "teen scene" program gives kids a space to hang out with peers at a safe location. Activities include sports, crafts, games and day trips. The program runs through August 18.
The First Tee
Anaheim | Ages 4-18
Kids can give golfing a try at this weekend morning camp, which is being held September 2 at The Islands Golf Center. The event, which kicks off at 10 a.m., will include games and information on how aspiring golfers can get involved. Equipment will be provided.
Color Me Mine
Tustin | Ages 5 and Up
Art adventures await at Color Me Mine, which is offering a lineup of pottery classes throughout the summer. Classes will be held Monday through Thursday from June 19 to August 17. They'll run from 10:30 a.m. until noon.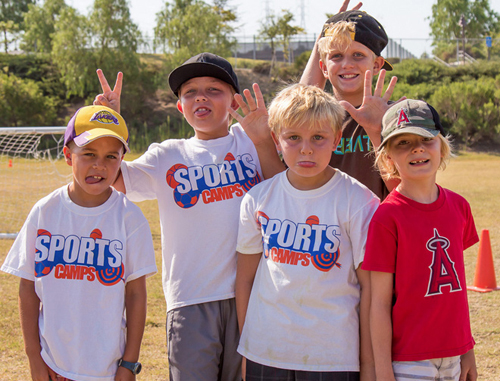 Evolution Sports Academy
Laguna Hills | Ages 5-12
Kids who can't commit to a full week of camp can drop by for a day of fun at this action-packed academy, where archery, swim and volleyball are on the menu. Though Evolution does offer single-day drop-ins, there is a two-day minimum to participate.
Anteaters Recreation Camps
Irvine | Ages 8-16
Archery, rock climbing and floor hockey are among the offerings from the University of Irvine's recreation department. Most of the single-day camps are suitable for ages 8-12. Camps on cooking, lacrosse and ropes are also available through early July.
Orange County Surf School
Huntington Beach | All Ages
Aspiring surfer dudes and dudettes can learn to navigate the waves at a school where the ocean is the classroom. Orange County Surf School offers three-hour private lessons. Semi-private and group lessons are also available. Equipment is provided at no cost to students.
Theorangecountysurfschool.com
City of La Habra
La Habra | All ages
The city has lined up fun activities for kids of all ages through the month of July. Middle schoolers can master the science of robotics through a series of free hour-long workshops, while elementary school-aged kids can register for LEGO construction day. Arts, crafts and story time events are scheduled too.
Fashion Camp OC
Tustin | Ages 8 and up
Fashionistas can catch up on their designing skills this summer at weekly courses offered by this on-trend business. Its "fashionable Friday" and "sewing Sunday" classes give kids the skills they'll need to design and construct their own clothes.
---
Summertime Serenades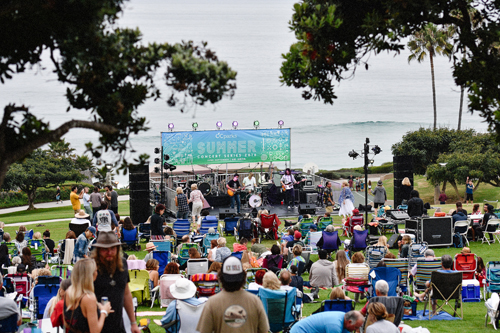 Dana Point Summer Concert Series
Sunday July 9, 16, 23, 30
There'll be a free music double bill Sunday afternoons at the park. The Neil Deal plays the best of Neil Young & CSNY and the Sam Morrison Band salutes Bob Seger & Southern Rock on July 9. Enjoy the Duran Duran tribute group Rio and Crimes of Passion doing Pat Benetar tunes July 17. Return to the '70s on July 23 with Saturday Night Fever and ABBAFAB, while July 30 rocks out with Small World Band and Dead or Alive: The Bon Jovi Experience.
Sea Terrace Park | 33501 Niguel Rd, Dana Point
949-248-3536 | www.danapointconcertseries.com
La Habra Marketplace Concert
Thursday July 13, 20
At the shopping center on July 13, the band The Answer will provide answers to your musical questions. The following week, you won't stop believing how well the band DBS pays tribute to the music of Journey. At both concerts, there will be a kids' zone area where youngsters can enjoy a variety of crafts and games to play. Please bring your own chairs to make your evening all more the comfortable.
La Habra Marketplace Shopping Center | 1801 W. Imperial Hwy., La Habra
562-383-4205 | www.lahabracity.com
Concerts On The Green
Sunday July 9
Energize your Sunday night a jolt of electrifying '80s rock 'n' roll courtesy of the award-winning local group Flashback Heart Attack. For your show-watching pleasure, you can bring some type of low-slung beach chair. It is best to get there early to secure to good viewing spot. You can also pack a picnic dinner or buy a meal from a one of the gourmet food trucks.
Newport Beach Civic Green | 100 Civic Center Dr., Newport Beach
949- 644-3075 | www.newportbeachlibrary.org
Summer Concert Series: Mason Park
Thursday July 6, 13
This music series, co-sponsored by OC Parks and the County of Orange, presents its first two July shows at Irvine's Mason Park. The Rolling Stones cover band Hollywood Stones perform on July 6 along with Jelly of the Month. The following Thursday night pairs the Journey tribute group Open Arms with those 80s music lovers Flashback Heart Attack. Several food trucks will be there for your dining pleasure, along with a beer &wine garden for those 21 and over.
William R. Mason Regional Park | 18712 University Dr., Irvine
949- 923-2220 | www.ocparks.com
Placentia's Free Summer Music Series
Friday July 7, 13-14, 20-21, 27-28
Placentia free entertainment options that will please families. Tri-City Park presents music on Thursday nights. On July 13, you can hear country music from Kelly Rae (and play family games too). Smokin' Cobra performs golden oldies July 20 while there's Reggae and Calypso music from Upstream July 27.
2301 N. Kraemer Blvd., Placentia | Champions Sports Complex
505 Jefferson St, Placentia | 714-993-8232 | www.Placentia.org
Hart Park Summer Concert Series
Wednesday July 5, 12, 19, 26
Rock out your Wednesday nights at Orange's Hart Park Bandshell. Stone Soul serves up the sounds of Motown on July 5. The Trip takes listeners on a musical journey through the land of Top 40 tunes on July 12. The band Smith rustles up some country songs on July 19, while Hard Day's Night delivers a night of Beatles music July 26. Bring along blankets and low lawn chairs for your comfort. Food can be brought or bought; however, alcohol and pets aren't allowed.
Hart Park Bandshell | 701 S Glassell St, Orange
714-744-7278 | www.cityoforange.org
Music & Movies Event Series
Saturday July 8, 22
Can't decide between seeing a movie or hearing music? Los Alamitos solves your problem by combining a free concert (6 pm-8 pm) and a free film screening all on one night. Hear classic rock from the Elm Street Band and then see The Jungle Book in Little Cottonwood Park on July 8. Orville R. Lewis Park presents the Southland Mega Groove band followed by the film Wreck-It Ralph on July 22. Each night also has raffle prizes, children activities, and food for sale.
Little Cottonwood Park | 4000 Farquhar, Los Alamitos
Orville R. Lewis Park | 3662 Kempton Drive, Los Alamitos
562-430-1073 | cityoflosalamitos.org/recreation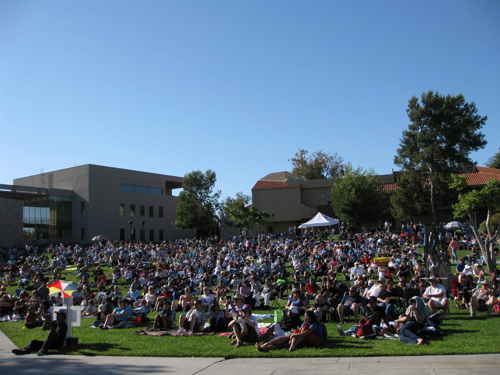 Concerts On The Green
July 16 and July 23
July 16: Broadway Star Ivan Rutherford, Broadway star having played Jean Valjean in Les Mis in over 2,300 performances. July 23: Morgan Leigh Band, American Idol contest and opening artist for Garth Brooks and Pat Benatar.
Concordia University Irvine | 1530 Concordia West, Irvine
949 214-3185 | www.cui.edu/en-us
Summer Concert Series: Irvine Park
Thursday July 20, 27
OC Parks and The County of Orange brings its summertime music series to Orange's Irvine Park. Things will get twang on July 20 with Americana rockers The Federal Empire sharing the bill with the Kelly Rae Band's country tunes. On July 27, singer/songwriter Matt Costa, a local success story, will play along with another Southern California troubadour David Rosales. Food trucks will be on site for your dining pleasure, along with a beer & wine garden for those 21 and over.
Irvine Park | 18712 University Dr., Orange
949- 923-2220 | www.ocparks.com
Costa Mesa's Concerts In The Park
Tuesday July 11, 18, 25
Good times can be had at Fairview Park, which will present three weeks of free music. On July 11, Stone Soul will perform an evening of Motown and other soul gems. Orange Country's fine reggae group Common Sense lays down a rock-steady beat on July 18, while Hard Day's Night will "twist and shout" the night away on July 25. Evenings also include raffles, food trucks, a beer & wine garden, and kids activities. The pre-show starts at 5 pm with music commencing at 6 pm.
Fairview Park | 2525 Placentia Ave., Costa Mesa
714-754-5000 | www.costamesafoundation.org
Peppertree Park's Summer Music Series
Wednesday July 5,12,19, 26, August 2
Hot – and free – music returns to Peppertree Park this summer. Mirage recreates the music of Fleetwood Mac on July 5. You will shout "long live rock!" during The Who Generation's July 12 show, and you can get some satisfaction listening to Jumping Jack Flash salute the Rolling Stones July 19. The Replicas replicates the music of the '90s July 26 while it's '80s nights with Past Action Heroes August 2. DSB concludes the series August 9 with a tribute to Journey.
Peppertree Park | 230 W. First St. Tustin
714-573-3326 | www.TustinCa.org
Concerts In The Canyon
Thursday July 13, 20, 27, August 3
The Anaheim Community Foundation presents this family-friendly summer music series. The lineup offers up pop hits from Pop Vinyl (July 13), Trinity's salute to the music of Styx, Foreigner and Journey (July 20), Kenny Metcalf's Elton John tribute (July 27) and great '80s tunes from the 80z All Stars. Each night also has free activities and games, plus food trucks will have food available for purchase.
Ronald Reagan Pard.anaheim.net
Concerts in the Park
Wednesday July 5, 12, 19, 26
Whatever type of music you like, you can probably hear it – for free – at Brea's City Hall Park. The Symphonic Winds of the Pacific kick things off July 5 with a program of pop and patriotic music. The country band Smith will twang things up on July 12, while Yachty By Nature will let you relive the rock music of the '70s and '80s on July 19. The Swing Cats will enliven the night of July 26 by serving up some swinging tunes.
City Hall Park | 401 S. Brea Blvd., Brea
714-990-7722 | www.ci.brea.ca.us
Sizzlin' Summer Concert
Sundays July 9, 16, 30
Heat up your Sunday evenings with a little live music. On July 9, make sure you're wearing your boogie shoes because Yard Sale will play some great dance hits. Enjoy a lively variety of pop tunes when Pop Vinyl performs on July 16, and Colour My World pays tribute to Chicago (the band, not the city) on July 30. Gourmet food trucks will be onsite too, and a portion of the proceeds will benefit the Irvine 2/11 Marine Adoption Committee and other Irvine nonprofit organizations.
Mike Ward Community Park Woodbridge
20 Lake Road, Irvine | 949-724-6606 | www.cityofirvine.org
---
Dog Days of Summer
After a long school year, your pooch is probably thrilled to have the kids back to play! Don't ditch him at home for the day, bring him along to these Fido-friendly hangouts.
Huntington Dog Beach
As the only beach in Orange County where your dog can roam without a leash, Huntington Dog Beach provides almost a mile of surf and sand for dogs to explore. Many OC beaches restrict the hours dogs can be on the sand, but this dog beach is open to pooches from 5 a.m. to 10 p.m. It even has its own parking lot. Your dog will be able to run along the surf, splash into the water for a swim or play Frisbee on the warm sand. This truly is a slice of paradise for dogs of all ages and breeds, giving them a unique place to play.
100 Goldenwest Street, Huntington Beach
Laguna Niguel Pooch Park
Start your adventure with a short hike from the parking lot, as this park is set back from the road nestled in a rare spot of Orange County wilderness. With a fenced-in acre of land, there is plenty of room for dogs to run and play. Unlike most dog parks, there is no grass — instead it is filled with wood chips, giving your pets a bit of a different experience. There is a non-functional fire hydrant, an aspect sure to thrill many of its furry visitors. On hot afternoons, dogs can cool off with bowls full of water while owners rest underneath one of the two shade shelters.
31575 Golden Lantern Street, Laguna Niguel
Central Bark
Unlike the other dog parks in Orange County, Irvine's Central Bark has wood chip section in addition to the sprawling green grass. As all dogs are different, this gives them the opportunity to choose where they play. There is covered seating in addition to big trees providing shade so you can stay cool on sunny days when Fido is frolicking. Since Central Bark is open until 10 p.m. each day, they provide streetlamps to keep the park lit.
6405 Oak Canyon Road, Irvine
San Onofre State Beach
Of the six trails at San Onofre, two are dog friendly. Both trails, numbers one and six, line the bluffs overlooking the ocean, providing a gorgeous view of the water below. It's even better at sunset. Your pup will love wandering across the dusty trails and seeking out nearby wildlife. While dogs are not allowed down on the beach, they are welcome at the campground on top of the bluffs so if you are looking for a peaceful getaway nearby, this is a good spot.
Old Highway 101, San Clemente
Honest Pet Products
Have a ball (or a Frisbee or a floating tug toy for the beach) with your pup with these all natural, durable and safe pet toys made of HEMP fabric and Organic Wool. The water-based inks are non-toxic and azo-free dyes result in the most natural pet toys on the market. Feel twice as good, knowing these are made in the USA by adults with developmental disabilities. We love the wet-dry Eco-Fly-n-Tug, Eco-Tosser and Eco-Fetcher!
From $8.99, www.HonestPetProducts.com
Laguna Beach
Most Southern California beaches only allow dogs on the beach early in the morning or in the evening, but Laguna Beach welcomes dogs anytime from September 17 through the end of May. Although dogs must remain on the leash, there are different areas to explore. Take a stroll on the wooden boardwalk along Main Beach for a view of the cove, the locals and lots and lots of seagulls. Or venture out to Fisherman's Cove or Wood's Cove for a sandy day of exploring.
Pacific Coast Highway, Laguna Beach
Huntington Central Park
The dog park within Huntington Central Park is a great place for dogs to play, but it is fun for owners as well. The path leading up to the entrance gate is known as the "Doggy Walk of Fame," with the names and paw prints of past canine visitors cast in title. This addition connects visitors to the park, creating a unique culture that other OC dog parks don't have. There are plenty of benches for people to sit on while they watch their pets enjoy the park.
Edwards Street, Huntington Beach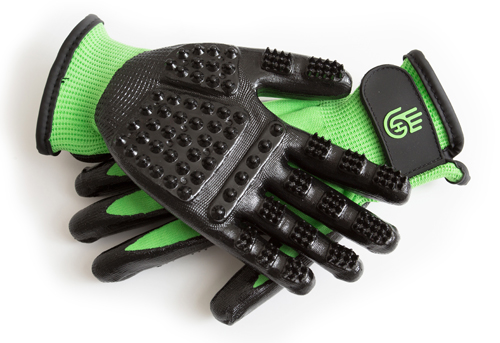 Grooming Gloves
Skip the groomer for a foolproof open air bath, with these gloves' handy scrubbing/massaging nodules on fingers and palms. Use dry if you have a shedder or just give your loyal companion a massage and stimulate circulation to improve skin and coat. Designed with hypo-allergenic, bio-friendly components safe for use with humans and animals, they now come in junior sizes so kids can help out.
$24, handsongloves.com
Orange Dog Park
Visitors can choose to take their pets inside the off-leash dog park or walk their leashed dog in the neighboring Yorba Park. There are two divided areas, the bigger of which is for large active dogs. With ample space for these dogs to run and plenty of green grass, dogs can often be seen chasing each other and wrestling; however, there is very little shade. The smaller side, meant for small or elderly dogs, has more trees, which provide a good amount of shade. Both areas have scattered benches and water jugs next to the dog bowls.
190 South Yorba Street, Orange
Arbor Dog Park
With a spacious grassy area and large trees providing tons of shade, this park is an ideal spot to relax while your pet plays. There is a large double-gate entrance enclosure and a second smaller double-gate exit enclosure, allowing you to come and go easily. The park is also stocked with waste bags to ensure its cleanliness. Filled with dog lovers who correct their pets' behavior, it is a space for dogs to frolic without worrying about running into a lot of aggressive animals. However, this park does not have a separate enclosure for small dogs.
3900 Lampson Avenue, Seal Beach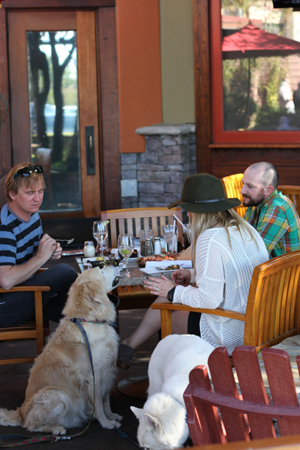 Lazy Dog Restaurant and Bar
With a name like Lazy Dog, it might not be a shocker that pups are welcome on the patio at this OC-founded chain. What might come as a pleasant surprise is that canines are not only tolerated, but catered to (literally, they have their own menu). A few ground rules keep the fur from flying — servers can't pet the pups, dogs need to stay on leash near owners, no lap or chair sitting, no sharing water glasses or plates as the restaurant offers dog-specific dishes. You can even submit your pet's photo for the Lazy Dog Hall of Fame wall.
Brea, Cerritos, HB, Irvine, Orange
www.lazydogrestaurants.com
---
Park Performances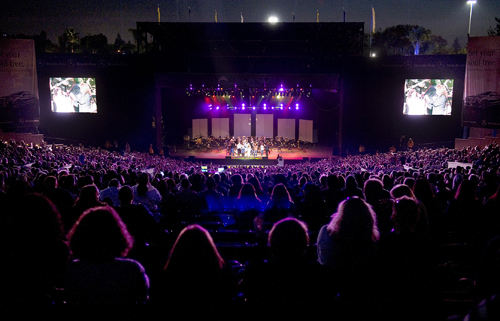 The Pacific Symphony At The Pacific Amphitheatre
Wednesday July 12, 20
The Pacific Symphony makes two Pacific Amphitheatre appearances this month. On July 12, you can get "shake off your blues (and) cut footloose" in Costa Mesa as Kenny Loggins will perform his hits and more with the Symphony. On July 20, the Amphitheatre will transform into a "love shack" when the quirky group the B-52's team up with the Symphony for a fun musical party where audiences can "dance this mess around."
Pacific Amphitheatre |88 Fair Drive, Costa Mesa
714-755-5799 | www.pacificsymphony.org/tickets
Shakespeare By The Sea
Saturday July 15-16
It will be a Shakespearean weekend at Saddleback College, with Shakespeare by the Sea performing a pair of plays – for free. On July 15, they do the Shakespeare's famous drama Macbeth. The mood will be a little lighter on Sunday, when they will perform The Taming of the Shrew. Please keep in mind that staged outdoors, so dress appropriately. Also, parental discretion is advised due to some mature subject matters.
Saddleback College, Upper Campus Quad | 28000 Marguerite Pkwy., Mission Viejo
310-217-7596 | www.shakespearebythesea.org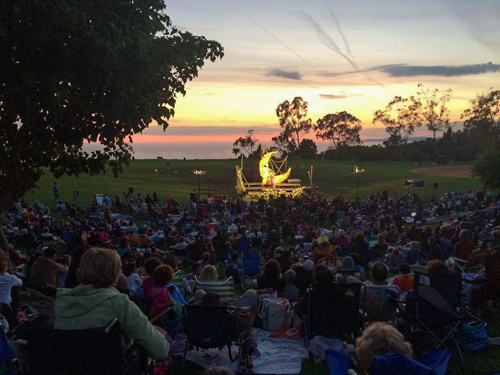 Shakespeare By The Sea: Macbeth
Thursday July 20, 27
Shakespeare By The Sea's summer theater road show stops this month in Huntington Beach and Santa Ana to perform the dramatic tale of political intrigue, Macbeth. They will set up in Huntington Beach's Central Park on July 20, and then be in Santa Ana's Birch Park on the following Thursday. These free shows are outdoor productions, so please dress appropriately. Also, feel free to bring along blankets and low chairs. Parents should too note that there is mature material in Macbeth.
Huntington Beach Central Park | 18100 Goldenwest St., Huntington Beach
Birch Park | 210 N. Birch St., Santa Ana
310-217-7596 | www.shakespearebythesea.org
Saddleback College Summer Performances
Friday July 7-8, 21-22
Saddleback College's Department of the Arts will start July with an "in concert" version of Shrek The Musical (July 7-8) that has a full orchestra and cast of characters. Later in the month, they will present a fully staged production of the classic Broadway musical, The Music Man (July 21-22). Both family-friendly shows have free admission and will be staged outside at the Upper Campus Quad.
Saddleback College, Upper Campus Quad 28000 Marguerite Pkwy.
714-542-2823 | www.saddleback.edu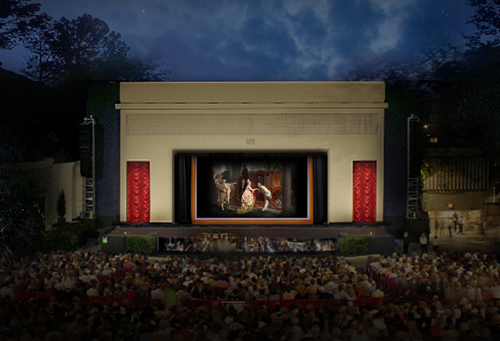 Pageant Of The Masters
Monday July 7–Thursday August 31
A popular part of Laguna Beach's Festival of Arts, the Pageant of the Masters offers a unique theatrical experience. The 90-minute performance presents a series of tableaux vivants ("living pictures") that amazingly recreates works of art utilizing real people to bring the paintings to "life." The production also features live orchestral music, narration and impressive set and lighting design. This year's theme, The Grand Tour, reflects 17th and 18th century interest in travel around Europe and, eventually, the globe.
Pageant Of The Masters | 650 Laguna Canyon Rd., Laguna Beach
949-464-4282 | www.foapom.com/pageant-of-the-masters
Summer Nights Under The Stars Series
Friday July 7, 14, 21, 28, August 4
Encounter a variety of entertaining acts in Anaheim's Pearson Park. On July 7, you'll be transported to South Pacific with the songs and dances of the Tausala Polynesia Spectacular. Things will be popping July 14 at the wacky Buster Balloon Show. Watch the youthful dancers performing in the Anaheim Ballet School's show on July 21, and listen to the drum beats of Taiko Project July 28. You can expect some impressive trickery August 4 at the A.H. Illusions Magic Show.
Pearson Park Amphitheatre | 401 North Lemon Street,
Anaheim, | 714-765-5274 | www.anaheim.net