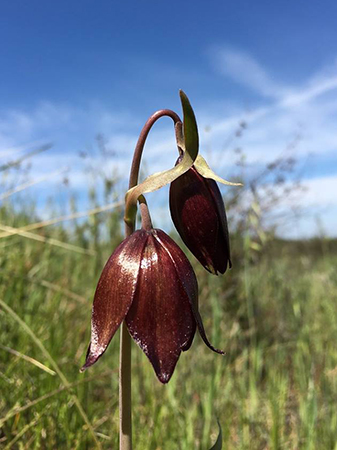 A trail on the Santa Rosa Plateau Ecological Reserve near Murrieta offers families a nearby hike full of natural wonders.
People often ask me what my favorite local hike is. That's a tough question. How can I compare a wildflower hike with a walk in the woods or a scramble to a waterfall? Each hike tends to be its own experience.
It's an especially fraught question this year, when the rains have led to spectacular superblooms. The creeks are flowing and the local waterfalls, which often lead ephemeral lives in our dry climate, are gushing.
Yet I do have a few favorites, or at least, hikes that I feel compelled to revisit every year. And one of them, located on the eastern side of the Santa Ana Mountains, is so delightful that it calls for a couple of visits each spring. This loop trail on the Santa Rosa Plateau Ecological Reserve near Murrieta also happens to be particularly family-friendly, with exceptional features—vernal pools, unusual wildlife, a historic adobe, big-sky views, Native American grinding holes and meadows popping with colorful wildflowers. There's even a wonderful flower called the chocolate lily, because glistening in the sun, it actually does look as though it might be made of milk chocolate.
If you do just the first, flat part of the hike, it's even manageable with a stroller. The full loop is about 5 miles, with a wonderful picnic area by the historic adobes. Or you can shorten it by omitting the loop trail around the adobes.
The drive is long but that's part of the beauty of the outing. You'll meander through the mountains on Ortega Highway to the east and then take South Main Divide south, off the beaten track through the San Mateo Canyon Wilderness area. Buckle your seatbelt and grip your steering wheel; it becomes a winding trip down a narrow mountain road that you will need to negotiate carefully with any cars coming in the opposite direction. But it's a spectacular place that your kids will remember for a long time to come.
This year, it will all be especially beautiful, with the hills a deep, rich green, and a creek flowing across the roadway at a couple of spots. Early April is a perfect time for this outing. Don't put it off, because the vernal pools—temporary ponds of water—will be full now, and the wildflowers here are early-season, ones that will fade off quickly.
If you're not up to the blind curves and steep cliffs of this road, follow Ortega Highway into Lake Elsinore and take I-15 to Clinton Keith Road, heading west. Either way you go, don't stop at the building where you see the sign for the reserve—this hike is a few miles past that, shortly after the name of the road changes to Tenaja Road and then Via Volcano. Soon after that last name change, you'll see a good-sized dirt parking lot on the left side of the road. Admission is $4 per adult and $3 per child.
A trail map, full hiking directions and history and natural background of the trail are available in my hiking guide, "50 Hikes in Orange County."
You'll start out by walking on flat ground amid meadows of bright flowers on either side. There could be masses of golden poppies and purple lupine. Keep an eye out for a particularly striking flower in a bright lavender, the padre's shooting star. It grows fairly close to the ground and is shaped like a badminton birdie. After about three-fourths of a mile, you'll come to the largest vernal pool—a boardwalk has been built partly across it. Often, you can see garter snakes, with their yellow side stripes, swimming in the shallow waters, looking for prey. By bending close to the water, you can look for endangered fairy shrimp. Because 90 percent of the state's vernal pools, home to these shrimp, have disappeared, the shrimp themselves are a rare find.
Their survival mechanism is fascinating. They spend much of their lives as embryos in a cyst like an egg, and can survive in that state for many years, which allows them to live through prolonged droughts when there might be little to no water in the pool. They can be frozen for months, or heated to the point of near boiling, and still be revived. There have been cysts that have existed for thousands of years and nonetheless hatched, alive, when exposed to water.
Signs at the boardwalk will give you clues on how to spot these wonders.
At this point, you can return, or continue on downhill toward the adobes. You'll walk through hillsides dotted with rare Engelmann oak trees and start finding your first chocolate lilies. The views are expansive and in the distance, you should still see snow-capped mountains at this time of year. Turning right at the bottom of the hill, you'll come to the old adobes from when this was a famed ranch, 150 years ago. There's a beautiful woods- and flower-dotted loop trail around the adobes area, and a garden where you can find grinding holes in bedrock, used by the Native Americans who lived here hundreds of years ago to grind acorns. The adobes are the perfect place to take a mid-hike break. There are toilets and, under beautiful old oaks, tables for a shady, peaceful picnic.
Completing the loop involves walking along the Ranch Road and then heading back uphill on the Trans-Preserve Trail. It's not a hard climb, gaining about 250 feet in elevation on a lovely meander through oak woodland and more chocolate lilies and other vivid flowers that will return you to the Vernal Loop Trail.
If you return through Lake Elsinore, as you climb up Ortega Highway, keep an eye out for the Lookout Roadhouse on your right. It's a wonderful little eatery that's been around for ages, with a stunning view down the mountains and into the valley below, with full view of the lake.
By Karin Klein