Northern Orange County
Disneyland
It's an attraction that requires little introduction in Orange County—or any other part of the world, for that matter. Disneyland is a place where families can embark on a magical adventure in a parallel universe filled with life-sized mice and smiling princesses. The park's many attractions include rollercoasters, slow rides for children and character performances. Be sure to stick around until the evening—Disney puts on a sensational fireworks show nightly.
1313 Disneyland Dr., Anaheim | disneyland.disney.go.com
---
Oak Canyon Nature Center
If you're looking for a place of calm in a city filled with crowded and chaotic amusement parks, head to Oak Canyon Nature Center. Nestled in the Anaheim Hills, the park features four miles of hiking trails that wind through oak woodland and coastal sage scrub. There's also an interpretive center onsite that includes a small museum with live animals and local natural history exhibits.
6700 E. Walnut Canyon Rd., Anaheim | www.anaheim.net/1096/Oak-Canyon-Nature-Center
---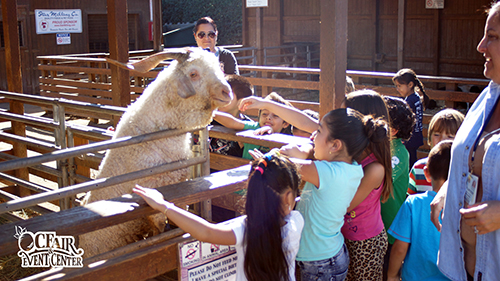 Centennial Farm
Learn more about life on the ranch with a visit to this three-acre working farm. Residents here include chicken, pigs—and even oxen. The farm is also home to fruit and vegetable gardens. Employees are onsite year-long to teach visitors about nutrition and the area's regional roots. Centennial Farm's agricultural displays pay homage to celebrated local farmers, as well as the thousands of agricultural workers who helped build Orange County.
88 Fair Dr., Costa Mesa | www.ocfair.com/centennial-farm
---
Fullerton Arboretum
Learn more about the world of plants at this 26-acre botanical garden. The facility features lush gardens and plants from throughout the world. There's a large woodland collection, a garden dedicated to desert plants and an area focused on Mediterranean plant species. There's also a community garden, a children's garden and an outdoor classroom. Plants and snacks are available for purchase at an onsite nature center. Admission is free, though a $5 donation is suggested.
1900 Associated Rd., Fullerton | www.fullertonarboretum.com
---
Atlantis Play Center
This outdoor, under-the-sea themed playground features a serpent slide, whale play structure and splash pads. There are also ocean creature statues to climb on and a variety of other typical playground amenities. Pack a lunch: The park has plenty of shaded areas for picnicking, and it's easy to spend an afternoon exploring all the space has to offer. Admission is free for kids ages two and under, and is otherwise $2 per person.
13630 Atlantis Way, Garden Grove | www.ggcity.org/community-services/atlantis-play-center
---
Irvine Regional Park
It touts itself as the best place for family fun in Orange County—and for good reason. Irvine Regional Park attractions include train and pony rides, paddle boat rentals and plenty of playgrounds. The park's train guides passengers through the stunning and historic park, which sits in the foothills of Orange. Nestled among the park's live oak and sycamore groves is the Orange County Zoo. The facility houses a variety of animals—including snakes, bobcats and birds—in their natural habitat. An onsite petting zoo allows visitors to interact with goats, pigs and sheep.
1 Irvine Park Rd., Orange | www.irvineparkrailroad.com
---
Adventure City
In a sea of amusement parks, Adventure City might seem like a minnow. Occupying just two acres, it's among California's smallest theme parks. But don't let its size fool you. There's plenty to do and see at Adventure City. Aside from a variety of rides, the park has an arcade and petting farm. There's even a Thomas the Train section, where kids can play with model trains and visit the famed cartoon engine.
1238 S. Beach Blvd., Anaheim | www.adventurecity.com
---
Mile Square Regional Park
Families can go fishing, ride paddle boats or even play games at this urban park. The high-activity facility encompasses two fishing lakes, an archery range and plenty of picnic space. There are also three regulation golf courses, soccer fields, baseball diamonds and tennis court. Mile Square Regional Park regularly hosts fishing and archery tournaments, cross-country track meets, and baseball and soccer games.
16801 Euclid St., Fountain Valley | www.ocparks.com/parks/mile
---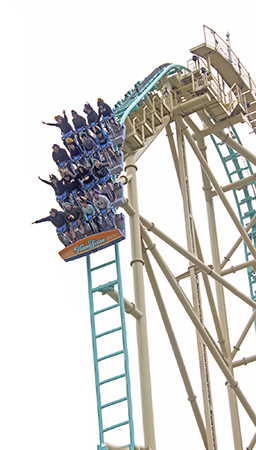 Knott's Berry Farm
This educational and highly-entertaining theme park offers something for everyone. There are thrill rides, rollercoasters, bumper cars, a Calico Railroad steam engine and more at the 57-acre facility. Its Soak City waterpark includes waterslides, a lazy river and a wave pool. Knott's also has an educational component. Kids can mine for gold, visit an 1879 school house and learn how blacksmiths forge metal. There's a stable and museum onsite, too.
8039 Beach Blvd., Buena Park | www.knotts.com
---
Central Orange County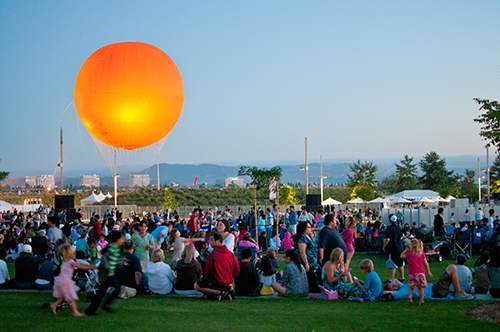 Orange County Great Park
This gem of a park features 1.5 miles of trail space, a children's play area and numerous sports amenities. For the uninitiated, the site is also home to the Great Park Balloon. The orange hot air balloon—which can be seen soaring 400 feet above its surrounding landscape—offers a view spanning 40 miles on a clear day. Each Sunday the park hosts a farmer's market featuring locally grown produce, handcrafted products and gourmet food trucks.
8000 Great Park Blvd., Irvine | www.cityofirvine.org/orange-county-great-park
---
Balboa Fun Zone
Carnival vibes await on the Balboa Peninsula, where visitors can take a spin on a Ferris wheel or fly through the sky on a bungee cord. Families can ride the Happy Swing, which takes them back-and-forth above the Balboa Fun Zone. Nearby, an arcade houses more than 30 classic games, including Pac-Man and Skee-Ball. Steps away, you'll also find Discovery Cube's Ocean Quest, offering exhibits, whale watching, field trips and more.
600 E. Bay Ave., Newport Beach | www.ocfunzone.com
---
Heritage Community Park
Take a stroll around a serene lake, get silly at the splash pad or frolic through a pirate-themed play area at Heritage Park. Visitors can also work up a sweat at the park's many sports courts or play catch in the park's open space. If all that action works up an appetite, break for a picnic. There are numerous shaded picnic tables and 22 grills at the park.
14361 Yale Ave., Irvine | www.cityofirvine.org/parks-facilities/heritage-community-park
---
Pioneer Road Park
This pioneer-themed park features a splash pad, walking trail and cabin-style picnicking areas. Pioneer Road Park offers two play, age-appropriate playgrounds, basketball and volleyball courts, and grilling stations. In keeping with the theme, the playground features three covered, Western-style wagons. Water play is open 10 a.m. to 4 p.m. from Memorial Day weekend through Labor Day weekend.
10250 Pioneer Rd., Tustin | www.tustinca.org/Facilities/Facility/Details/Pioneer-Road-Park-22
---
Boomers! Irvine
The action never ends at this popular amusement center. Attractions include bumper boats, laser tag, miniature golf and more. Those looking for a greater rush can hop on one of two thrill rides, or rock climb up intimidatingly high walls. Smaller children might enjoy the King Arthur's Carnival section, where they can ride carousels or spin around on Merlin's Magic Teacups. There's also a state-of-the-art arcade, where kids can win tickets to claim prizes.
3405 Michelson Dr., Irvine | boomersparks.com/irvine
---
Adventure Playground
Bring a change of clothes and a sense of adventure to this fun and imaginative park. From oversized Legos to obstacle courses and water play, Adventure Playground is the stuff kids' dreams are made of. The enclosed park also includes steep hills for climbing, sand boxes filled with Tonka trucks and mud puddles for splashing. Better still, the park frequently hosts activities and crafts. Be warned: Playing at this popular park can get messy. Seasoned park-goers know that an extra set of clothes is a must.
1 Beech Tree Lane, Irvine | www.cityofirvine.org/parks-facilities/adventure-playground
---
Turtle Rock Nature Center
Explore the outdoors at this five-acre nature reserve. Visitors can take a self-guided trail walk to learn more about Southern California habitats. A center garden features some common plant species that are native to Orange County. Visitors can learn more about the importance of local species and receive information on how to plant their own native plants. Humans aren't the only visitors to the Turtle Rock Nature Center. It is frequented by local birds, lizards and rabbits.
1 Sunnyhill Dr., Irvine | www.cityofirvine.org/parks-facilities/turtle-rock-nature-center
---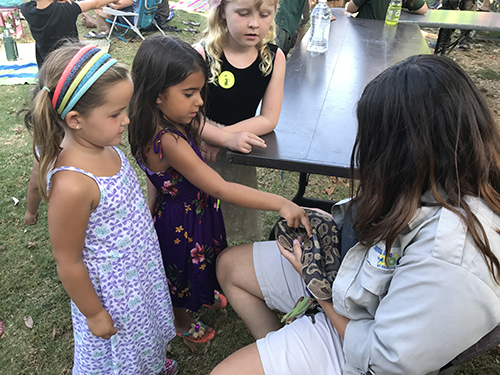 Santa Ana Zoo
When Joseph Prentice donated the Santa Ana Zoo to the public in 1952, it came with an unusual stipulation: 50 monkeys must remain onsite at all times. If not, the zoo would be surrendered to Prentice's heirs. It's no secret that there's plenty of monkey business happening here—there's even a Ferris wheel featuring 50 anthropoids. But there's more to see than apes and baboons—the zoo houses more than 80 species of animals. Other attractions include an aviary, barnyard and a Zoofari Express train. There's also a conservation carousel featuring an assortment of endangered animals.
1801 E. Chestnut Ave., Santa Ana | www.santaanazoo.org
---
William R. Mason Regional Park
Pack a lunch and spend the day at this serene, immaculately-kept park. William R. Mason park offers something for the whole family. It has bike paths, a wilderness hiking area and three separate play areas for toddlers. Of course, we'd be remiss to omit its gorgeous nine-acre lake, which is often occupied by geese. The park also has two sand volleyball courts, a softball back stop and plenty of areas for picnicking.
18712 University Dr., Irvine | www.ocparks.com/parks/william
---
Tanaka Farms
Lush strawberry fields and a bountiful supply of vegetables await at Tanaka Farms, where tractors offer guided tours of this 30-acre working farm. Seasonal fruits and vegetables are available for picking—strawberries, corn and melons can be plucked during summertime and pumpkins are available in the fall. Meantime, fresh fruits and vegetables are available for purchase at Tanaka's market stand. The farm grows and harvests more than 60 different fruits and vegetables throughout the year.
5380 University Dr., Irvine | www.tanakafarms.com
---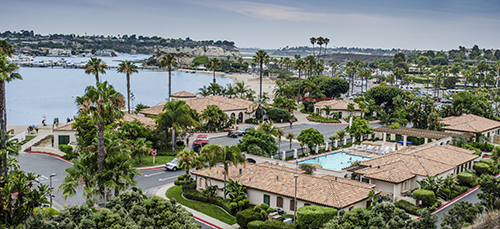 Newport Dunes: A Beachfront Staycation to Love
Enjoy a peaceful, sandy and fun getaway from home at this action-packed staycation option. Newport Dunes offers cabin rentals, a private beach and a slew of child-friendly activities, including an inflatable waterpark. Guests needn't worry about lugging along any outdoor gear. The facility rents out surreys, kayaks, bikes, golf carts or pedal boats. Rental catamarans and electric boats are also available. Cabins are available for those looking to spend a weekend at the resort, which regularly plays evening movies on the beach. Hugging the sandy shore of the Back Bay, each of these little houses on the shore are cute as a lobster's ear. Parenting OC recently stayed and played at one of the large Beachfront Cottages (pictured). These shoreline hangouts, with large, sliding glass doors opening to small decks, feel designed for kicking back, enjoying the ocean air and the views of the Back Bay and beyond to the Fashion Island skyline. The picnic table on the lawn was our preferred dining and conversation spot. Our cottage was one in a row of cottages in a little neighborhood of friendly families. Inside, the layout featured a small but full kitchen, a private bedroom with queen-size bed for mom and dad, a 12 x 12 loft (bring sleeping bags) for a couple of kids, and a living area that overlooks a private lawn inside a white picket fence. Smaller studio cottages—with bunk beds, sofa bed and kitchenette—are also available. The bike path along the shore is shared with walkers and bicyclists. On it we rode the resort beach cruisers to brunch at Back Bay Bistro, where more expansive bay views accompany an equally expansive selection of cuisine. We piled plates as politely as possible from a dozen food stations, including savory seafood, carved meats, sushi, sweets and on and on, and washed it down with bottomless champagne. Summer rates for the Beach Cottages start at $163 per night for studio cottages. Beachfront Cottages range from $325 to $515 per night.
1131 Back Bay Dr., Newport Beach | www.newportdunes.com
---
Southern Orange County
Tucker Wildlife Sanctuary
Take a walk on the wild side at Tucker Wildlife Sanctuary. Visitors hiking along one of the center's three trails might discover western ground squirrels, unusual bird species and a wealth of natural habitat. Families can also explore two ponds, which are home to frogs, koi and turtles. Known for its exceptional birding, the facility also features a secluded bird observation porch. Also on the premises is a natural science center, which includes interactive exhibits, live animals, native animal taxidermy and children's activities.
29322 Modjeska Canyon Rd., Silverado | www.tuckerwildlife.org
---
Dana Wharf Sportfishing and Whale Watching
Explore the enchanting Orange County coastline with a company that offers whale watching excursions, fishing trips and more. During a two-hour whale watching tour, sightseers can spot dolphins, harbor seals, whales and California sea lions. Meanwhile, Dana Wharf's trawler tours give fishers the chance to catch bass, tuna, halibut and an assortment of other fish. Dana Wharf also offers private charters on sailboats and catamarans.
34675 Golden Lantern, Dana Point | www.danawharf.com
---
Dana Point Baby Beach
A peaceful beach squeezed between the Dana Point Harbor and the Ocean Institute serves as the perfect place to spend the day as a family. At Baby Beach, a jetty blocks incoming waves, providing visitors with perfectly calm waters to splash in. Families can swim, kayak or paddle board in the area, and then return to shore for lunch. There's an assortment of restaurants within walking distance, and there's also a picnic and barbecue space at the beach.
34445 Ensenada Pl., Dana Point | www.visitdanapoint.com
---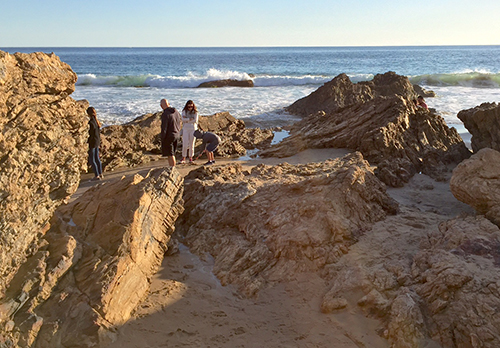 Crystal Cove State Park
Located just off Pacific Coast Highway, Crystal Cove State Park features more than three miles of beach, hiking trails and an offshore underwater area. The park is also home to an enclave of vintage rustic coastal cottages that were built in the 1930s and 1940s. The beach houses, which sit along the Los Trancos Creek, are part of the federally-listed Historic District.
8471 N. Coast Hwy., Laguna Beach | www.crystalcovestatepark.org
---
Shaw's Cove
Learn more about the underwater world at this small-but-mighty beach, which is considered the best place in town to go scuba diving. Below the surface, lobsters and brightly-colored fish can be spotted swimming through the ocean's kelp beds. Those who don't scuba dive can watch the spectacular creatures with a mask and snorkel, too. Kid-friendly tide pools are among the other draws of Shaw's Cove, which can be accessed along Cliff Drive.
999 Cliff Dr., Laguna Beach | www.visitlagunabeach.com/things-to-do/beaches/shaws-cove
---
Rancho Las Lomas
A white Bengal tiger named Lily is among the animals visitors can meet at the Rancho Wildlife Foundation, which is located inside the secluded Rancho Las Lomas estates. Reservations are required to tour the facility, which is also home to zebras, exotic birds, African cats and badgers. The facility regularly hosts story times for children. The event includes a story reading, crafts and animal visit.
19191 Lawrence Canyon, Silverado | www.ranchowildlife.org
---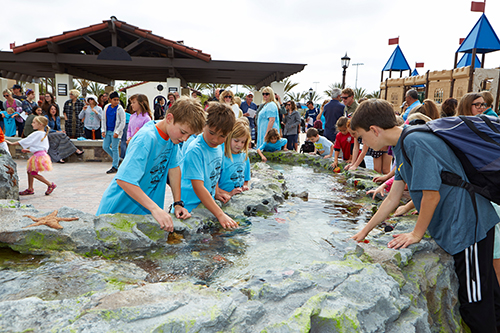 Courtney's SandCastle
Courtney's SandCastle Charitable Foundation strives to ensure that its namesake park serves as a place where all children can play, regardless of their abilities. It is specially designed for kids with physical, mental and sensory disabilities. Features include a wheelchair-accessible, castle-themed play structure, a climbing rock and a picnic pavilion. The park's sensory garden includes aromatic plants and a musical pathway for auditory stimulation. Several interactive water features, including a raised interactive simulated tide pool, are also onsite.
987 Avenida Vista Hermosa, San Clemente | www.courtneyssandcastle.com
---
Lake Forest Sports Park
If you're looking for a shaded playground that babies and toddlers can safely explore, the Lake Forest park is your place. A covered play area features slides, teeter-totters and an OmniSpin Spinner. Just a few paces away, there's a larger playground for older kids. It includes climbing rocks, swings and more. There's also a free little library, where kids can take or leave a book. Other amenities include basketball courts, picnic structures and soccer fields.
28000 Rancho Pkwy., Lake Forest | www.lfsportspark.com
---
Laguna Coast Wilderness Park
Forty miles of trails are yours to explore at the Laguna Coast Wilderness Park, where visitors can walk, run or ride their way through woodland trails and spectacular scenic vistas. The park's Nix Nature Center is a place where families can learn more about the parkland through exhibits and wildlife viewing area portals. Families can also partake in scavenger hunts. The center hosts quarterly programs that include live animals, crafts and Native American traditions.
18751 Laguna Canyon Rd., Laguna Beach | www.ocparks.com/parks/lagunac
---
Niguel Botanical Preserve
Budding botanists might enjoy taking a stroll through the Niguel Botanical Preserve, which features 2,000 species of plants. Its four-mile walking trail affords visitors an opportunity to learn more about flowers and plants native to Southern California and Mediterranean climates. The preserve's objective is to educate the public on the appropriate use of drought-tolerant plants and introduce visitors to unusual plant species. The 18-acre botanical gardens sit above the Laguna Niguel amphitheater within Crown Valley Community Park. It was initially established in 1981 as a community vegetable garden.
29751 Crown Valley Pkwy., Laguna Niguel | www.niguelbotanicalpreserve.org
---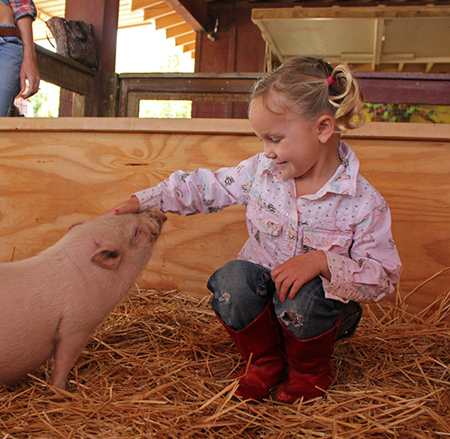 Zoomars
Pan for gold, ride a pony or cuddle with a guinea pig at this popular South County petting zoo. The facility houses dozens of feathered and furry friends, including goats, emus, llamas, chickens and a cow named Jersey. Other attractions include a train, a corn box (similar to a sand box, but filled with corn) and a small playground. There's also a Western-themed area where kids can pan for gold or visit saloons.
31791 Los Rios St., San Juan Capistrano | www.zoomars.com
---
Orange County Adjacent
San Diego Zoo
Lions, tigers and bears—and much, much more—await at this world-famous zoo. Spanning 100 acres, the San Diego Zoo is home to more than 3,500 rare or endangered animals, representing more than 650 species. The facility is also home to an impressive botanical collection that includes more than 700,000 exotic plants. Visitors can explore the zoo on foot, by bus or even through an aerial tram.
2920 Zoo Dr., San Diego | zoo.sandiegozoo.org
---
San Diego Zoo Safari Park
Take a walk on—or a tram ride through—the wild side at the San Diego Zoo Safari Park. While strolling through The New Age of Safari walkabout, visitors pass through a shaded, backcountry road to spy kangaroos, wallabies and other Australian animals. There's also a regularly-departing safari tour vehicle that takes guests through fields of grazing African animals. Those who aren't squeamish about heights can hop on a tethered helium balloon to view the zoo from 400 feet above. Other attractions include a Cheetah Safari, Animal Encounters and more.
15500 San Pasqual Valley Rd., Escondido | www.sdzsafaripark.org
---
Aquarium of the Pacific
Dive into an underwater adventure unlike any other at Southern California's largest aquarium. More than 11,000 animals are on display throughout more than 50 exhibits. Visitors can expect to see sea otters, jellyfish, eels and more. The museum's Tropical Pacific Gallery features more than 1,000 colorful fish, coral, sea turtles and sharks inside a 350,000-gallon aquarium.
100 Aquarium Way, Long Beach | aquariumofpacific.org
---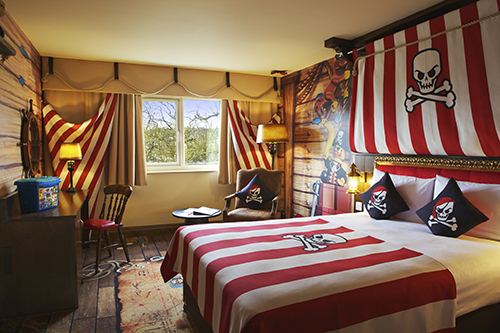 Legoland California
There's plenty to do and see at this land made of bricks.
Legoland features an amusement park with more than 60 rides and attractions, as well as an aquarium, waterpark and resort. Its 20,000-square-foot aquarium includes sharks, jellyfish, sea turtles and thousands of colorful fish. There's also a touch tank and scavenger hunt-type game for kids. Those looking to cool down can visit Legoland's waterpark, which features a lazy river, slides, splash pads and water rides.
1 Legoland Dr., Carlsbad | www.legoland.com/california
---
Balboa Park
A trip to San Diego would not be complete without a stop at North America's largest urban cultural park. While there's plenty to do indoors at Balboa Park, there's an equal amount to explore outside. Visitors can take a walk through the park's tranquil gardens, marvel at its unique architecture or enjoy a picnic outside. The 1,200-acre park is also a great place to go for a hike or bike ride, or play a round of golf.
2201-2259 Pan American Rd. E., San Diego | www.sandiego.org
By Michelle Thompson