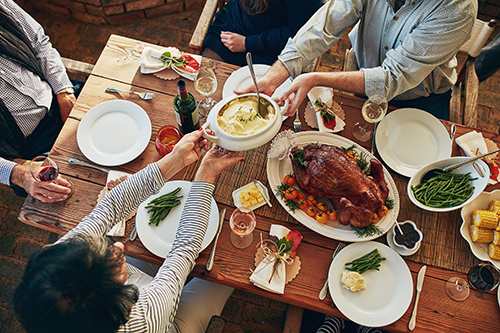 Q: [All Ages] I'm hosting my large family for Thanksgiving dinner. How can I make sure everyone gets along?
A: Conflict is inevitable, but the good news is there are things you can do to prepare your family to manage and resolve conflict in a peaceful, even productive, way. First off, know that everyone handles his or her response to conflict differently, and that is perfectly normal. According to Kenneth W. Thomas and Ralph H. Kilmann, there are five conflict-handling modes. None of these modes are more preferred than any other, they are just different: collaborating, accommodating, competing, avoiding and compromising. Once you understand which one of these is your natural response to conflict, you can begin to understand that others may not have the same response as you — and begin communication with them based on logic instead of emotion.
Remember that conflict can be destructive when it becomes violent or escalates to the point that relationships actually break down. Conflict can become difficult or impossible to recover from when children and families become so entrenched in their positions that it results in intractable conflicts.
To avoid getting to this destructive destination, here are a few tried-and-true tactics:

Honor boundaries: 
If someone is not ready to talk about a conflict, do not force the issue. Everyone in your family should have boundaries and it's important that those boundaries are respected.
Listen to one another: The more you listen, the more you will be listened to. When you listen to another perspective, you may learn something new or see something you haven't seen before. It's a key component in arriving to conflict resolution.
Invest time in one another: Put the tech down, set the distractions on the shelf, even leave the house if you need to — investing time in others is essential to understanding them. This time can be spent playing, reading, traveling or doing an activity together.
Ask questions: Don't sweep things under the rug. 
If you have a question, ask it. Don't let questions and concerns lurk and linger. Forming questions to create clarity will have you on the right path.
We all have shortcomings: 
If you accept your shortcomings and imperfections, it is easier for others to approach a conflict with humility, too. This base of understanding can soften attitudes and create space for understanding.
Have fun, even when things are hard: 
Like exercise or training for a marathon, life is full of hard work. But when things get hard, remember to have fun. Turn on some music, get moving, get silly — do what you have to do to have a good time in the midst of the hard work.
Care for yourself — and one another
: Be kind to yourself, have grace with yourself. Also be sure to care for each other — sometimes we cling so tightly to our own stance or opinion, we forget to consider the other person in the midst of conflict.
Celebrate each other: There is good in us all, focus on the positive in the other person, and think about that. Tell one another what you love about them, what makes them stand out from everyone else, what they are doing right (instead of what they're doing wrong).
Learn together: 
Life is a process, and it's better when we can learn to navigate together. Find ways to experience or learn together — at a program or a workshop, even in a classroom. Conflict requires learning and it's better together.
Learn from past mistakes: The age-old mantra, learning from mistakes in the past can provide valuable lessons. If you share those past mistakes that takes it one step further.
When you cannot solve it, get help: 
If that's help from a teacher, extended family, mediator, therapist, victim advocate, doctor or even a crisis management organization, like Waymakers in Orange County, there are people and resources out there to help. The bottom line is that you are not alone.
Finally, remember that managing conflict in your family is a lifelong endeavor. It does not happen overnight, but the more you practice healthy conflict resolution, the better you will get at it.
---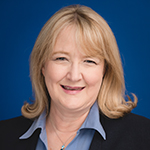 Ronnetta Johnson, executive director at Waymakers, joined Waymakers in 1995. She is a charter advisory board member for the Orange County Family Justice Center and a founding member of the Orange County Human Trafficking Task Force.