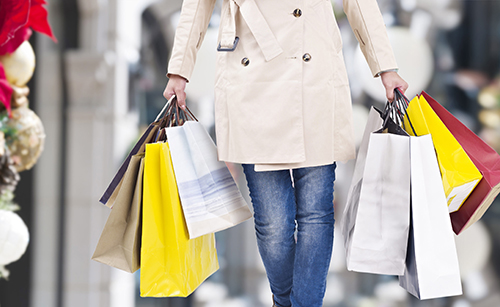 Keep the environment in mind with these plastic-alternative products and tips.
Most of us have nailed the reusable-bag habit for the supermarket, greatly reducing the number of flimsy plastic bags that find their way to the coastline and into the ocean. And at least some of us have stopped or cut back on our use of water in disposable plastic bottles, hoisting canteens instead.
Contrary to what we imagine, though, as good citizens who throw our plastic into recycling bins instead of the trash, only 9 percent of plastic is recycled in this country. It's not just about our good intentions — a lot of our plastic isn't practical for recycling. China, which used to recycle most of it, now refuses to accept it.
As a result, minimizing single-use plastic has become an increasingly popular phrase. Luckily, manufacturers are coming out with products that make this easier and that have side advantages as well. They make great holiday gifts — and you can make a couple of them as craft projects — spreading the use of environmentally-friendly goods:
Soap: When did we start replacing good old bar soap with liquid soaps in plastic bottles? Bar soap is of course available at any supermarket.
Even fancy, gift-worthy soaps still generally cost only a few dollars. I particularly like Hila All Natural Soaps found on etsy.com. The offerings include an exfoliating soap made with embedded loofah sections and a soap with Dead Sea minerals. They also look beautiful and are the kind of luxury item most people wouldn't buy themselves, which is my definition of a good gift. All this for less than $10 each.
Or you and the kids can make your own glycerin soaps, adding food coloring to create vivid swirls or embedding a little toy inside so that it is encased in the soap and usually visible through it — a great way to get kids to want to lather up, as they work their way to the toy.
A quick online search for "how to make glycerin soap" offers some simple recipes, including a 14-year-old how-to from Martha Stewart that repurposes an old milk carton as the mold.
Bars where you never imagined: We use other forms of liquid household products in plastic bottles for grooming and chores — shampoo, hair conditioner, dishwashing, laundry, stain removal. Companies have recently begun offering these products in bar form that work beautifully and smell wonderful.
Most shampoo bars are sulfate-free for those who like those gentler formulas. These bars make a great gift for frequent travelers since they can be tossed into a carry-on with no worries about TSA regulations. Bars also last a long time — they're usually the equivalent of three to six bottles of liquid shampoo. Aspen Kay Naturals lemongrass and sweet orange-scented, sulfate-free shampoo bar and conditioner (aspenkaynaturals.com) come in recyclable travel tins and have an addictive scent. They're available online. Another good option is Shampoo With a Purpose — The O G Bar from Clover Fields, the oldest soap maker in Australia (cloverfields.com).
Even dishwashing soap can make a good gift. The Farmhouse Basic Collection bar is available in a choice of scents on amazon.com. The bar lathers easily, lasts forever and cuts through grease. It's a soap-on-a-rope — if you hang it on a hook, the sink area remains uncluttered and the soap lasts longer by drying quickly between uses.
Food wrap: Cling wrap is not recyclable. That's one reason why beeswax food wrap, a cotton cloth permeated with beeswax, is becoming more popular. My younger daughter gave me some last year and my only complaint is that I need more of them! The warmth of your hands makes them cling to almost any surface and for the first time in my life, keeping a cut avocado green overnight was no longer an issue. Sandwiches wrapped in them stay neatly together. However, don't use them on raw meats.
Wash them with gentle soap and cool water. They're expensive to buy, but you can make these out of used cotton cloth (a great new life for outgrown or worn clothing) and beeswax for a fraction of the cost. An article on Good Housekeeping's website called "How to Make DIY Beeswax Food Wraps for a Plastic-Free Kitchen" is very helpful along these lines (goodhousekeeping.com).
Soda maker: We may have reduced our use of plastic bottles of water, but many of us still buy soda or sparkling water in disposable plastic. The SodaStream, available online (sodastream.com) and at Bed Bath & Beyond, makes 60 liters of sparkling water per carbonating cartridge. You reuse your own bottles and trade in the empty cartridges for refilled ones — no waste, and the cost per bottle is far lower. Add fruit to a glass of fizzy water and you can cut down dramatically on soda consumption in your family. There's a non-electric version that's simple to use, so you're not even consuming energy.
Produce bags: Many of the plastic bags we put our produce or bulk items in at the supermarket simply aren't needed. You're going to wash and/or peel those lemons or onions or apples anyway, why should they be bagged? But for the items that do need a bag, the sheer, light reusable and washable produce sacks from eartheasy.com are one of many terrific substitutes, with a drawstring top so that you don't need to worry about wrestling with twisty ties.
These are all great gifts for friends and acquaintances, potential crafty family activities and supportive of the environment as well.
By Jessica Peralta