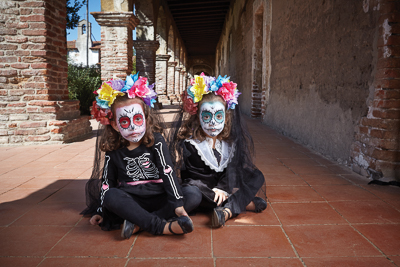 Dia de los Muertos is a Mexican holiday honoring those loved ones who have passed on.
Dia de los Muertos (Day of the Dead) is a Mexican holiday celebrated Oct. 31 through Nov. 2. It honors the souls of deceased relatives through offerings of food and other items, celebration, costumes and face paint.
According to Ruben Espinoza, assistant professor in sociology and director of Latinx and Latin American studies at Chapman University, the holiday has evolved quite a bit over the years.
"There are ongoing debates about when and where Dia de los Muertos began. Researchers point to different indigenous groups who held such celebrations centuries ago," he said. "What I can say is that Dia de los Muertos was around before Spain colonized much of what is now Latin America. Dia de los Muertos is an indigenous tradition that has been passed down from generation to generation. It has also evolved over the years. For example, there is a Catholic influence today that was not around in pre-Columbian times.
"The commercialization of the holiday has also taken off in the last 20 years. Disney tried to trademark Dia de los Muertos, only to back down after pushback from the Latino community. 'Coco,' the Disney film based on Dia de los Muertos, is one of the most popular movies in the world. The largest Dia de los Muertos event is held in Mexico City, but it only came into existence because of a scene in a James Bond/007 film. Long story short, viewers of the James Bond film thought there was a Dia de los Muertos celebration in Mexico City because they saw it in the film — then Mexico City officials created the event for tourists."
He said the celebration of Dia de los Muertos has grown exponentially in the United States in recent years.
"Families and individuals have always observed the day in the U.S., but it was not widely celebrated as a communal event until the 1990s," said Espinoza. "Much of that growth is due to Mexican-Americans/Chicanos celebrating the day. This was not something that they were doing 25 years ago. Young people today have propelled Dia de los Muertos into a new era."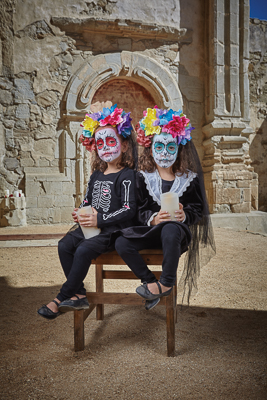 Locally the holiday is celebrated through events like the Noche de Altares in downtown Santa Ana.
"There is authenticity to that event when it comes to Dia de los Muertos," he said. "Most of the local colleges and universities also hold Dia de los Muertos events. Students at Chapman University organized the first Dia de los Muertos celebration in November 2017."
Makeup and costumes are a big part of the celebratory aspect of many of these events.
"Face paint and costumes, and the overall theme of skulls and skeletons, are meant to honor the dead," said Espinoza. "It can be a loved one or people in general. Additionally, this is also a way to demystify death. Dia de los Muertos is a time to celebrate the spirit of one's ancestors and the afterlife. Face paintings and costumes are not meant to be scary in this case."
He said celebrating Dia de los Muertos can be a little different for everyone.
"Ultimately, Dia de los Muertos means different things to different people," he said. "As a child, I thought it was a fun event, but as an adult, it gives me a chance to remember loved ones and reflect on life. There is also no one unified or official way to celebrate Dia de los Muertos. People are not required to spend money or even decorate an ofrenda [home altar]. They can observe the holiday on a personal level — just them and the spirit of their loved one(s)."
---
Related Posts:
---
And the appeal of donning Dia de los Muertos face paint and costumes has extended beyond Mexican-Americans in the U.S.
"When there is a large immigrant community, such as Mexicans in the U.S., both the immigrant and host community will influence each other. This is how acculturation works," said Espinoza. "For example, Chapman University hosted a ballet folclórico event last year. There were several folclórico children groups at the event. The groups had members who were Asian, White, and of other ethnicities. It was great to see because folclórico organizations teach about the culture and history, so those children are learning about Mexican folclórico, not just performing dance routines.
However, there are issues over cultural sensitivity that people should be aware of, such as the fact that Dia de los Muertos is not 'Mexican Halloween.' People who attend Dia de los Muertos events and have their faces painted should understand that the holiday might have a special, emotional meaning to others. There is also the issue of celebrating ethnic holidays, like Dia de los Muertos or Cinco de Mayo, but not caring about the community for the rest of the year. I think people should try to understand the day-to-day experiences of those communities and be reflexive on how we are all connected. Most of the criticism over cultural appropriation is based on this idea that people only show up for the holiday celebrations while being indifferent towards or in opposition to the community the rest of the year. This is something that all of us can work on."
Creating a Dia de los Muertos Look
According to Theresa Casados, assistant store manager at Goodwill of Orange County's Santa Ana store, Dia de los Muertos has become a popular theme for costumes.
"Creating a Dia de los Muertos costume can be pretty simple," she said. "Start by looking for your foundation piece — a long dress or sharp suit — in a darker color such as black, burgundy, red or dark blue. Great finds will include dresses with floral details or embroidered details. Then it's all about accessorizing. Floral headpieces, fans, big hats and painted masks will tie everything together. You can buy pre-made masks at places like Goodwill, or you can make your own following simple online tutorials."
Makeup artist Angela Santori said there are plenty of options for doing Dia de los Muertos makeup at home. She recommends getting glitter that is safe for faces and using whatever makeup you have lying around.
"Pull out your eyeshadows and eyeliners, use what you got and have fun with it," she said. "Any water-based face paint will do the trick. You can pick that up at your local Spirit Halloween store, Walmart and even your local dollar store should have child-safe face paints."
She said that practice makes perfect.
"This is definitely not a complicated look but will absolutely take more time to get it just right," she said. "I suggest having a few practice sessions with your kids and have a face-paint day before the big holiday. I recommend layering the white first then go in with your darker colors, making sure each layer is dry before moving to the next."
---
By Jessica Peralta
(Photos Courtesy of Ralph Palumbo)
(Makeup by Angela Santori)
(Costumes supplied by Goodwill of Orange County)
(Photo Assistant Shawn Price)
(Costume Assistant Sarah Mosqueda)
(Location San Juan Capistrano)