Sometimes a vacation feels like anything but, for parents. Schlepping beach toys over dunes, making endless rounds of sandwiches, picking up around campsites to avoid nighttime wildlife visits, packing-unpacking-repacking on roadtrips… maybe it is time to set sail to an escape where someone else makes the bed, entertains the kids, makes meals and snacks on command, tidies the room, even cuts your little one's chicken! This is what cruising can do for you.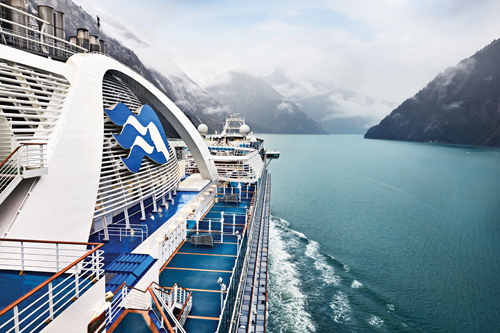 Princess Cruise to Alaska
Exploring Alaska by sea is an ideal way to cover a lot of ground, in a place which doesn't have an overabundance of connecting roads and highways. For this destination, the focus is on the amazing adventures you can have while dipping a toe in the vast great wild north. We love Princess Cruises for the land/sea combo experience, which combines their beautiful lodges with time at sea to enjoy the glaciers and bounty of activities in far flung locales.
Staying in the heart of the beautiful Alaskan nature is key, especially if this is a once in a lifetime vacation. We love the service, views and explorations opportunities Denali Princess Wilderness Lodge, Mt. McKinley Princess Wilderness Lodge and Kenai Princess Wilderness Lodges provided. We would certainly recommend upgrading the meal plan, purely for the excuse to tackle the massive, incredibly sweet Alaskan King Crab at every meal. The property settings are breathtaking, and became even more so when we were treated to an otherworldly light show via the Aurora Borealis. There is such a sense of community when witnessing the spectacle, we found ourselves hugging and dancing around with strangers in delight as the colors played across the sky.
The big bonus of combining the sea and land tours is the ease of transition from lodge to lodge, ship to shore. This left more time for experiencing the region. We visited Talkeetna, the town which inspire Northern Exposure, a charming launch point for a rafting trip down a bald eagle habitat river. (We saw dozens.) In Denali, we first viewed the National Park on the historic buses designed to offer prime wildlife viewing, before boarding a small flightseeing plane to get an overview, complete with a snowy ice landing and stroll on a light blue glacier at the base of the peak. (Making a tiny snowman out of 100,000-year-old, never touched frozen water should be on every family's to-do list.)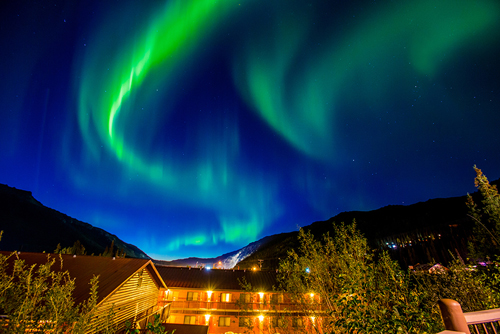 Once aboard, Princess Cruise's partnership with Discovery Communications offers guests guided Stargazing on the top deck; activities featuring Discovery hit shows such as Shark Week and Finding Bigfoot; and an "Encounters with Discovery at SEA" speaker series. Some shore excursions are recommended by Discovery and Animal Planet. One such opportunity in the port of Ketchikan is the Deadliest Catch Fisherman's Tour, which lets guests get a taste of Alaskan reality, with a three-hour cruise aboard the Aleutian Ballad from season two of the TV series. Other opportunities to get a taste of a fisherman's life were greatly enhanced by the ship's "Cook My Catch" program, which allows guests on excursions to bring their catch back to the ship for chef to prepare to your liking.
Another Animal Planet nod went to our awe-inspiring visit with the grizzlies outside of Juneau. Far from a trip to the zoo, this scenic floatplane excursion brought us into remote protected land where we first received some serious advice about bear behavior and how to handle ourselves. As we rounded a bend on a short hike, linked together as a group to seem large and somewhat confusing (and not easy pickin's) to a bear, a mother with her two cubs splashed into a falls to fish. We sat along the riverbank, quietly observing the amazing interaction, the two cubs cavorting and mom scoring meals from the rapids, which she shared with her young.
The trip was one of the most memorable we had ever experienced. Bucket list items were being crossed off on a daily basis. Fortunately, rather than growing complacent by the ever-present beauty around us, we relaxed into it and adjusted to the slower speed of life, building memories to bring us even closer.
---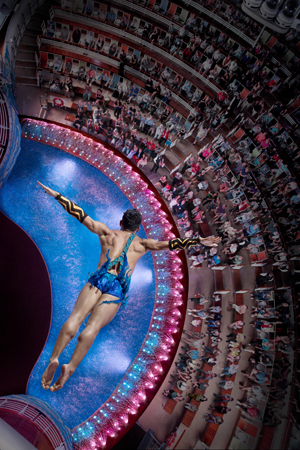 Allure of the Seas
We are a fan of the Royal Caribbean Cruise Line, and have sailed on many of their ships. I have a soft spot for Allure and have found it to be just the right fit for families. The Adventure Ocean and Teen Club are fabulous facilities, there is a friendly vibe among the crew, and entertainment options abound. We love the Rising Tide elevated-mobile bar concept and the open air interior Central Park neighborhood, which makes for a romantic stroll in the evening and a prime spot to grab a relaxing breakfast.
The shows are high energy and varied; from How to Train Your Dragon ice skating to a Cirque'esque "Blue Planet" theatrical show to the amazing high dive water ballet on the back of the ship. This is conveniently located in the Boardwalk, which sports a Johnny Rocket's, a lovely wooden carousel, zipline and quality tequila bar inside a laidback Mexican joint with upscale food. There are plenty of live music and night life options for every taste (Maria and Luis keep passengers happy and tranquilo at the hopping Bolero's Latin Dance Bar), and grown up comedy acts. Free tickets can be reserved in advance, so the crush for seats isn't really seen on this ship.
Service in the main dining room is so efficient and friendly, you aren't that tempted to head elsewhere, though a number of options (from small ala carte fees to surcharges) are available for a change of pace or splurge. Kids can join counselors for meals in the buffet restaurant if mom and dad want a night out.
Dance parties and Dreamworks parades are a daily feature on the Promenade. Kids flock to the clubs, which are so well run you don't see packs of wild children wandering about looking for fun and mischief. In fact, many kids have been seen begging the parents to let them stay for the midnight aftercare. Well entertained kiddos means guilt-free grown up time, which we suggest spending on the adult-only pool deck or at the spa.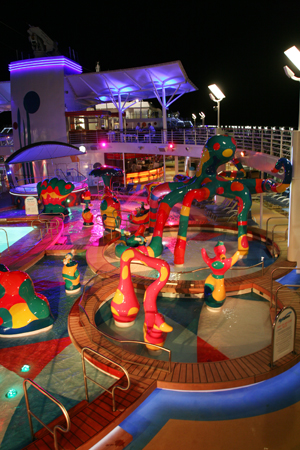 Autism at Sea
Royal Caribbean was the first cruise line to offer an autism-friendly initiative for families living with autism, Down syndrome and other developmental disabilities. To prepare for a voyage, a written and visual Social Story guide is offered, describing social interactions, situations, behaviors, skills or concepts that might be encountered on board.
Services on all cruises include:
Priority check-in, boarding and departure
Special dietary accommodations including gluten-free and dairy-free
Adventure Ocean flexible grouping by ability for children 3 to 11 years old
Adventure Ocean toilet-trained policy exception
Pagers/phones for parents of children in Adventure Ocean program while signed into our care (subject to availability)
In addition, "Staffed Cruises" on select cruises, catering to families with children, teens and adults with autism and other developmental disabilities, include:
Extra professionally trained staff in caring for individuals with developmental disabilities (provided at one staff member for every two-three special needs guests)
Assistance with Royal Caribbean's products and services
Specialized respite sessions
Private activities and sessions
During the cruise, complimentary on-demand access to exclusive content from The Autism Channel, Autism-friendly films presented in a low-lit and low volume environment where guests are encouraged to freely talk and walk around during the film, and an Autism friendly toy lending program is available in our Adventure Ocean Youth Program on all ships. Upon request, we will provide a tote bag of autism friendly toys that may be used in Adventure Ocean or in the family's stateroom.
---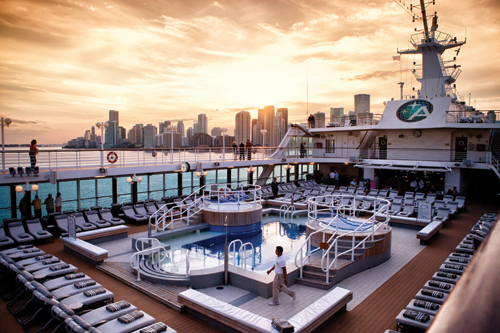 Sail the Med' with Azamara Club Cruises
As much as we love our little ones… so do their grandparents! We suggest giving the kids plenty of nana and papa time once school is out and rekindling over a Mediterranean adventures. Hike the Cinque Terre, wander the cobblestones streets of Italy in search of the perfect wine bar, lounge in the French Riviera, or watch a classic film on a rooftop in Athens overlooking the Acropolis. And if you really want to do it right, opt for Azamara.
This boutique luxury club focuses on "Destination Immersion", allowing travelers to get a true sense of place by offering overnight stays or late evening sail-aways. They take advantage of their size to sail smaller, scenic waterways and dock at the footsteps where nightlife and culture are a short stroll away. Fewer passengers translates to a better guest experience, with staff quickly learning how to tailor your getaway to your personal taste.
Excursion choices are endless, among the ports of the Mediterranean. Enjoy the bountiful panoramas of Livorno from its canals, hopping a comfortably outfitted motorboat to cruise through a labyrinth of channels and waterways as a local guide highlights the city's landmarks. Sail smoothly under bridges to see the 16th century New Fortress, commissioned by one of the Medicis, the architecture of Republic Square, the Baroque octagonal Church of Santa Caterina and Fisherman Harbor. Finish with a luscious Tuscan dessert for a sweet end to the day.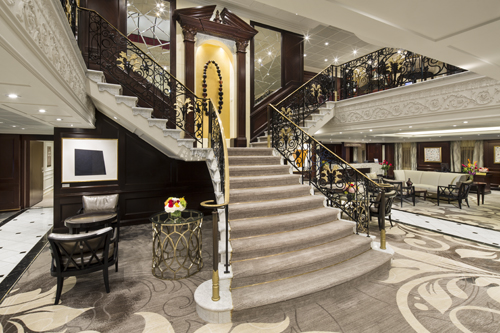 Don't shed tears over the Tuscan departure, the talents of the ship's culinary team with soothe. Taking inspiration from local delicacies and perusing markets while in port, the menu becomes personalized and an extension of the day's escapades. Hosted by a senior officer, a Chef's Table five course menu with wine pairing is a perfect way to end a day of sightseeing castles, palaces, cathedrals, and UNESCO World Heritage sites. Fear not, if you are particular about your vino, limited production, small label and rare vintage wines await.
For those celebrating a truly special occasion (like not having to wake up to pour cheerios or dress the kids for school), "Nights in Private Places" might be the most romantic experience you have on your voyage. The evening starts with champagne and canapés, served by your own personal butler, followed by fresh seafood prepared on a sizzling stone. Slip into a Frette robe before retiring to an outdoor bed, lit by flickering candles, to sleep under the stars. The next morning, you'll be greeted by breakfast in bed.
The first step in making a guest feel welcome is to avoid nickel-and-diming. Complimentary imported beers, wines and standard spirits are included, as well as self-service laundry, specialty coffees, teas and gratuities. Special "Azamazing Nights" to ensure guests an unforgettable authentic experience are hosted, with shuttle service to and from port communities also offered as a courtesy. In short, they want you to feel well taken care of. That's the kind of service that floats our boat.