These busy dads are pros at putting their kids first.
Ed Ratledge
Lives in: Huntington Beach
Profession: AVP professional volleyball player; owner of VolleyOC, which offers beach volleyball classes and camps for children and adults
Married to: Jessica
Kids: William, 8, and Adeline, 3
How did beach volleyball become your career?
"Piece by piece. I became a professional at age 23 and built a business around what I love, starting first with summer camps (2002), running events (2004) and finally adult classes (2009). Everything is on the beach, centered around beach volleyball, and I'm very proud of all the players who have come through my programming."
Have there been challenges?
"Daily, weekly and yearly. None insurmountable. Balancing the time needs of my pro career with those of my business and family life is hard—there just aren't enough hours in the day sometimes."
What does your training involve and how often do you compete?
"I compete in 12 to 15 tournaments each year, and train between two and four times per week, depending on the season. It's a little less than I used to, but now that's just to avoid overtraining, which is something you have to watch out for when you're 42 years old."
How do you balance all this with being a dad?
"It's very important to make the most of the time I have with my kids. … Trying to do a lot of camping trips this summer, as they increase the family bonding."
Describe a typical day for you.
Wake up with the kids. Get Will ready for school. Take him to school. Go to training, 9 a.m. to 11:30 a.m. Coach at Golden West College, 12 p.m. to 3 p.m. Come home, spend an hour with the kids in the afternoon if they're around. Coach my adult evening classes in Irvine, 6:30 p.m. to 8:30 p.m. Watch a show with Jessica for a half hour or so before flopping in bed. Rinse, repeat."
Do you try to involve your kids in volleyball?
"I get Will into my VolleyOC summer camps. He's pretty good for an 8-year-old. Addie has just learned what a spike is and is pretty good for a 3-year-old."
What other activities do you do with the kids?
"We do a lot of aquatic stuff. Will has been surfing since he was 3 so during the summer we try to do a family beach day at least once per week."
What have you learned from being a parent?
"I've learned just how interdependent you have to be with your spouse. Kids really demand a lot and good communication with your spouse about how things are going and where things need to go is vital."
How has it changed you?
"When you have kids, you go from living for yourself to living for them. It's a complete world changer."
How would you describe your parenting style?
"Laissez-faire. I want to turn out human beings who can make choices for themselves. My job is to be a guide post and only get in the way if they're going to make a choice which will really harm them."
What advice do you have for new dads?
"The first 6 months is excruciatingly hard. Sleep deprivation is a form of torture and babies are adept at dealing it out. It really takes a village, especially at this early stage. Take advantage of any and all help that is available to you, knowing you can pay it forward once you have the experience. Taking a break here and there will help your marriage, and a good marriage—or solid support system—is the root of good parenting.
---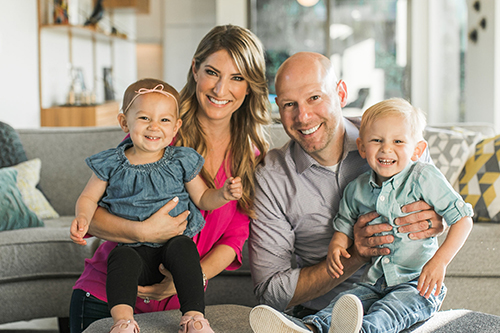 Wil Dee
Lives in: Orange
Profession: Founder and owner of Haven Craft Kitchen, Provisions Deli Shop and Chapman Crafted Beer in Old Towne Orange
Married to: Jessica
Kids: Owen, 3, and Olivia, 1
Where did your passion for craft beer start?
"My passion really began when Haven opened 10 years ago. I've been responsible for developing and driving the restaurant's beer program forward, and in the beginning, I put a lot of time and effort into properly introducing it to people that were not sure what craft was at the time."
How did it evolve into Haven Craft Kitchen, Provisions Deli Shop and Chapman Crafted Beer?
"Haven became known for its beverage program—it received praise from the media and has won a handful of awards. That momentum fueled the opening of Provisions, which is a less formal restaurant setting that allows people to explore beers and wines, and also take them home. Chapman Crafted is the most recent addition to the family—it has taken things to another level for me as we make amazing beers that are featured in our own tasting room and at restaurants throughout Southern California, including Haven and Provisions."
What community activities are you involved in?
"I sit on the board of directors for the Orange County Brewers Guild, and I also sit on the executive board of the Orange Chamber of Commerce."
Describe a typical day for you.
"My children dictate when I get up every morning, and from there I get some amazing quality time with them until my wife is done getting ready. Then, I get ready for work and head off to Provisions since it's the first place open at 7 a.m. From there, I head to Chapman Crafted to communicate with my director, managers and brewers about the day and week. After that, I usually head over to Haven and meet with our executive chef and my managers. Of course, every day brings its own challenges, and I move things around as things come up."
How do you balance all you do with being a dad?
"My wife is a superstar, and she is extremely supportive. Since I live so close to the businesses … I'm able to be home more easily as my kids grow up. On top of that, I have an amazing staff at each business, and I couldn't do it all without their hard work and dedication."
What have you learned from being a parent?
"Patience and influence. You are very influential in your patience."
Has it changed you?
"Absolutely. It has definitely helped in softening me up. It has made me more compassionate towards people on a daily basis."
How would you describe your parenting style?
"I try to let my kids be themselves. I usually will watch them play, and get creative with the freedom. Sometimes I will have to talk to my oldest firmly, but I try to do it in a rationalizing way. He will say 'OK Daddy' and it melts my heart. We have been taking both of them out to eat since they were born, and feel that experience has been great for their social skills."
Do you consider yourself a proactive dad?
"I do. I'm not afraid to take on all the duties, and sometimes that is exactly what it takes. My wife works hard in her career and if I need to do more on a given morning, evening or throughout the day, then I do that."
What advice do you have for new dads?
"Communication with your wife is key. It will get hard and you need to keep a level head. Babies and toddlers really don't know any better and you really need to exercise patience. Always be coaching the right habits—it will pay off in the end."
---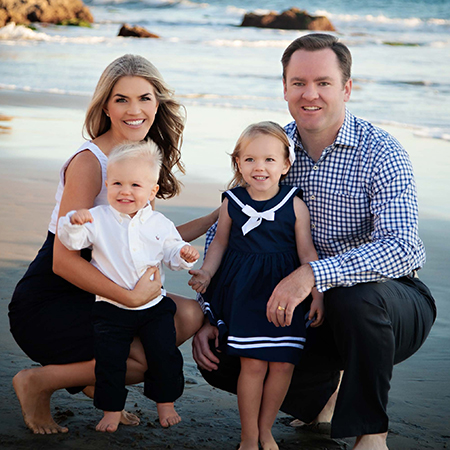 Will O'Neill
Lives in: Newport Beach
Profession: Mayor pro tem for Newport Beach City Council and attorney
Married to: Jenny
Kids: Aubrey, 6, and Sean, 4
How did you get involved with the city council?
"Former Mayor Duffy Duffield appointed me as his representative on the city's Finance Committee. Our city has solid finances, but long-term debt and pension liabilities can eat into that quickly if left unchecked. I love this city and wanted to do what I could to preserve our history and move forward in ways that our children would be proud."
What kind of law do you practice?
"I am in my 12th year of practicing business litigation. After practicing at a large, international law firm, I've landed at a small boutique firm that affords more time outside the office for family, church and public service."
What other activities are you involved in?
"We celebrated our second year hosting the Newport Beach Hometown event alongside Special Olympics on May 9. We will be remembering our fallen lifeguard, Ben Carlson, in the fifth year since his passing and it's been amazing watching our community rally to the Ben Carlson Foundation's mission. The Newport Beach Foundation kicked off its Distinguished Citizen Program this year to better educate younger members of our community about civic education. The work being done at Crystal Cove Conservancy, the Boys & Girls Club and Newport/Mesa Proliteracy are also such great blessings. And I am awfully proud of my wife, who has done great work at the PTAs for our kids' schools."
How do you balance all you do with being a dad?
"This question begins and ends with my wife. Her heart for others and our family is awe-inspiring."
Describe a typical day for you.
"I truly enjoy that there are no typical days on city council. One day is a parade, another is a seven-hour council meeting. We have informational meetings about organic waste, water rates, airport noise and budgets. We serve on regional boards like the Transportation Corridor Agencies. And, most importantly, we represent and advocate on behalf of our residents, which leads to the most interesting conversations. We now offer programming for adults with special needs because a family friend asked me to look into it for her son who had recently graduated from high school."
What have you learned from being a parent?
"There is an old saying that the best way to learn something is to teach it to someone else. Teaching my kids to follow Micah 6:8's call to act justly, love mercy and walk humbly has deepened my own understanding too."
Has it changed you?
"All day every day in every way."
How would you describe your parenting style?
"When my sister and I were little, our mom was president of a non-profit that sheltered mothers and their children in domestic violence crises. This was around the same time that our father was presiding judge of our county's courts. They instilled a drive to try our best while creating margin to serve folks with the talents that God bestowed upon us. My wife and I find ways big and small to instill these same public service elements into the lives of our children."
What advice do you have for new dads?
"You probably think that you know how to install a car seat, but you don't. Ask a friend with four kids and a dog to show you how."
Anything else you want to share?
"Have empathy for those frazzled parents whose child is crying on a plane. Trust me, they wish the sound would stop too."
---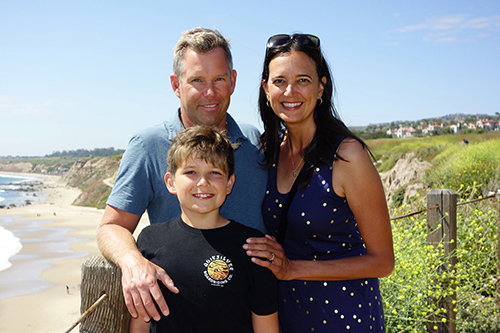 Brett Peterson
Lives in: Newport Coast
Profession: Orthopedic Surgeon
Married to: Anita Bajpai, MD
Kids: Marc, 10
Why did you get into medicine and orthopedic surgery?
"As far as I can remember I have been interested in medicine. It's an incredibly captivating field that sits at the intersection of humanities and science. … During my clinical rotations in medical school at UCLA, I discovered that orthopedic surgery would be the best fit for me because it is a demanding discipline with a lot of variety and innovation, and one in which the surgeon can see a significant impact of his or her efforts on patient function and quality of life. My areas of specialization are fractures and complex problems of the upper extremity—hand, wrist, elbow, shoulder."
You were part of a team that performed a hand transplant on the West Coast?
"Hand transplants are performed much less commonly than those of other organs and UCLA is the only medical center on the West Coast which has done them. Two years ago, I was extremely honored when Dr. Kodi Azari, chief of hand surgery at UCLA, invited me to join their team. … The 17-hour hand transplantation surgery to microscopically reconnect the tendons, nerves, arteries and veins was performed on a man who had lost his hands and feet from a horrible illness. The results were thrilling. The story was highlighted in a '20/20' episode."
You are also quite passionate about the outdoors?
"I love staying active and being outdoors. In the past, I've been a competitive swimmer and ran marathons, but right now I love mountain biking, surfing and backcountry skiing. I try to involve Marc in all of my activities. When he was little, I would carry him in a backpack hiking in the Sierras, pull him in a trailer behind my bike along trails, tuck him into a sled to ride behind me while cross-country skiing, and put him on the front of my paddle board wearing his tiny life vest to tour the Newport Harbor. As he's grown up, I've taught him the skills to be more independent.
"I grew up skiing with my dad, and I've been skiing with Marc since he was 2 1/2 years old. I'm proud what an excellent skier he has become—he's pretty much my favorite ski buddy now. We regularly drive up to Mammoth in the winter and already logged 23 days on the mountain this season. This year I bought Anita and Marc their own backcountry ski gear—so we can expand our adventures.
"I've spent a good deal of time hiking in the Sierras and the local Southern California mountains as well. I've climbed Mount Whitney four times—once with my dad and once with my wife. Two years ago we took Marc to summit Mount Baldy—aka Mount San Antonio, which is 10,069 feet and the highest point in Los Angeles County—and we've been back hiking there several times with our dog, Bucky. Marc now shares my love for the mountains. We've extended our outdoor time to camping trips in Joshua Tree and Yosemite. This summer, I plan to take him on his first backpacking trip."
How do you balance all you do with being a dad?
"I'm a naturally intense and focused person with a lot of energy. When I'm at work, I dedicate my full attention to my surgeries, my patients and keeping myself on top of orthopedic surgery innovation and developments. Exercise really helps me unwind and control my stress, so I try to do some exercise—biking, swimming, weight lifting—every day. When I come home, I switch gears and leave my work at the office and focus on being a fully present father and husband."
What have you learned from being a parent?
"I've learned to be more patient, more self-aware and more encouraging."
How would you describe your parenting style?
"That's a tough question. I don't really have a style that I'm focusing on, my focus is more goal-oriented—I'm raising Marc to grow up to be a man I can respect and be proud of, who has strong values and whom I will have a good relationship with for years to come."
By Jessica Peralta