Kind, inspiring, empathetic, supportive, hardworking, loving – all virtues good fathers embody. Throughout Orange County, there are wonderful, unique dads who not only exemplify these traits, but also use them to do big things for both their families and their communities. Here are just a few of these extraordinary fathers within our neighborhoods.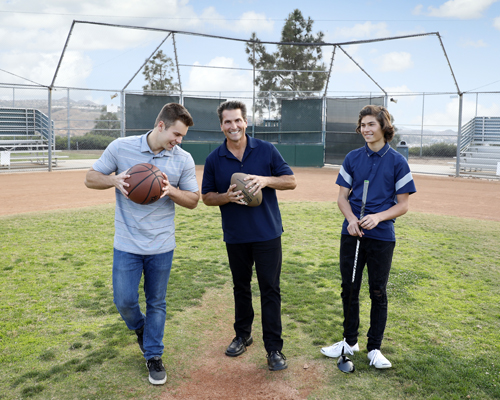 Henry DiCarlo
Early mornings for many Southern California families are kicked off with Henry DiCarlo informing them whether or not they should grab a sweater on their way out to work or school. Despite his crack of dawn work hours, the KTLA 5 Morning News meteorologist and sportscaster always starts his viewers' day off with his easygoing nature and good humor – and all of this is accomplished by 7 a.m.
Once he is off air, Henry travels from the Los Angeles-based studio back to his Yorba Linda home, where he resides with his wife of 21 years, Lisa, and his sons Hank (18 years old) and Jack (14 years old). Born and raised in Orange, Henry has always remained close to his roots and very active with the local community. He attended Villa Park High School before going to Cal State Fullerton and graduating with a communications degree and a meteorology degree from Mississippi State University. His thriving career in meteorology and sportscasting has led him to be the only local broadcaster who has won an individual Emmy Award for Weather, Sports and Reporting.
Henry said he never allows the pressure of having to balance family with work, because his family is always his number one priority.
"I put the majority of my efforts in my home life. That happiness and peace trickles down to the other aspects of my life, which makes me a better employee and co-worker," said Henry.
"I have been very fortunate that I have a job that allows me to be home and present for my family. Coaching baseball, football, soccer, basketball, you name it; those have been some of the best times of my life. I'd like to think I am doing what most people do and that is help out and give back whenever you can."
Henry and his family are very involved in the community by supporting local non-profits and charities. His "Team DiCarlo" is one of the top-raising teams for the CHOC Walk, which he heavily promotes to residents to join him every August. He also supports a number of local veterans organizations, including Patriotic Service Dog Foundation, FAMM (For Families of Active Military), For The Fallen, and Honoring Our Fallen, which places flags on every marker at Riverside National Cemetery. He and Lisa founded the May 20th National Rescue Dog Day, which brings awareness to shelter animals and honors rescues that have helped people from all walks of life. The couple's latest project is "Tails That Teach," a children's book-turned-foundation written and founded by Lisa, which has a mission of spreading messages of kindness and empathy in schools and supporting shelters and rescue organizations throughout the country.
"I think all good parents are driven by the same things; we just want to do what's best for our kids. I struggle with how I am as a parent. Am I giving them too much? Am I not giving them enough? Am I making them struggle enough? Do they play 'Fortnite' too much? It's a tough balance," said Henry, "As parents, I think it's very important that you admit and apologize when you make a mistake. Our children are much smarter and perceptive then we often give them credit for. Conversations and involvement are the best gifts that we can give them."
For more information on Tails That Teach, visit www.tailsthatteach.org
---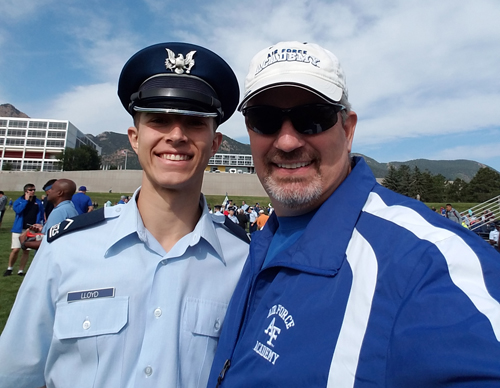 Tim Lloyd
Air Force veteran Tim Lloyd soars not only through the skies, but also as a great father. Currently working as a maintenance programs engineering manager for Boeing, his colleague Maggie Ma said he is an inspiration to many for so many reasons, but especially as a dad.
Yorba Linda resident Tim has raised one son with his wife Yvette – Tim, Jr. (20 years old). Over the years, the couple has fostered numerous orphaned children from overseas through the Nightlight Christian Adoption agency, so the kids have an opportunity to spend time with potential families and be adopted by forever families. Tim and Yvette recently adopted Kristina (16 years old) and Nastya (15 years old), both from the Ukraine, to be a part of the Lloyd family.
In addition, Tim has led an aviation youth group, which has opened doors for many boys and girls to aviation and has helped them to develop interest, knowledge, and skills for STEM. The local organizations include Aviation Explorer Post 445, a youth aviation career organization, and the Junior Aviators; a new 501c3 youth flying club Tim founded this year. The non-profit clubs provide low-cost flying for youths interested exploring the aviation field. Both groups are located at the Fullerton Airport.
"Several kids he mentored now have successful aviation careers. He has been hosting aviation days in Southern California on weekends and taking vacations to take youth to an annual airshow in Wisconsin for many years," said Ma.
Tim has always been very involved in Boy Scotts and other local organizations to stay involved and give back to the community with his family. Through his commitment to mentoring young men and women to join the Air Force, he has inspired his own son to attend the Air Force Academy. For more information on Tim Lloyd's aviation groups, visit www.facebook.com/JuniorAviators
---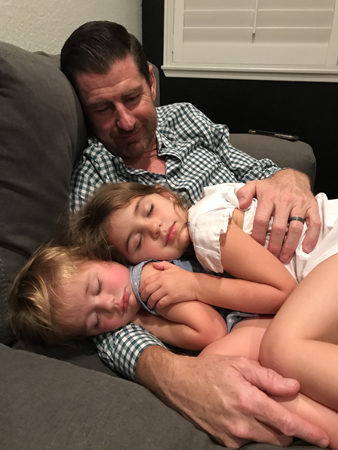 Jim Riley
The entrepreneurial spirit burns strong in Jim Riley, CEO and founder of the Costa Mesa-based Baja United Group. Throughout his life, the born-and-raised Orange County resident has made an impact in the spirits and liquor industry – even creating his own tequila brand, Azunia. The hard-hitter also has a big heart, which grew even bigger after the birth of his two daughters – Dearylin (4 years old) and Reagan (2 years old). He decided he was not going to miss any part of his kids' lives, so after semi-retiring from his tequila company, he placed his sights on more meaningful work.
"I make my girls and my wife a priority everyday. I waited late in life to have kids and realized that I almost missed the most amazing gift any man could have – a family," said Riley, who is currently 50 years old.
Founding Baja United Group, a company that imports wines from Valle de Guadalupe in Baja to Southern California to provide resources and support for Baja orphanages, has brought Jim a feeling of career purpose. Jim was first introduced to the orphanages through Mariners Church in Newport Beach. After taking his first trip to Baja, he and his business partner Eric Morley came up with the idea of importing wine and raising money for the orphanage children.
"I have been doing support work for almost 20 years and there is always a need. I wanted to create a sustainable business so we can give often and for as long as we are successful. It's like teaching someone to fish; they can feed themselves for a lifetime. In this case I created a business that can hopefully feed these kids for a lifetime."
Jim's advice to parents struggling to balance family with careers:
"Start walking in the direction of your dreams and the rest will follow. So many people procrastinate because of an imaginary list of reasons why they can't do something. If you just start and make some progress everyday, eventually you will find yourself happy and successful. And never forget to make your family the number one priority; after all, that's why we are doing this."
For more information on Baja United Group, visit bajaunitedgroup.com
---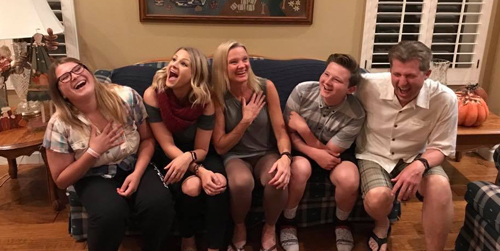 Curt Visca
From sporting wacky costumes, to his expressive fandom of Elvis Presley (he has a life-size statue of The King in his office given to him from past students), Curt Visca's sense of humor shines as the Palisades Elementary School principal. Born and raised in Orange County, Curt has worked in the Capistrano Unified School District for 31 years and has been an elementary school principal for 24 years. His enthusiasm has made him notorious for bringing joy to his students, faculty, and family.
In addition be being a father of three – Kaytlin (25 years old), Chloe (19 years old), and Clark (15 years old) – Curt has been a committed father figure to many by inspiring young ones to have fun and be creative. While working as a young O.C. principal, he took this first name and ran with it in the 1980s, creating a children's cable television show titled "It's Curtoon Time."
"I've always had a passion for cartooning and teaching children and adults how to draw and decided to create my own simple and silly cable TV show," said Curt, "We have not done any new shows lately, but over 400 shows were on cable TV for over 27 years. Some of these shows are currently on YouTube. However, I still do an occasional guest appearance as one of my 'Curtoon' characters at my school or events."
The show aired on the public access channel and featured Visca dressed up as his original characters – including a silly fisherman Lester, the old Mr. Wizard, and Sammy Surf the surfer –who showed his young viewers how to draw fun and easy cartoons. He also wrote and released 12 step-by-step cartooning books. Curt volunteers with the CUSD Foundation, where he has been an emcee for many events to raise funds for students in the district. He and his wife of 29 years, Kelley, are also involved with charity events for The Shoreline Church in San Clemente, where he has volunteered to draw "Curtoons" for children.
Curt said his passion for bringing a smile to others begins and is driven by his family: "Being a father is very rewarding, but is not always easy. Focus on God; focus on your wife, go on dates with her and tell her that you love her every day; and focus on your kids, eat meals together whenever possible, guide them, and laugh with them."
For more information on Curtoons, visit curtoons.com
---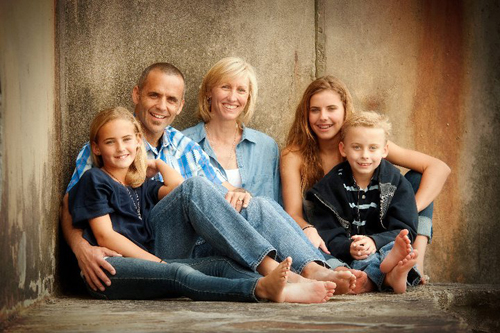 Erik Rees
After 10 months of battling an inoperable brain tumor in 2011, 12-year-old Jessie Rees left behind a powerful, positive legacy that has carried on through her family. During her brave fight, Jessie recognized the need to spread smiles and happiness to other kids fighting illnesses, and created "Joy Jars" – uplifting and fun care packages she personally packed and donated to children all over the community and the world.
Her father Erik Rees has since dedicated his life to carry on her mission to spread joy through the NEGU Foundation – which stands for Jessie's personal motivational message to "Never Ever Give Up." The foundation aims to build awareness, support children fighting illnesses and their families, and raise funds for research. Formerly serving as Saddleback Church's pastor of ministry, Erik now works full-time alongside his family at the Joy Factory in Irvine, stuffing and shipping out Joy Jars to over 165,000 kids fighting cancer and other illnesses to date.
"Erik also supports his other two children J.T. and Shaya in their journey to follow their dreams. He is the rock of support and comfort to his wife Stacy," said Erik's friend Leanne Nelson, who volunteers for the NEGU foundation. Leanne's husband Steve helps to run the foundation's social media, "I see him do so much for others without being recognized himself."
NEGU has grown immensely over the past seven years, becoming an international foundation by partnering with over 250 children's hospitals and sending out Joy Jars across the U.S. and 30 countries. Erik, who resides in Rancho Santa Margarita with his family, has no plans of ever stopping his daughter's beautiful mission to spreading joyfulness to children all over the world. For more information about how to get involved in the Jessie Rees Foundation, visit www.negu.org.
---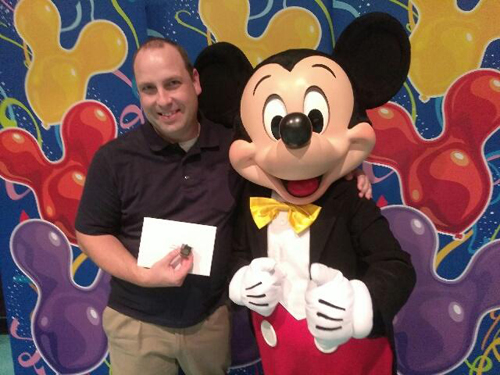 Bryan Adams
Vanessa Adams of Irvine gets teary-eyed when she describes her husband Bryan and his big heart.
"My husband not only works hard, but he excels at being a good human being. I choke up thinking of the countless times he has stopped to help someone or gone out of his way to assure someone was taken care of," said Vanessa, "If he sees someone on the road having car trouble he will pull over to see if they need a ride, or if he can get them in touch with the police. He has helped older folks load their heavy groceries, wood from Home Depot, and has driven people's brand new purchases in his own car when they did not fit in theirs. It's just the kind of person that he is."
The father of three girls, ages 2, 4 and 7, is a United States Marine Corps combat veteran who received an honorable discharge after serving for 10 years. Upon separating from the USMC, he found familiarity and peace working as a security officer at Disneyland. "There he can be amongst other veterans, doing what he does best: being vigilant and taking care of others. He enjoys being part of the magic, often stopping to hand out stickers and high fives to children," said Vanessa.
In addition to working at Disneyland, Bryan attends Santiago College as a full-time student in the Water Utility Science program. But his heavy schedule does not stop him from holding down the fort while Vanessa is at work, transporting the girls between home, ballet lessons, and doctor's appointments. He volunteers to chaperone school field trips, often being the sole father among the many room mothers. His daughters "love him to pieces" Vanessa said, and he does everything with a smile.
By Jackie Moe