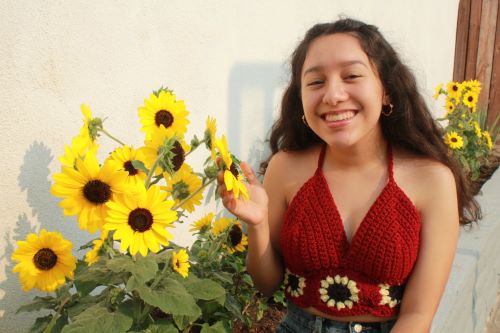 A 17-year-old Anaheim resident and crocheter balances her desire for change with her passion for entrepreneurship.
Sometimes, when Graciela Grande is crocheting, her hands get tired and start to hurt.
She doesn't mind.
"I like the results," says Grande. "I like the fulfillment you feel when [you] can see the effort you put into the project and then seeing the result."
She is also motivated by the fact that with each beautifully crocheted, bohemian-style bralette or halter top she makes, she is making a difference.
The Anaheim resident sells the tops on her Instagram account (@gracys.crochet.tops) with a portion of the proceeds going to the movement or foundation of the buyer's choice.
"I have taken the time to gather a few organizations on a Linktr.ee, which I have added to my Instagram bio," she says.
Her parents weren't comfortable with her joining the Black Lives Matter movement protests over concerns for her safety, but her tops are a way she is contributing.
"I also form part of a minority," Grande says. "And it angers me how corrupted our system is. It is really unfair … and if there is some way to make positive change, however small, every individual counts."
Black Lives Matter, The Trevor Project and the National Immigration Law Center are among the donation options she lists for her customers.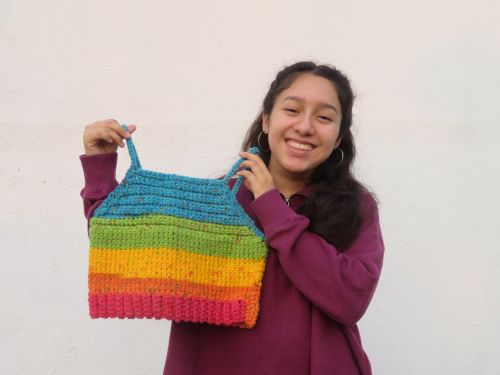 Grande, a high school senior at Oxford Academy, learned to crochet in elementary school.
"I started crocheting beanies," she says. "Then after elementary, I kind of put it away and forgot about it. Until now."
She picked up her hook again as a way to fill time while sheltering-in-place and at the suggestion of her older sister, tried her hand at a cute boho top. Her involvement in Girls Inc., particularly their externship program, inspired her to turn her hobby into an opportunity.
Girls Inc.'s externship program is open to girls in ninth through 11th grade. Girls participate in a series of school-year sessions and a training week at the end of June, before being placed at various businesses and organizations in Orange County for about 20 hours a week in July. Grande became involved in Girls Inc. during the summer after her freshman year.
"I really was honestly kind of a shy person, kind of an introvert but through my experience at Girls Inc. … I was able to build that confidence in myself as I brought to light unique skills like communication, integrity and self-confidence," she says. "Through the externship program I was exposed to the many career paths that there are and the one that really stuck with me was entrepreneurship."
---
Related Posts:
---
She did a little research and used her birthday money as an investment for supplies (mostly yarn, she says).
"I bought several colors of yarn and started off with 10 different tops. And all of them successfully sold. I was so impressed by the results."
Her current sales model designates 1/3 of proceeds to an organization linked from her bio.
"They also have the option to look for one if they don't like the ones I have listed," she says.
The other 1/3 goes to materials (more yarn) and the last 1/3 goes to college savings for Grande. She is considering majoring in Gender & Sexuality with a minor in Innovation & Entrepreneurship at UC Irvine.
"I see myself as an entrepreneur in the future as a Latina in business," says Grande. "I really feel much more confident in myself that I can make things happen in the future, just like how I was able to make this happen."
Grande recently had a positive response to a sunflower bralette she posted. She polled her Instagram followers on their favorite flowers and plans to launch a whole collection of floral-themed tops.
"I got the majority saying daisies, sunflowers and rose were their favorite, so I am planning some tops for the future."
Grande has also begun taking custom orders and she hopes her business will continue to grow. Even if her hands do hurt a little.
"It hurts if I am crocheting non-stop, so I have learned to give myself space throughout the process," she says. "And I really hope this goes for many more years."
---
By Sarah Mosqueda