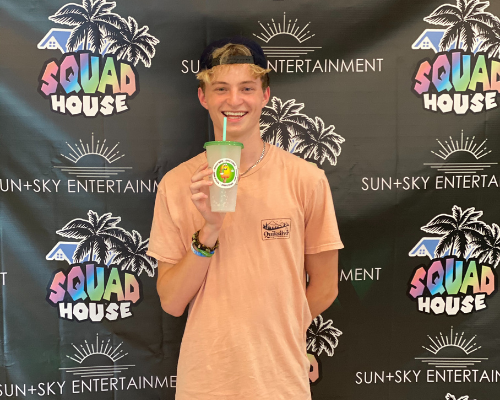 A local teen has discovered a way to help ease his stress, and that of others his age — popsicles.
Austin Parker is melting away stress and anxiety one popsicle at a time, and others are eating it up.
The 17-year-old Trabuco Canyon resident got into popsicle making in spring 2020, around the time COVID-19 lockdowns started. Like many of his peers, the Santa Margarita Catholic High School student found himself stressed and anxious about virtual learning, isolation and all the unknowns of the pandemic world. Not a great combination for someone who admits to getting easily stressed in general.
That was until his mom, Kelly Smith Parker, gifted him a popsicle-making kit for no other reason than to give him a creative outlet that didn't have a learning curve and could be a creative distraction from everything else going on in the world.
"My way of coping," Parker said, "was making popsicles because that's something fun that I can just do in my free time. It just takes my mind off certain things."
It worked better than either one of them ever expected. Parker took to it, recording his icy creations on the phone and posting the videos on TikTok every day.
"Within like the first two weeks, my videos started doing really well," he said, attributing it to the endless ingredient combinations suggested by the creative minds of his fans. Halloween candy, scrambled eggs, rice, potatoes, berries and cream, even toothpaste. You name it in the comments, he will consider making it. Some come out delicious, many you'd never want to taste.
"It just kind of went up from there, and it keeps growing," he said.
By now, Parker's popsiclemaker_ TikTok account has 1.1 million followers with each video getting thousands, if not millions of views. The grass popsicle remains one of the wildest and most popular with 5.9 million views. The number for barbecue sauce popsicle is even higher at 6.1. million.
"I don't really know how I grew that fast," Parker said, adding his family was in disbelief, but always supportive.
One theory is that the popsicles do for others what they do for him. When he goes on TikTok Live, Parker says he often hears from other kids who thank him for his videos, which are a distraction from whatever stress, anxiety or even bullying they're dealing with. They also compliment his nice and genuine interaction with the followers. As his mom puts it, her 6-foot-3 son is a kind-hearted, quiet gentle giant who instills hope in his followers not for self-promotion but because he truly enjoys it and cares about his fans.
"I get the stress and anxiety part," he said. "I started the popsicle account because of the stress and anxiety that I was first receiving."
That said, he never anticipated he'd be helping others with bullying, even though his mom said he has experienced it in the past.
"It also pushed me to keep on making more videos because if this is helping people cope with that sort of stuff, then it just makes me want to make more videos," he said.
Parker is looking at taking his popsicle adventure all the way to the bank, growing his social media (he's on Instagram as well), selling popsicle-maker merchandise (he already has some clothing samples) and maybe even one day opening a popsicle business using his own recipes. Just don't expect to see grass on the menu.
---
Related Posts:
---
By Magda Hernandez