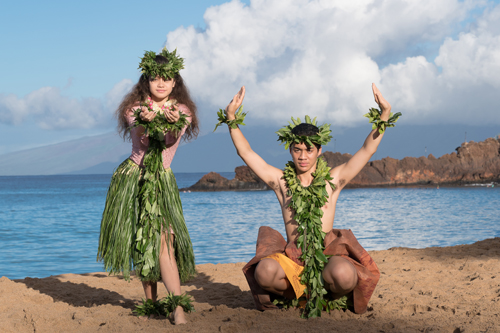 Competition is fierce but the aloha spirit presides over this event on Maui for young dancers, the Hula O Na Keiki.
According to our annual Parenting OC Reader's Choice survey, Maui was the top choice for the family vacation. One reader explained its popularity by saying it's a place that feels "comfortably exotic." All islands in the Hawaiian chain are simultaneously far-flung and filled with friendly folks who spread the aloha spirit, but Maui, with the most activities available of all the Hawaiian Islands, is uniquely qualified to fulfill any type of goal for summer travel. There's downtime goals to be pursued on Maui, where you turn off your brain and chill. You explore a few restaurants at nearby Kaanapali Beach and shop in historic Lahaina town, maybe venture out to put your toes in the sand, and at night you catch the luau. All the while, the trade winds blow, the myna birds call out and the sunsets are indelible. And then there's adventure goals, where, alongside your children, you get into or on top of the water, kayaking the coves, snorkeling with the sea turtles, or sailing at sunset. And you immerse yourself in local traditions, hula, music, history and art, and turn a vacation into a living lesson of local culture.
Kaanapali Beach Hotel is our top pick for the most culturally connected resort on the island, and its Ho'okipa staff hangs their leis on being officially recognized as the most Hawaiian hotel in Hawaii. There are classes in ukulele playing, hula dancing, hularobics, the bamboo nose flute, language arts and lei making (using the plumeria flowers that bloom on the resort property).
The hotel's connection to Hawaiian arts and tradition was on full display when we visited last November during its 27th annual Hula O Na Keiki competition, a two-day hula competition for children (keiki) aged 5 to 17.
The Kanahele Ballroom buzzed with excitement as young students of hula (haumanas), aged five to 17 performed, in traditional/ancient style (kahiko) or modern style (auana). In the traditional style, students chanted while dancing the mele (story) and were accompanied by ipus, large gourds played as a percussion instrument. Much of the audience was made up of other hula students and their teachers from six different halau (schools), who burst into encouraging applause when one of their class finished a performance. We quickly realized we were outsiders who were welcomed in to witness this 200-hundred-year-old art form practiced by the newest generation of their respective hula families, dancers and preservationists, who would one day become devoted kumus themselves, not only for their own hula children but for another extended family of dancers.
Dancers were judged by strict and sharp-eyed hula masters (kumus) on points such as style of chanting, interpretation of the dances and cultural appropriateness of costumes and adornments. These kumus were themselves once hula dancers taught by parents or grandparents who also expected perfection. "Good enough is not good enough, my grandmother used to say," said judge Hokulani Holt. "But while this is a competition," she adds, "it is also a celebration, a celebration of all that we appreciate about Hawaii: its people, its places, and its stories."
The Hula O Na Keiki event has had little marketing, and, says Kaanapali Beach Hotel General Manager Mike White, it was never meant to be a tourist draw. When the hotel began the competition, it was meant as "a way to give back to the community," says White. "We did not map out that the kids would be so impacted by their kumu and the competition. It is our goal to honor the Hawaiian culture and Hula O Na Keiki allows us celebrate our keiki (children) and culture and create a link to appreciation for the past."
The judges chose as their 2017 Hula O Na Keiki overall winners two from the same kumu, Lorna Kapualiko Lim. They are 15-year-old Hokani K. Maria (Overall Kane winner) and 14-year-old Brianna Wehileimamoleihiwahiwaonaaliiokohala Lim-Ryde (Overall Wahine winner), whose love for hula runs as deep as her name is long. "I dance because I want to perpetuate my culture and keep it alive for our people of Hawaii. Hula brings my true happiness out in many ways. I love to dance hula," she said.
The 2018 Hula O Na Keiki takes place November 9 and 10 at Kaanapali Beach Hotel along with the Hawaiian Festival of Arts & Crafts, which features local artisans. www.kbhmaui.com
---
Go Hawaiian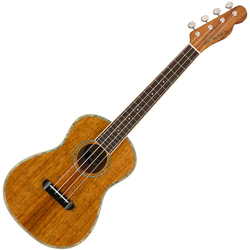 You Can Ukulele
Make music for your little hula dancer with a ukulele made by legendary guitar maker Fender and their digital/video lesson series on Fender Play. Launched in May, the guitar and ukele learning platform knocks down any road blocks on your way to becoming the next Tiny Tim, or more seriously, Jake Shimabukuro. Within a few hours tutoring on Fender Play, I was strumming chord changes on the Fender Venice Soprano from their California Coast Series. The series offers a lineup starting with the Venice Soprano from $59.99, and running up to $249.99 for the koa-wood Montecito Tenor. Fender Play is available on iPad, iPhone, Android and desktops. Fender Play is $9.99 a month, or $89.99 for a year of unlimited lessons. Fender Play: www.fender.com play Ukuleles: shop.fender.com.
---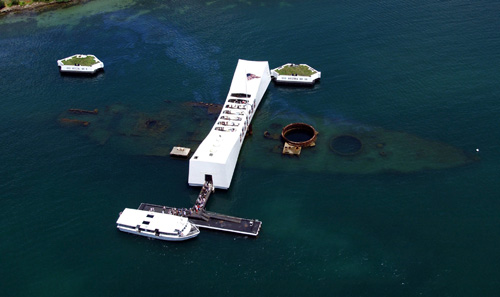 Pearl Harbor
When on Oahu take the whole family to Pearl Harbor for a history lesson, and to honor those who lost their lives during the surprise aerial attack on December 7, 1941 by the Empire of Japan.
While the USS Arizona Memorial (pictured) was recently closed indefinitely for repairs, you can spend an entire day here at Ford Island—at the Battleship Missouri Memorial, and the Pacific Aviation Museum, which occupies two hangars that still bear the scars of the attack from 1941. During our visit, we took the "Aviator's Tour," which includes special docent-led access to the restoration area.
---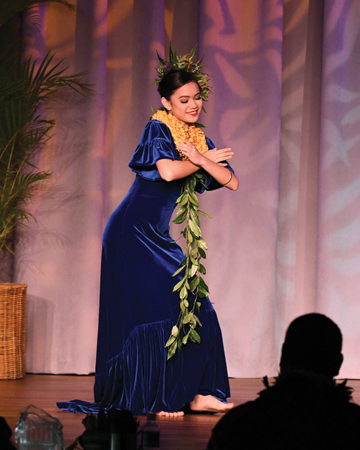 Hula Terms
Students of hula–haumana
Hula Master–kumu
Traditional/ancient style hula– kahiko
Modern style hula– auana
Mele–story
Halau–school
Anaina – audience
Hawaiian Words to Know
Aloha–hello, goodbye, love
Mahalo–thank you
Wahine–woman
Kane–man
Keiki–child: children
E komo mai–welcome
A hui hou–until we meet again
Kapu–forbidden (no trespassing)
Pupus–snack; appetizers
Hana Hou–encore; do it again
Kamaaina–of the land; long time resident
Mauka–towards the mountains
Makai–towards the sea
---
Hawaii Highlights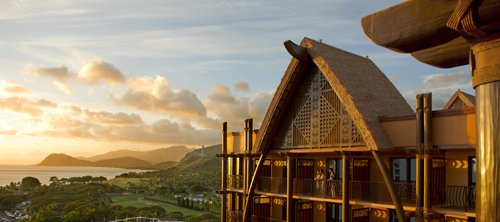 Aulani, Disney Resort & Spa – Oahu
The setting for Disney's Aulani is 21 acres of some of Oahu's most beautiful beachfront, situated on the leeward side of this Hawaiian island, far enough away from the hustle and bustle of Waikiki, but not far from the island's main attractions. The third property of Disney's Vacation Club Resorts, located outside of a theme park, Aulani is considered the best family hotel in the world, blending the magic of Disney with the spirit of Hawaii. disneyaulani.com
MAKAI at Lagoon Tower — Big Island
Those looking for luxury, opt for the MAKAI at Lagoon Tower in Hilton Waikoloa Village. The rooms are stylishly luxe with near instant access to pools and lagoon, every MAKAI guest enjoys complimentary spa access, a reserved cushy seating area at Kona Pool, priority restaurant reservations and a dedicated concierge. The views are incredible, overlooking the lagoon, shoreline with excellent crashing waves for a natural lullaby and the dolphin habitat — which makes for great balcony entertainment. hiltonwaikoloavillage.com/makai
Grand Hyatt Kauai Resort & Spa
Few places on earth are more lush and drenched in flowers than the "Garden Isle" of Kauai, and few spots on this island more perfect for a family recharge than this resort. Set along the white sands of Poipu on Kauai's sunny south shore, the property is tucked between the mountains and the sea. What makes this resort such a winner is the many options for each visitor, young and not-as-young, to make the experience their own. kauai.grand.hyatt.com
By Randall Tierney