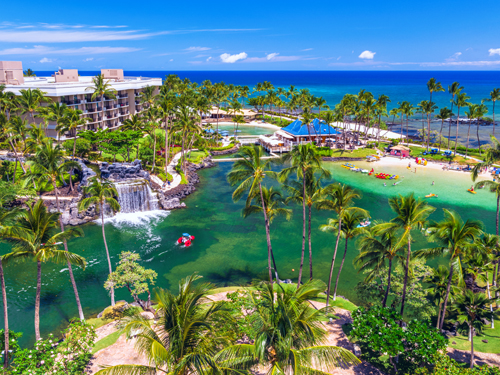 Touching down in Kona, you might be confused as you exit the plane. But yes, that is the whole airport and yes, you would be correct in observing that most of it is outdoors. This is just the start of the charming quirks of the largest of the Hawaiian islands, the "Big Island" of Hawaii. Fortunately for families visiting the Hilton Waikoloa Village (www.HiltonWaikoloaVillage), the fun in store is equally abundant.
---
An Ohana Aloha
From the purple orchid lei greeting as you step off a shuttle (don't bother with a car, you'll want to scoot right to the waterfalls at the resort and likely never want to leave) every effort is made to make you feel like Ohana. After checking in, your first big decision awaits. Do you head to your room on the whisper quiet tram train? Or snag a spot on a passing boat. Yes, the canals and waterways throughout the resort aren't just for looks, they are a thoroughfare transporting guests from room to room to gourmet eats. (This alone will win over the kids.) The next big decision will be what to do first. Waterslides, waterfalls, pools, SUP, big wheel water trikes, snorkeling…the good thing is, you can't go wrong.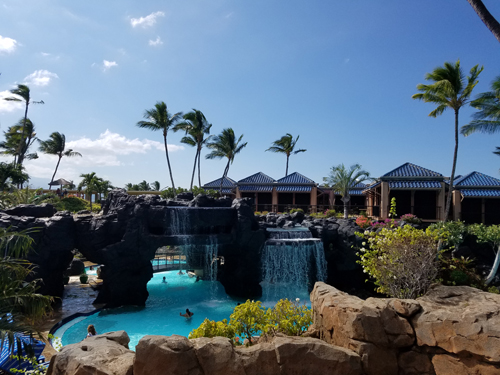 MAKAI at Lagoon Tower
If you are looking for luxury, opt for the MAKAI at Lagoon Tower. Not only are the rooms stylishly luxe with near instant access to pools and lagoon, every MAKAI guest enjoys complimentary spa access, a reserved cushy seating area at Kona Pool, priority restaurant reservations and a dedicated concierge. The views are incredible, overlooking the lagoon, shoreline with excellent crashing waves for a natural lullabye and in our case, the dolphin habitat — which made for excellent balcony entertainment. For those early mornings, courtesy of the time zone change, we made use of the included DVD rentals through a local version of a Redbox in our tower.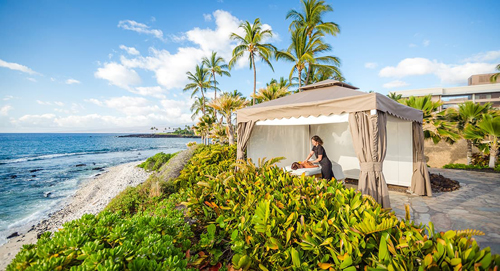 Kohala Spa
When you need a break from the hustle and bustle of waterslides, and the lazy river isn't quite lazy enough for you — head to the oasis of the Kohala Spa. Located near the MAKAI wing, the spa features a wealth of treatment options that make the most of local vegetation and herbs and a serene inner courtyard with a natural rock Jacuzzi and loungers.
We tried the amazing Signature Naupaka White Flower Ritual, which started with a ground Awa Root & Hawaiian Ginger foot ritual and warmed local pure essential oils massaged into your scalp & hair. Then, body compressions incorporating local healing herbs combined with a full-body massage using a warmed blend of white flower lotus, and ylang ylang essential oils luxuriously dripped on your (no longer sore) muscles.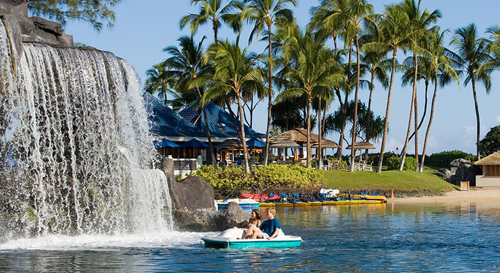 Local Wildlife
Even if you never step foot off the property, you will have plenty of opportunities to enjoy the local critters of Hawaii. Charming and surprisingly personality-filled tortoises, flamingos and macaws keep the walk to the pool from ever being a bore or chore (no more whining from the tiny ones who have to scamper to keep up). Dolphins can be viewed from a boardwalk near their enclosure and for purists, from December through April or May you simply need to gaze out at the sea to be rewarded with the awesome sight of a humpback breaching or giving you a fluke-whale tale wave. (We saw four while there and weren't even looking.)
For those who want to connect with the marine life in a more immersive way, the protected saltwater lagoon is a favorite haunt for endless tropical fish and quite a few sea turtles. Between the sea turtle sightings (which can also be spotted from the walkways around the lagoon), ability to try SUP'ing without getting thrashed by a wave and the sand-bottomed pool for little ones to safely play, you won't even mind the lack of a recreational beach. (Car rentals are available at the property to explore further afield to visit the volcanoes, lava fields and swimming beaches.)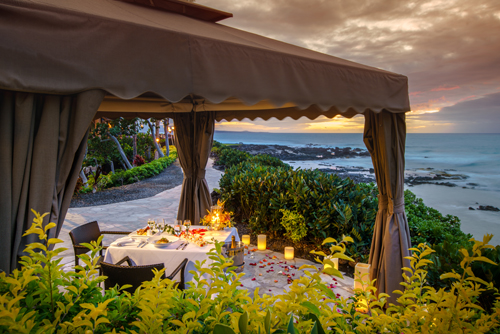 Ono Eats
One area in which the property shines is unexpected, the food. Often, resort guests are subject to a lack of effort or creativity when dining on property. While there is a trolley shuttle to a great sushi joint (Sansei Seafood and Sushi Bar) and Roy's, you won't be faulted for staying put. The new Kona Tap Room offers 16 drafts, many of which are local craft ales from Kona Brewing Company that hit the spot after snorkeling or a day at the pool. The addictive Lobster Tater Tots and Pulled Pork Sliders make this an excellent lunch spot.
The only thing prettier than the view from Kamuela Provision Company, is the food. Artfully plated fresh fish and produce distract from the passing spouts and pec fins of humpbacks, though the sunset is so remarkable you might let your Kona Coffee Crusted Paniolo "Cowboy" Ribeye get cold. The Keahole Lobster and Lump Crab Cake is one of the best I have ever tasted, and it is clear why the Waialua Estate Chocolate
Crunch Torte (with rosemary macadamia nut brittle and raspberry peppercorn coulis) won the annual Hawaii Island Chocolate Festival. If you really want to impress, or have a vow renewal or special family occasion, you can enjoy the talents of the KPC chef in your own private Ho'okupu Dinner in a private cabana overlooking the waves. Either way, make the most of the time zone change and opt for a 5:30pm seating to get the full sunset-to-stars show.
---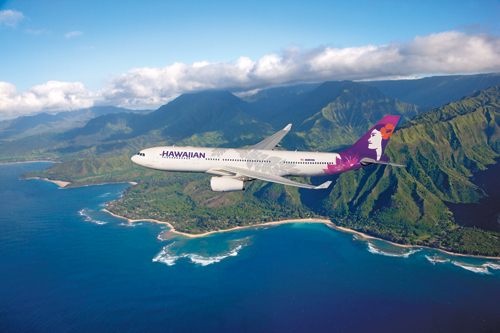 Fly the Aloha Skies
I boarded my Hawaiian Airlines flight to the rosy glow of a purple sunset peeking underneath the overheads and the distinctive plunks of a slack key guitar. Accepting a warm "aloha" from a flight attendant with a perfect plumeria tucked behind one ear and sliding into my seat to the view of waterfalls and breaching humpbacks on the screen, I had two thoughts. "I am already on vacation." and "I want one of those plumerias." (Insider tip, you can pick one up in many gift shops around the island — they are a very convincing fake.)
As the rest of our flight boarded, there seemed to be a communal exhale from the passengers. The soothing notes of the Hawaiian tunes and effortless voices welcoming us on, and knowing we didn't have to race through lines of overpriced airport food kiosks or risk sitting next to a curry or tuna fish salad bearing seatmate, lulled the crowd. We even watched the safety announcement, filmed by locals throughout the islands at picturesque overlooks and a beach with what appeared to be a full-sized barefoot toe-drawn airplane outline in the sand. (The smiling woman in the center hula'd to left and right signifying the emergency exits.)
It was a perfect start to the trip and transition from harried to carefree. Hawaiian Airlines, the only U.S. carrier to offer travelers complimentary meals on all transpacific flights for over three decades, just launched a new Pau Hana Café branded meal system. Pau Hana roughly translates to 'happy hour' (post-workwise) so this sounded great. Warm sandwiches with local flavor and sides were on the lunch menu (with an adorable pineapple-shaped cookie for a sweet treat), followed later by complimentary Koloa Breeze cocktails, featuring Koloa Rum from the Island of Kaua'i, and the signature Pau Hana snack mix.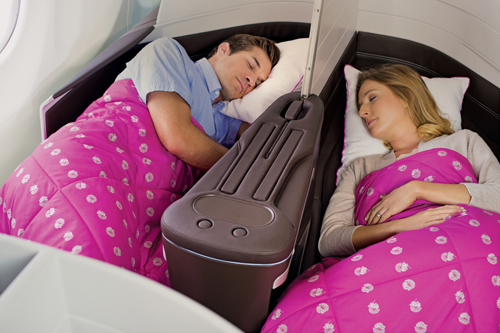 Tips to Take Off On
Flying nonstop LAX-KOA (Los Angeles to Kona) is worth the Uber, with no hassles or delays involved in changing planes.
The newly designed A321neo planes have kicked the Aloha spirit up a notch. Textiles and other materials throughout the cabin pay homage to traditional Hawaiian crafts, from bark cloth (kapa) to fishing nets. Other details are Hawaiian language used in signage, and a full LED mood-lighting system which has been programmed to evoke Hawaii's unmatched sunrises and sunsets.
Flying Premium, LAX-HNL? Keep an eye out for lie flat seating, the perfect way to dream away your flight and wake up in paradise.