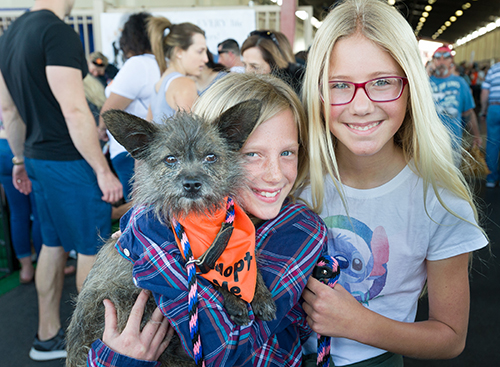 The annual expo focuses on education, pet adoptions and entertainment for the family.
Midnight had been at WAGS Pet Adoption in Westminster for 687 days when he was adopted at last year's America's Family Pet Expo at the OC Fair & Event Center in Costa Mesa.
"He was a black cat that got very little interest at our shelter, but with the huge amount of people walking by our booth, he caught his new family's eye," said Cortney Dorney, director of operations at WAGS. "All of the staff and volunteers working that day had tears in their eyes as they walked away with him."
America's Family Pet Expo returns to Costa Mesa April 26-28 with pet education, products, innovations, entertainment, and of course, rescues and shelters like WAGS.
In 2018, there were more than 698 animal adoptions including dogs, cats and even guinea pigs. About 50,000 people attended the three-day event last year.
"Pet Expo is such a fantastic place for shelters and rescues to showcase pets available for adoption," said Dorney. "There are generally hundreds of pets to choose from during the three-day event. … It really is a fun place to take your family and there is plenty to do and see."
This year guests can expect The Lab, which is a new hands-on show, as well as the new Kids' Pet Care Course, which is run by licensed dog trainers who teach kids about how to care for their pets. Also new this year is Moshow, The Cat Rapper (@iammoshow), who is known for rapping about cat care and cats, and will be rapping at the expo. And for those guests who want to bring their dog, they can this year with the purchase of an admission ticket for their pup.
Guests can also expect some returning favorites, including Repticon for lovers of reptiles and spiders, and the fun-to-watch Splash Dogs, with dogs of all breeds and sizes splashing it up as they compete in dock jumping. The Police and Protection Dog Demonstrations will also return to show guests how police K9s are trained in bite work.
The list of Pet Expo exhibitors is long and varied, including names like Chammyz dog towels, Dogma Pet Portraits, JustFoodForDogs, National Cat Protection Society and many, many more.
Dorney looks forward to another fruitful year of pet adoptions.
"We generally adopt out 40 to 50 pets each year during the three-day weekend," she said. "Thousands of pet people are walking past our booth each day and many of them stop to talk to us about what we do. Unlike many other events that we attend, this one is specifically geared around pets with a heavy emphasis on owner information and adoption as an option for obtaining a new pet."
She said many people are coming with the intention of adoption, meaning that there are very few "impulse" adoptions.
"Our goal is to go home every day with empty cars/vans," she said.
America's Family Pet Expo runs Friday, April 26 to Sunday, April 28. The OC Fair & Event Center is located at 88 Fair Dr. in Costa Mesa. For more information on all ticket prices, including for dogs, visit: www.petexpooc.org
By Jessica Peralta