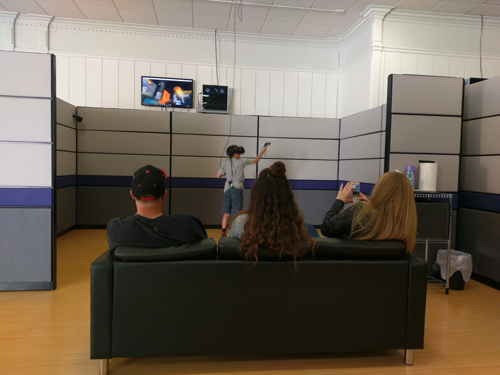 Forget the stereotypes about video games being for lonely men in darkened basements. A new Anaheim Garden Walk arcade is out to dispel them all. Go VR Gaming, which opened in March, hopes to expose more people to the world of gaming and virtual reality. Its bright environment – complete with a large play area and couch – aims to make arcade playing a family-friendly experience. Since opening, customers have ranged from age seven (the minimum age required for headsets) to 83.
Games include a job simulator, as well as some scary and sports-related machines.
"Go VR Gaming is a virtual reality arcade where friends and families can hang out, play together, get active, and bond," says spokeswoman Joy Chu. "Gaming has always appealed to a narrower market and our goal is to change that. Many parents have brought their kids in to play and ended up trying it out themselves as well."
Anaheim | govrgaming.com
---
ReAmp Recording Studio
Kids can "tune in" to their musical aspirations at a local recording studio that's under new ownership. ReAmp is a place where young artists can work on their first albums in a facility that boasts master level equipment, studio acoustics and state-of-the-art digital gear. The Tustin studio has more than 2,000 square feet of space. ReAmp's seasoned team of employees can work with all genres and accommodate most budgets, says a company spokesman.
Local entrepreneurs Sharifa Dickenson and Bobby Dorainvil recently bought ReAmp with hopes of bringing the business to new levels. They say they'll continue to focus on working with a variety of clients, whether they're looking to scratch demos or produce high-quality masters.
Tustin | reampstudios.com
---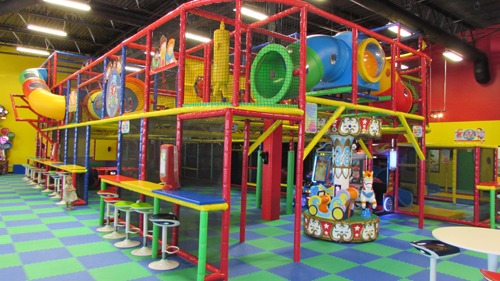 Luv 2 Play
Families can fight summer boredom with a visit to Orange County's newest indoor playground.
Luv 2 Play is a 10,100 square-foot facility that features building stations, crawl tubes, slides and tunnels. There are video games and kiddy rides, too. A designated baby area gives crawlers freedom to play and explore in a padded space; a separate toddler space includes a ball pit, slides and soft toys.
The three-level playground also has a ball blaster, kinetic sand table and an eating area. Luv 2 Play's lounge offers free WiFi and a spot for parents to relax with a drink. The facility celebrated its grand opening in April.
Lake Forest | luv2play.com/lakeforest