Given the circumstances, we could all use a little comfort food right about now. Fried chicken to the rescue!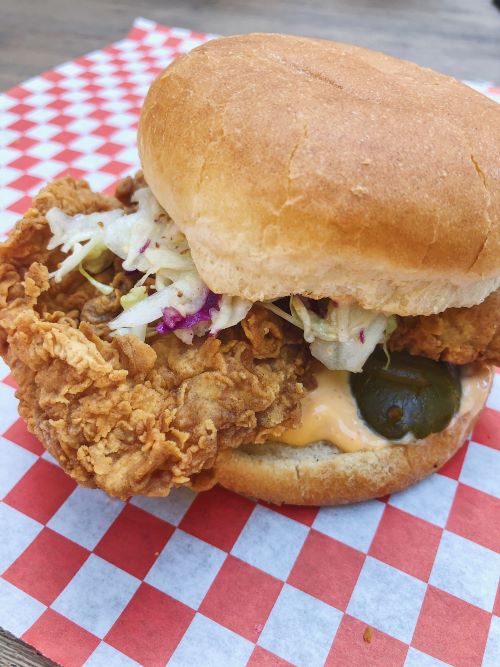 Buttermilk Fried Chicken
Fried chicken has been among Chef Ryan Adams' signature dishes for years. We're lucky he decided to base an entire restaurant concept around his crispy creation. Buttermilk Fried Chicken in Old Towne Orange serves an OG chicken sandwich with mayo and pickles, a classic sandwich with slaw, spicy pickles, spicy aioli and Fresno chilies plus a rotating seasonal sandwich. They also offer a four-piece meal with two sides like smokey bacon braised greens, creamed corn or mac and cheese. Don't skip the coconut cake either. Open for take-out, delivery and outdoor dining.
238 West Chapman Ave. Ste. 100, Orange
Rojo's Hot Chicken
If you like to spice things up, head over to Rojo's Hot Chicken in Anaheim. Their chicken sandwich combines the Nashville hot chicken trend with decidedly Mexican flavors to make the torta of your dreams. Fried chicken seasoned with chipotle and oregano, grilled nopal, spicy mayo slaw, American cheese and pickles are layered on a soft bolillo. Choose your spice level, ranging from Naked (no spice) to Rojo X (face melter). Sides included diablo fries and bread pudding. Open for take-out, delivery and outdoor dining.
2235 W. Lincoln Ave., Anaheim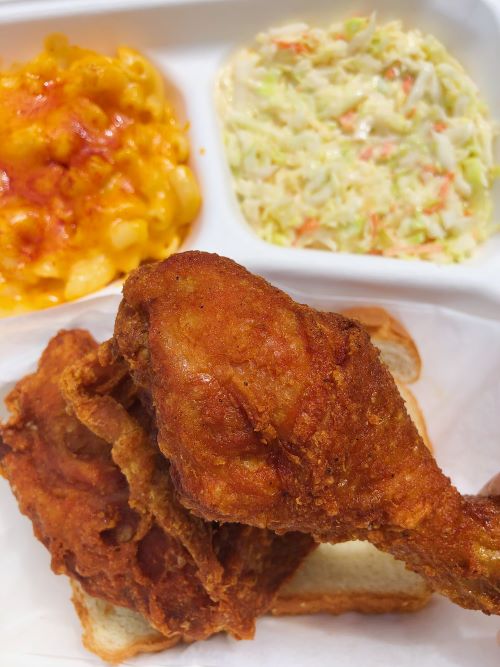 Gus's World Famous Fried Chicken
Gus's World Famous Fried Chicken is based on a nearly 60-year-old family recipe from Mason, Tennessee. The concept has grown into a nationwide franchise since Napoleon "Na" Vanderbilt and his wife, Maggie, were serving chicken with slices of white bread out of a local tavern. Their location in Santa Ana remains dedicated to the original secret recipe and still serves a slice of white bread with your chicken. Choose from sides like baked beans and fried okra. Open for take-out and outdoor dining.
102 N. Sycamore St., Santa Ana
Fowl Play
Fowl Play at Tustin Legacy's Mess Hall is a hot chicken concept from Chef Fernando Valladares. Try the Hot Box, with hand-breaded chicken tenders, crinkle cut fries and coleslaw or the Team Player chicken sandwich made with coleslaw, house pickles and aioli. If you try Chef Valladares' home recipe, he recommends getting creative.
"You can add additional spices to the flour mixture to change the flavor profile and come up with your own secret recipe," says Valladares. "I like to add a bit of chili powder and paprika for spicy wings. … But I still make the basic recipe with no extra spices at least half the time. Got to love a classic!"
1705 Flight Way, Tustin
Fowl Play Easy Fried Chicken Recipe
— Chef Fernando Valladares
Ingredients:
• 2 1/2 lb cut up chicken pieces
• 3/4 cup buttermilk
• 1 cup flour
• 1 Tbsp salt
• 1 tsp freshly ground pepper
• 1 1/2-in depth in your skillet of vegetable oil
Directions:
1. Arrange chicken pieces in a shallow dish and pour buttermilk over them. Cover and let sit for 10 minutes on each side.
2. Combine flour, salt and pepper in a large plastic bag. Drop in chicken pieces one at a time and shake well to coat.
3. Heat oil in a large 12-inch skillet over medium-high heat.
4. Add chicken pieces in a single layer (don't crowd). You'll have to do a few batches.
5. Decrease heat to medium. Cook, uncovered until browned for about 15 minutes. Use tongs to turn. (Wings take a bit less time.)
6. Cook, uncovered, until browned on underside, about 15 minutes more.
7. Layer a cookie sheet with two layers of paper towel and transfer chicken to blot out the extra fat.
---
By Sarah Mosqueda
Related Posts: