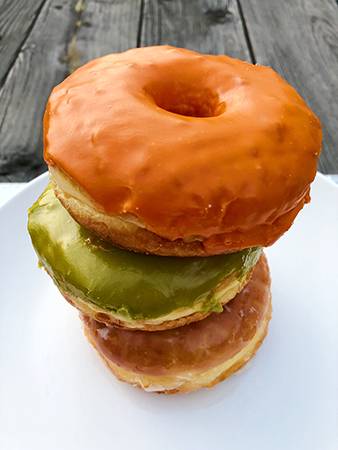 Seaside Bakery
Situated near the Newport Beach pier for more than 25 years, Seaside Bakery is an OC classic. Open 24 hours, you'll find cake doughnuts, puffy yeast doughnuts and even crullers and old fashions. But they haven't been open all these years without learning some new tricks, too. Cronuts (the popular croissant/doughnut mash-up) in both a glazed and sugar variety are available here, along with Thai tea doughnuts and green matcha doughnuts.
2108 W. Oceanfront, Newport Beach
---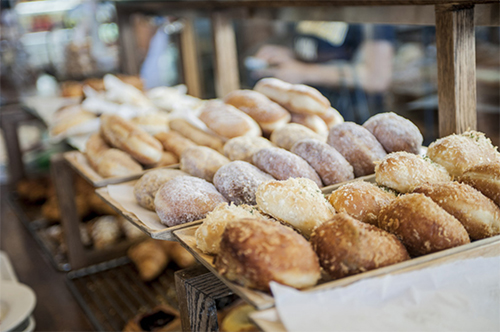 Cream Pan
Most people queuing up outside Cream Pan, Tustin each morning are waiting for their famous strawberry croissants (totally worth the wait). But this Japanese-French bakery has so much more to offer beyond perfectly flaky, berry-stuffed treats. Fresh-baked country loaves, braided challah bread, chicken katsu sandos and even steaming plates of Japanese-style curry are all being served here. Reward yourself for patiently waiting in line by adding a few An Donuts to your order. These Japanese fried breads are stuffed with red bean paste and just as yummy as anything you'll find on the menu.
602 El Camino Real, Tustin
---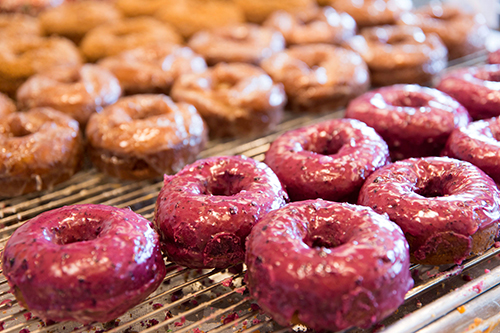 Sidecar Doughnuts
Sidecar Doughnuts are fried from scratch daily, in small batches every hour. Which means your chances of getting a fresh, warm doughnut are pretty good. You've probably heard of their Huckleberry and Salt & Butter doughnuts, but don't forget to check out the monthly flavors, too. November's theme is The Thanksgiving Table, and we have a feeling there will be pumpkin, pecans and plenty to be thankful for.
270 E. 17th St. Ste. 18, Costa Mesa
---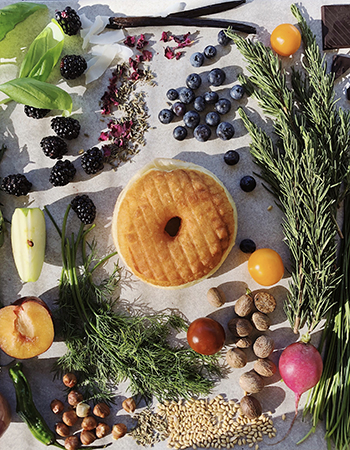 Oliboli Donuts
Oliboli Donuts is a family-owned doughnut shop in Tustin named for traditional Dutch doughnuts called "oliebollen." Chef Brooke DesPrez uses old-world baking techniques for a variety of cake doughnuts, yeast doughnuts, fry breads and even some savory options. Here she's shared a doughnut muffin recipe suited for the home cook. (No fryer required!) And if your doughnuts don't turn out as you hoped, Oliboli is open 7 a.m. to 3 p.m. daily.
135 W. First St. Ste. B, Tustin
Doughnut Muffins
Yield: 24 standard-sized muffins
Ingredients
12 oz unsalted butter, room temperature
1 ¾ cups sugar
4 large eggs
1 tsp vanilla extract
20 oz all-purpose flour
1 tablespoon plus 2 tsp baking powder
½ tsp baking soda
7 oz freshly milled spelt flour (if not available, add an extra 9 oz all-purpose flour)
1 ¾ teaspoon salt
1 tsp freshly ground nutmeg
1 2/3 cups whole milk
¼ cups kefir
For Dipping
8 oz unsalted butter
2 cups sugar
1 teaspoon cardamom
2 tablespoons ground cinnamon
¼ teaspoon sea salt
Directions
Preheat oven to 350 degrees F.
In a stand mixer, cream the butter and sugar. Beat in the eggs, one at a time.
Add the vanilla, and beat again.
Sift together both flours, baking powder, baking soda, salt and nutmeg.
Combine the milk and kefir. With a spatula, mix a quarter of the dry ingredients into the butter mixture. Then mix in a third of the milk mixture.
Continue mixing in the remaining dry and wet ingredients alternately, ending with the dry. Mix until well combined and smooth, but don't over-mix.
Grease and flour a standard-size muffin tin. Scoop enough butter into each tin so that the top of the butter is even with the rim.
Bake the muffins until firm to the touch, 30-35 mins.
Melt the butter for the dipping mixture. Combine the sugar, cinnamon, cardamom and sea salt. When the muffins are just cool enough to handle, remove them from the tin, brush them with the melted butter then roll them in the spiced sugar mixture.
By Sarah Mosqueda