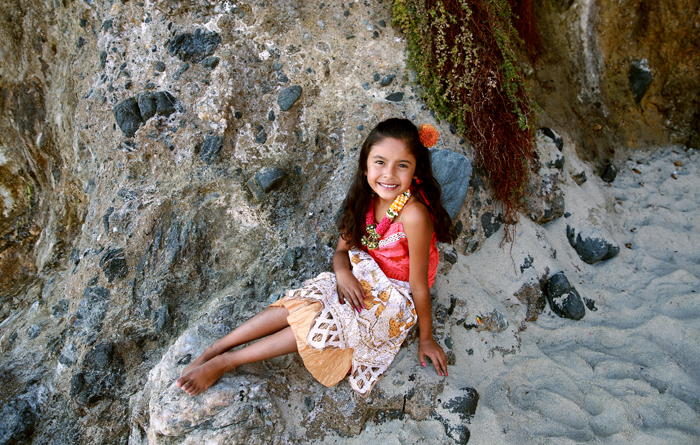 At a loss for ideas for this year's costume? Below are 26 DIY options, one for each letter of the alphabet. Each one is just an outline, fashion yours with whatever you have on hand. Have fun!
Angel
Use an oversized white dress, robe or shirt. Belt with thick gold ribbon. If desired add a chenille stick to the headband in form of a halo. Wings can be made by unbending and reshaping wire hangers, cover with netting or ribbon.
Bunch of Grapes
Dress child in green tights and leotard. Blow up blue, green or purple balloons and tie with string. Attach string to safety pins and fasten to leotard. Also looks great topped with a green pointed hat.
Caveman
Have any fake fur around the house? Fashion into a toga style. Accessorize with a wig, toy club, bone jewelry or strips of leather.
Dracula
Wear a white shirt, dark pants, dark shoes and a bow tie. Use old jewelry to create a medallion and find fabric for a cape. Apply white base make-up, use eye pencil for a widow's peak and pointed eyebrows. Shade areas under eyes and cheekbones with gray. Use red lipstick on lips.
Elf
Cut the hems of a green turtleneck or vest into a zigzag pattern. Replace any buttons with oversized buttons and belt waist. Add pompons or cotton balls to shoes. If you have a Santa hat, stuff it with paper and decorate with glitter glue or plastic plants.
Family Heritage
Use the holiday to learn a little about your family history. Chat with Grandma or create a fanily tree to track your heritage and then learn about traditional garb or customs from your past for a unique and meaningful costume.

Girl Gypsy
Wear a white blouse and colorful full skirt. Add necklaces, bracelets, earrings, a shawl and/or a bandana.
Heavyweight Boxer
If someone in the house takes kickboxing or boxing, this is an ideal last minute outfit. Boxing gloves, satin shorts and satin cape or robe are the perfect additions to a white t-shirt. Use markers to draw a muscled chest on the t-shirt.
Invisible Man
Dress in a dark suit. Wrap athletic bandage around head, leaving areas open for eyes and mouth, and safety pin the ends of bandages into shirt. Dark glasses, preferably large ones, and a dark hat with a brim complete the look.
Judge
To create a judge's wig, cut off the brim of a cap and attach strips of white felt to the back and sides of cap, roll index cards into tubes and use a hot glue gun to secure them. Wear wig with a black outfit and a white collar.
KISS
Have a rocker in your home? Decorate black pants and with silver painted stars, studs and collars and cuffs. Big boots, a black wig and heavy KISS style make-up are needed. But if you have a rocker, your probably have those items too.
Literary-Inspired Costume
Pick your child's favorite book and combine the fun of scoring candy with a love of lit. Pick a character that is easily recognizable or go obscure for an excuse for your child to share a little about their favorite book.
Monster
Start with a ripped flannel shirt and old jeans; add fake fur, make-up, or horns. Make huge claws with poster board and attach to gloves. Ninja Wear black sweats and socks, tuck pants into socks. Wrap red fabric around child's waist, secure with safety pins. For head cover, begin putting a black t-shirt over child's head, but stop when face pokes through, tie arm sleeves loosely in back.
Ocean
Attach seaweed and sea creatures, either toys or made with art supplies, to a blue shirt or jacket. Wear sand colored leggings or pants and attach home made shells, starfish or beach toys.
Pirate
Shred the cuffs of a pair of old dark pants. Wear pants with a puffy white shirt, tie a belt around waist. Tie a bandana on head and clip a large hoop earring on one ear. Eye patch can be draw on with make-up. Add a toy sword or a hook fashioned out of tin foil.
Queen
Dress in fancy dress. Top head with play crown or create one with poster board, foil and/or paint. An Elizabethan collar can also be made with poster board or attach sheer scarves to crown for added effect.
Robot
Cut hole in a top of box, large enough for a head to fit through. Measure where armholes should be and cut those too. Decorate with marker or attach pictures of calculators and clocks.
Scarecrow
Wear flannel shirt and tights underneath torn overalls. Stuff overalls with newspaper or raffia and tape in place. Use hairspray to spike hair or use straw hat. Toy birds can be attached to shoulders.
Tourist
Put on gaudy tops, tan shorts and straw hats. Additional props include sunglasses, cameras, leis and beach bags. A line of zinc oxide on the nose and the costume is complete.
Uncle Sam
Take a pair of white pants, use masking tape to create stripes and spray paint red. When paint has dried, remove tape. Top red and white striped pants with a white shirt and blue jacket or vest, attach stars. Crepe paper can make a bow tie and a hat can be made with poster board.
Viking
Drape soft white material, or fake fur, over child in leotard and tights. Belt with rope or braided cord. Use vinyl strips or rawhide to make wrist cuffs and find plastic toys such as swords, helmets and spears. Braided yarn or a long wig can be added to helmet too.
Witch
Put green make-up on face and use black eyeliner to create warts. Dress in black dress, stockings and boots. Make a black cone witch hat with poster board. A toy cat, broom or old wig can also be used.
X-mas present
Cut top off large box; poke two holes in front and back of box. Attach red or green ribbon to create suspenders to hold up box. Tape wrapping paper to box. Wear over a green leotard and red tights.
Yachtsman
Sailor hat, or a white cap with a nautical image, either drawn on, or a picture fastened with safety pins, is essential. Add suit coat, white pants, a scarf tied around the neck. Carry a compass to complete the look.
Zombie
Pick an old outfit and tatter it. Rub with dirt and put dried leaves in pockets. Use make-up to gray face and add fake bloody injuries. Make hair messy and use gel or hairspray to hold in place.
By Mali Anderson