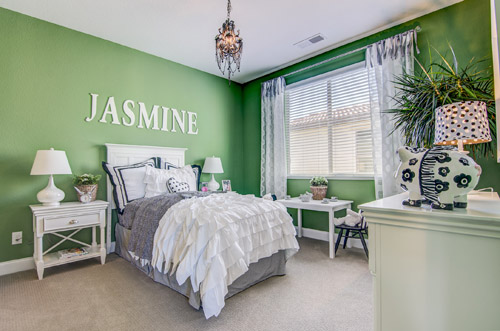 So you're expecting. Now suddenly you are more concerned about school districts and proximity to emergency rooms than being in that hip nabe, a stroll home from the hotspots.So why not design your way into a home that can grow with your new little family! Preparing for your first child is always overwhelming. The easiest way to execute a design plan that takes into account an infant, child, and siblings is to think in terms of phases and flexibility of design.
Phase One: Newborn – Toddler
Make furniture staples last longer. For the more expensive pieces, choose items that are both transitional and gender-neutral in design to account for future siblings. There are plenty of cribs available on the market that convert to a toddler- and even full-size bed. If a free-standing changing table is an option, consider a piece that you'll still love once it's converted to toy storage or a bookshelf when your infant is out of the diaper stage. If space is at a premium, consider a changing table that does double duty by investing in a comfortable-height dresser and topping it with a changing pad and accessories.
Use accessories that are both durable and bright. Area rugs, ottomans with storage, colorful baskets and bins –– these design elements are the place to add life to the room in the form of bright, gender-neutral colors. Additionally, stain-resistant, textured, or patterned rugs ensure the room stays comfortable for both you and your child. Be sure anything you purchase is easy to spot treat, because stains are inevitable.
Be flooring wise. If you're starting from scratch (or willing to remodel), one of the best investments you can make in your sanity is installing laminate wood flooring. Beautiful and rich in texture, laminate wood withstands crayons, stains, and paint unlike traditional wood. If you're committed to carpet be sure to opt for a flat-weave construction that can take a beating.
Phase Two: Young Child to Adolescent
Create unique open spaces. Encourage creative play, friendship, and quiet reflection by establishing dedicated areas. Hooks and open-bin storage work to house games as well as school and art supplies. Trundle and bunk beds encourage space for friends to come over and play. Keeping toys and supplies accessible will establish a routine of independent play, including the more "quiet" activities such as reading, writing, and drawing.
Go vertical. With children comes clutter. Keep toys, crafts, and sports equipment off the floor by creating storage space in the way of racks, lockers, and shelving.
Think outside the bedroom. Big, open great rooms invite family activity, while easy to access snacks inside the pantry assure your kids that they have their own space in the kitchen (without having to climb the walls). Another way to recognize your child is by implementing a gallery wall to showcase your little artist's one-of-a-kind pieces. Use clips to create a wall that can be easily swapped out or pair doodles with frames of different colors and finishes to complement each piece.
Overall, the idea of design is to have fun. Once the safety basics are established in furniture and textiles, buying pieces in colors and finishes you love will make the experience of preparing for your firstborn a whole lot less daunting.