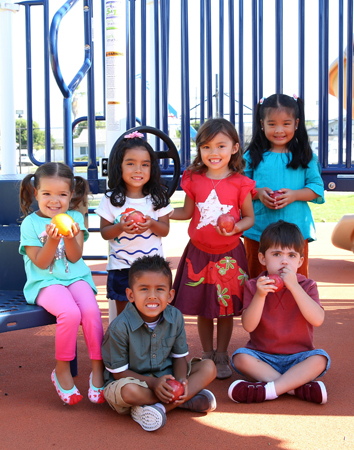 Out-of-the-Box Classroom Learning
During the beginning stages of Pegasus School's Outdoor Classroom, a group of teachers, teacher assistants and administrators researched the importance of children exploring nature and visited several schools with outdoor classroom space. The Pegasus team had a goal of creating a dedicated environment to provide hands-on sensory experiences for pre-Kindergarten and Kindergarten students. They strove to make a space where critical thinking skills and mathematical and visual spatial skills would be strengthened, where students would learn to master physical challenges in order to gain self-confidence and control over their surroundings. Their hard work and dedication was rewarded not only by the joy and growth experienced by young students, but by earning national recognition as a Certified Nature Explore Classroom from the Nature Explore program, which is a collaboration of Dimensions Educational Research Foundation and the Arbor Day Foundation.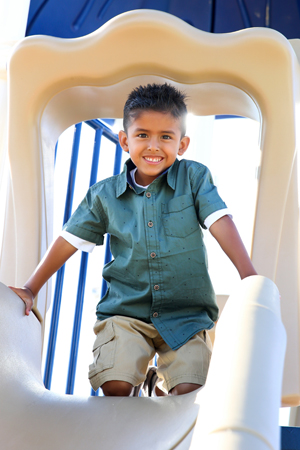 DJ Santana wearing Children's Place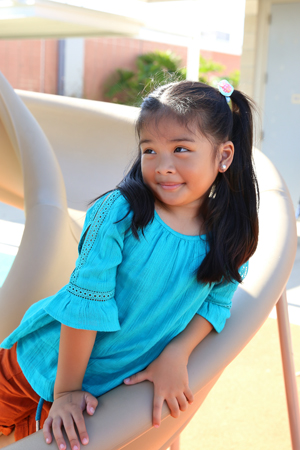 Jayed Torres wearing Old Navy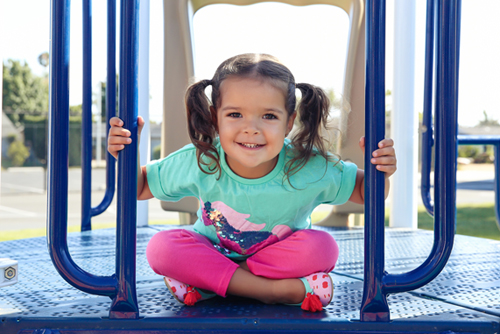 Lilah Fenton wearing Cotton On
The spacious environment includes mature trees for shade and lush green areas, which allow room for creative design. New additions include a sand box and mud area, a beautiful tree branch from Catalina Island anchored in the messy materials area, grassy hills to roll down and raised planters with edible gardens that the children care for and consume. Every day, children have opportunities to dig in the mud, climb, swing, build and create.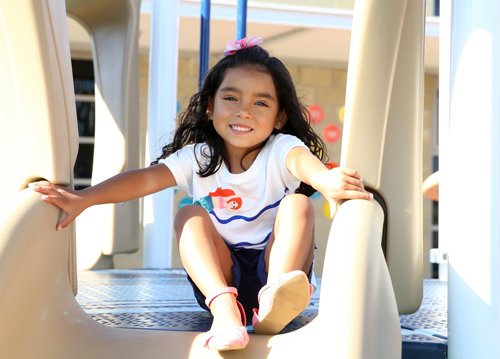 Emily Hernandez wearing Cotton On
Although the Outdoor Classroom is used daily by the pre-K and Kindergarten students, each month fourth and fifth grade students join their pre-K and Kindergarten buddies for activities and middle school students join for science activities. Other classroom teachers use the space for math, reading and writing. There is an abundance of inspiration, learning and joy experienced in the unique learning space which.
By Sascha Zuger | Photography by Ana Brandt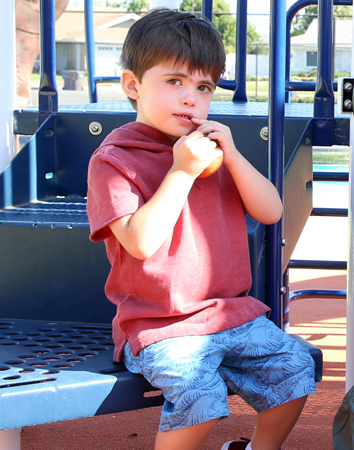 Zen Ritter wearing Target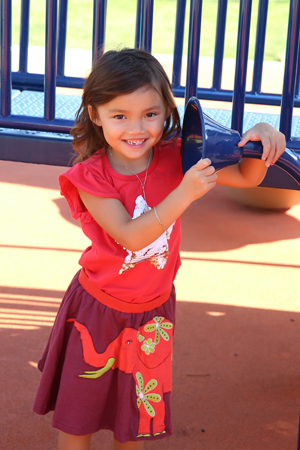 Selena Stedfield wearing Masala Kids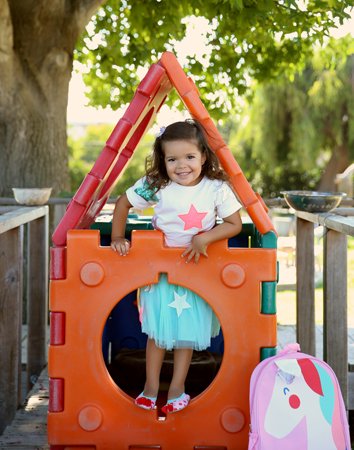 ---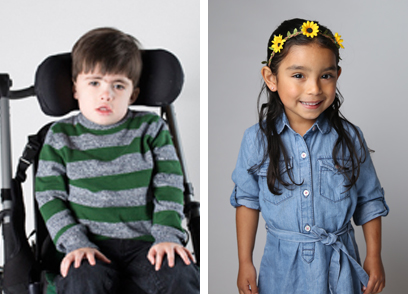 The True Beauty of Childhood
While we certainly celebrate the adorable three-to-five year old tots who came out to Parenting OC's annual Jamboree at the Cube for our Cute Kid Cover Contest, this year a far lovelier image emerged of one entrant. After the Cute Kids are photographed by Ana Brandt at the event, the photos are put online for our readership to share and vote (final cover decisions are made by Parenting OC staff from among the highest vote-getters). While one little girl was perusing her photo, she noticed another child's image. Calling her mom over, she made a very altruistic request. A short time later, I received an email from Emily Hernandez' mother. Emily wanted to know if she could donate any votes she received to Zen Ritter, who she thought might really appreciate the honor. While we did not adjust any votes, in the name of integrity toward the rules, we are very proud to feature both Emily and Zen.
---
Parenting OC Back to School Faves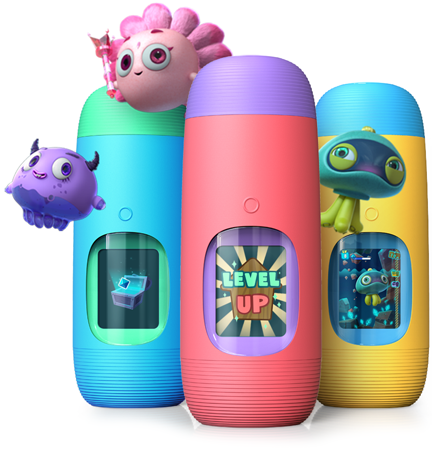 Gululu Smart Water Bottle
Making sure your tiny SoCal'er stays hydrated while away from your watch can be stressful. A new tech has come on the scene that can double a child's water intake, by turning drinking water into a fun game for kids. As kids sip, their virtual pet grows! Bonus: In partnership with Generosity.org, for every Gululu interactive bottle purchased, a child in a developing country will be provided with clean drinking water for life.
$129, www.mygululu.com
---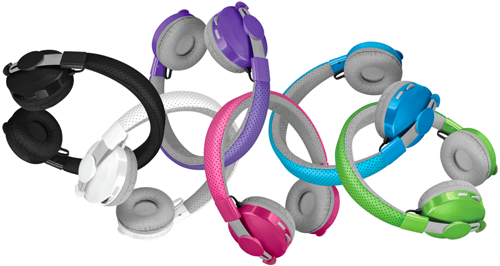 Lil Gadgets Headphones
Many schools use headphones in the class, which can stress those worried about shared head-items and volume safety. These uber durable, high-quality, Bluetooth wireless children's headphones feature an integrated SharePort to make sharing a little easier between friends and come with a microfiber travel pouch, four-foot premium nylon braided audio cable with an inline microphone and a micro-USB charging cable. They also have safety-leveled volume control.
$49 ($21 for wired), www.lilgadgets.com
---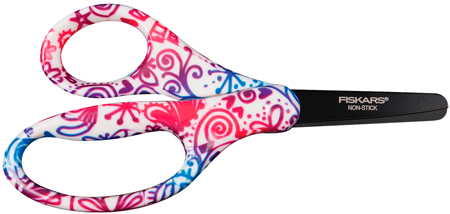 Fiskar Scissors
There is a reason this is the top teacher-recommended brand, mastering the art of using scissors isn't as easy as it looks. These non-stick and ergonomically designed tools are staged for every age of student to maintain safety and fight off frustration (and happen to come in super cute styles)!
From $3, www.fiskars.com/en-us
---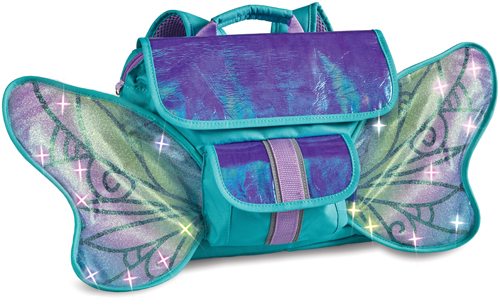 Bixbee School Bags
This winged flight of fancy will undoubtedly be the coolest backpack on the preschool playground. (We also adore equally awesome streamlined styles like "Hope, Peace, Love".) The padded straps and unique ergonomic horizontal design fits a child's physique for a safer carry even on heavy homework days. Matching lunchboxes complete the look. Also, with every backpack purchased, Bixbee donates a backpack filled with school supplies to a child in need.
From $29, www.Bixbee.com
---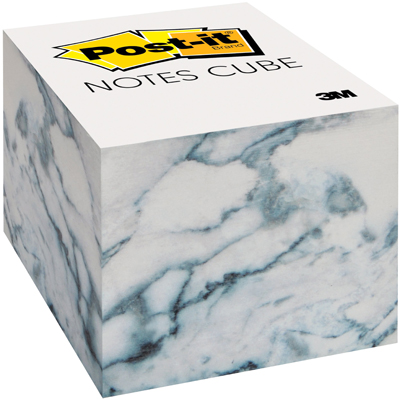 Stylish Post-it Cubes
Even their school accessories have moved beyond unicorns and racecars, let them step up their post-it game with these new marble and metallic styles that add a touch of style to their desktop.
$6, www.post-it.com
---

IFROGZ Wireless Earbuds – Charisma & Plugz
Older kids lose things, often quicker than your little ones. These affordably priced Bluetooth buds feature a wireless hub that magnetically clips to their shirt collar, so no more tangled wires, no more lost earbuds! Sweat resistant for your scholar athlete, with up to 10 hours of battery and an Earbud Tips for Life for free replacements when lost or damaged.
$29, www.zagg.com/en_us/headphones
---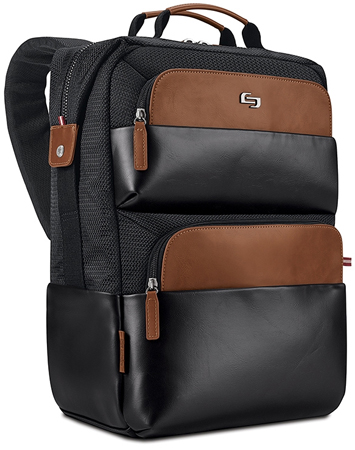 Solo East Hampton Backpack
For your sophisticated teen who is beyond the critter or sports-themed packs, this durable and classy bag will take them through high school and beyond and double as a perfect travel partner for those oh so important college visits.
$119, solo-ny.com
---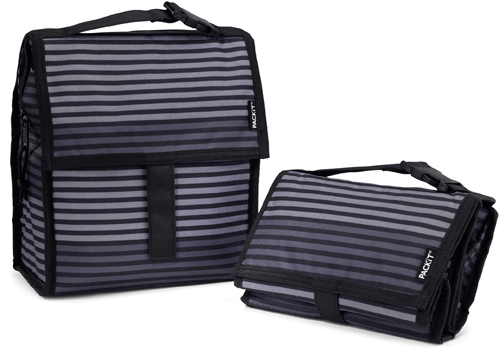 Packit Freezable Classic Lunch Box
As kids grow, so do their appetites. This classic lunch box folds down for compact end-of-day toting, but offers enough room for an extra large lunch that will stay safely chilled throughout the day as they graze or pull double duty for afterschool sports snack. Also comes in Bento Box style.
$19, packit.com
---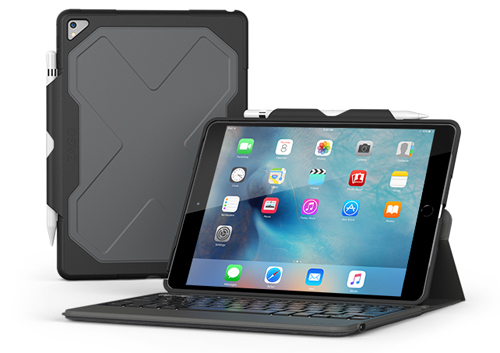 ZAGG Rugged Messenger Wireless Keyboard for iPad
Keep the bulky laptop at home and slip your t(w)een's iPad into this durable case that doubles as a keyboard for easy note taking in the class or on the bus home. The case features military drop-test standard from up to two meters and offers a built-in stand for multiple viewing angles. The rechargeable battery lasts up to two years between charges, so no more excuses why they couldn't knock out schoolwork before practice.
$99, www.zagg.com