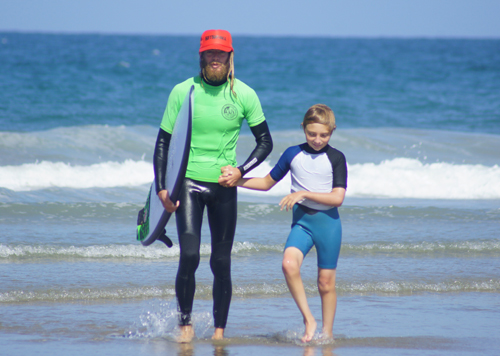 The tides may have changed for this Orange County professional longboarder and surfing instructor, but he continues to encourage himself and others to surf the waves.
A man does not have to have children of his own flesh and blood to be considered a noble father figure, and Tim Reda is living proof. As a longtime surfing instructor, the 34-year-old professional surfer has trained, mentored, and motivated countless children throughout the Orange County community to face their fears and ride the waves of life – both literally and figuratively.
Tim instructs at the Newport Beach Endless Sun Surf School, alongside his surfer wife Amy. The Costa Mesa couple has dedicated their lives to helping young surfers learn the art of the sport. Tim not only has the talent and titles to make anyone feel comfortable being by his side in the ocean, but he also emits a positive and inspiring nature to him that would ignite any heart to chase their dreams. As a world-class surfer, he placed third in the 2013 Longboard North America Championships, which qualified him to travel to China to compete and earn 25th overall in the December 2014 Longboard World Championships.
Tim set his sights on earning a world championship, but life began to write a different story when he was diagnosed with a brain tumor (an Oligodendroglioma) in 2016, just months after he returned from the China competition. The diagnosis led to various prognoses and opinions from doctors – some have said he has no more than a decade to live, while others have discouraged operating.
"At first it was really scary. I didn't have much hope for treating it. Surgery was always on the table, but I didn't want to jeopardize my surfing and my teaching by having a risky, major brain surgery," said Tim.
After attacking the tumor with chemotherapy and radiation, he followed up with twelve cycles through one year of chemotherapy treatments between 2016 and 2017, and a six month ketogenic diet trial. Struggling and feeble, Tim and his longboard still made their way into the water as much as he could handle it. As of now, the tumor has reduced in size and is stable. He has an MRI scan every three months to monitor growth.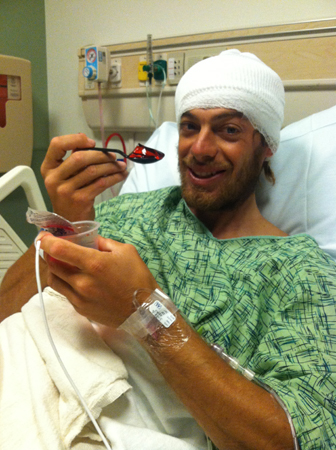 "I want to inspire others with serious conditions that they can fight and overcome it," said Tim.
Throughout his treatments, Tim has been very weak physically but has maintained his big, upbeat smile and a passion for his students and surfing. He and his wife's optimism and love for eachother and others can be seen through the eyes of the many children they have instructed, who look up to them with trust and excitement in the water. One child in particular, 12-year-old Alex Chery of Newport Beach, has surfed alongside Tim for several years. Alex was born with cerebral palsy, which affects his physical development and motor functions, and Tim has helped him to become strong and balanced through tandem surfing.
"Alex is an inspiration to all. Everyone in surf classes with Alex sees how much fun one can have surfing just by watching him. He has no fear and loves surfing! Six years ago, while my wife and I were promoting our surf class at Newport Elementary, Alex wheeled up to us and enthusiastically says he wants to surf in our class. We were totally open to the idea and it just clicked," said Tim.
"Alex has cerebral palsy but that doesn't stop him from doing anything. Last time we surfed was the end of our Fall Mavericks Surfers after-school surfing class. That was when I had just finished my over a years worth of chemotherapy treatments. And actually, during my treatment, I continued to surf with Alex. It was hard because I was so tired and weak; but I would actually strength-train in order to lift Alex up, so I'm sure it was really good for me, both body and spirit."
Tim said "good deeds, big or small" is his daily inspiration. And no matter what life brings his way, there is nothing that will ever hold him back from being in the water with his students.
"It's everything to me! I love all the energy that the kids bring to surf camp and classes. I could be having the most stressful day, and then once we are in the water focusing on surfing and having fun, I get this renewed perspective on life. I love that I get the chance to give back to the youth and community."
To follow and encourage Tim through his health journey, visit his GoFundMe page (Amy continuously writes updates). Although they have reached their fundraising goal, Tim and Amy graciously take donations for medical bills. Whatever they do not use, they donate to a non-profit Oligodendroglioma research foundation that is looking to find a cure. The GoFundMe link is: www.gofundme.com/9ywqr7d8
For more information on Endless Sun Surf School, visit www.endlesssunsurf.com
By Jackie Moe