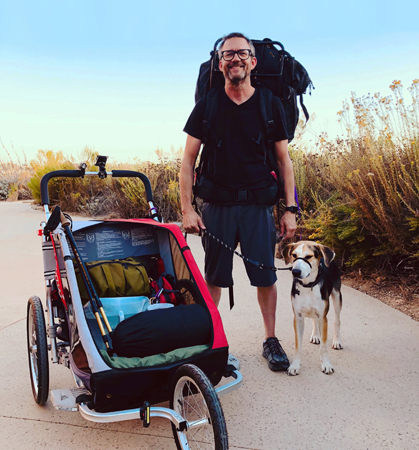 Local chef Thomas Curran plans to walk across the country in the name of pediatric cancer research.
Thomas Curran would never describe himself as an outdoorsy guy.
"I love being in nature but I'm not an avid camper or hiker," he says.
Which is why it might be surprising that he will spend most of his 50th year on this earth walking across the United States with his rescue dog, Wink, while raising money for the Pediatric Cancer Research Foundation.
"Do my friends and family think it's crazy? Of course they do—it is crazy!" he says, laughing. "But anyone who knows me is also not surprised that I'm doing this. My life has just been one big adventure after another."
Curran has been a chef for more than 25 years, studying pastry making at Le Cordon Bleu and working in a variety of places before opening up his own restaurant, Taco Brat, in Costa Mesa in 2016. While he loved his career, Curran felt the pull to do something big, though he didn't know quite what that meant at the time.
A little over a year ago he stumbled across a book that changed everything, Tyler Coulson's "By Men or By the Earth."
"It was extraordinary, this guy ditched everything—his career, a six-figure salary, a rocky relationship—to walk across the country with his dog," he says. "It truly changed my life."
Following Coulson's lead, Curran spent the next year preparing for his journey. He got the OK from his doctor, began a rigorous training schedule, modified a three-wheel double-wide baby jogging stroller to push along with him and tirelessly routed and rerouted his route. Even after a year, Curran knows there's only so much he can prep for.
"There's a point where you have to stop planning," he says. "Things are going to change, I know that. Road closures, bad weather, or maybe I'll just want to take a different road. It's all part of the journey."
Very few people attempt to walk across America every year and even fewer make it.
"It's a lonely time," Curran says. "You can train for the physical portion all you want but most people can't prepare themselves for the emotional side of things."
He knows having his dog with him will help curb the feeling of isolation.
"He's so awesome. He's just a big bear," Curran says, beaming. "People don't believe me but when I went to the shelter to pick out a dog I swear this one winked at me and I just knew he was the one."
Wink himself will not carry a pack and will be pushed in the stroller when he's tired to avoid overexertion.
Curran's real dream is to write a big fat check to the Pediatric Cancer Research Foundation at the end of his walk.
"My ex-wife, who is still my best friend, is a childhood cancer survivor and her family worked closely with this foundation so it is really near and dear to my heart," he says. "My journey is big but it doesn't even come close to what these kids go through. They're fighting a more important battle than most of us can even begin to imagine."
By Megan Feighery