Learn about the benefits of practicing art as a family and some creative activities for parents and kids for fun, summer self-care.
The art process allows the family to strengthen their bond through creativity and to appreciate each other's different perspectives. It also empowers the family's creative thinking and stimulates the family's identity as a team. This, in turn, improves mental health and well-being for the family.
Creative expression through the therapeutic art process allows the family to gain new insights about themselves and each other. It fosters creative thinking and is a healthy, creative outlet for the family. It empowers children with confidence and reinforces the building of optimism, resiliency and strength. Art brings the family together to talk, laugh, learn, share ideas and create.
Creating art together as a family aids in teaching problem-solving, self-love and appreciation. Parents can utilize art as a confidence-building tool for their kids because there is no right or wrong way to create art. It helps calm minds and is a fun, healthy activity for a family.
Some beneficial, fun, art activities for families for summer include:
Summer-themed family collaborative painting where the theme or subject of the painting is personalized and each individual's piece comes together to create one summer-inspired image, or everyone does their own summer-themed draw and paint. Or siblings can create a summer scene on one canvas — working creatively together. For example, it could be a beach or under-the-sea scene theme and can incorporate seashells that the family might collect and paint to add fun nature art embellishments. This can also encourage the family to get out in nature, with quality time and a bonding experience, and possibly a stroll along the beach to find summer inspiration and items for their artwork. Speaking of nature art, seashells and plants like summer succulents could also be used to make a summer wreath.
Family collages are always a great expressive, mindful, relaxing and crafty activity, and are also really fun and easy for the younger kids. Collages are a great, playful introduction to art. A summer collage, for example, could include images of things to do this summer — possibly magazine cut-outs — and symbols of summer that can be drawn. Various soothing crafty items and stimulating sensory elements, such as feathers, stickers and pom-poms — special personal items that remind you of summer — could be incorporated into the collage as well. All mediums can be used with this collage activity from painting to watercolor, using different coloring tools like colored pencils, crayons, etc. This is a great activity where the family comes together and possibly reflects on the things they love about and would like to do this summer. Each family member can add their own special touches to the artwork that they can cherish forever, along with the colorful memories of creating together.
An art journal — in this case a "self-care summer journal" — is a wonderful tool to introduce to families that they can utilize daily together and is a safe personal space where parent and child can communicate, express and create daily. The summer journal is particularly fun because you can do entries — writing, poems, drawings, photo collages, etc. — about travels you may be taking together this summer as a family, or kids can use it at sleep-away camps with keepsake memories. You can also take it to the park or beach for summer picnic fun with doodling and so much more. The possibilities are endless and creating the journal is a crafty, fun activity, in which the family can personalize the outside and inside together using almost every kind of art medium they'd like.
The possibilities of art activities to do as a family are endless and so healing. Pick and tailor the activity that suits your family best. This will hopefully inspire and motivate you to use art and creativity as a mindful activity in your everyday life for healthy coping, self-care, self-love and wellness.
---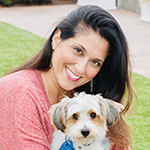 Diana Shabtai, Psy.D., ATR-BC, "Miss.Dee" created Art Therapy OC in Newport Beach in 2012. ArtTherapyOC.com